Original URL: https://www.theregister.co.uk/2006/07/19/review_copilot_6_symbian/
CoPilot Live 6 for Symbian
Sat Nav for your Series 60 phone
Posted in Science, 19th July 2006 14:57 GMT
Review ALK Technologies' CoPilot Live has been at the forefront of Windows Mobile-based satellite navigation software for some time, but it's a relative newcomer to the Symbian operating system, offering a version of its route-planning application - now at version 6 - for Nokia's Series 60 user-interface only this year...
UK carrier T-Mobile began bundling CoPilot with some of its Windows Mobile devices last Autumn, so it was only a matter of time before it began pairing up Series 60 phones with ALK's Symbian-oriented offering. At the moment, it's pushing Nokia's N70 3G phone with CoPilot, and T-Mobile lent us a set to try out. We reviewed the N70 on its own a little while back. Now it's time to take a look at the navigation side of the story.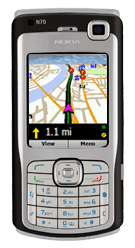 CoPilot ships on an RS-MMC card ready to be slotted into the N70. There's a licence code to enter first, then a brief activation period while the software emails home from the phone to confirm it's a genuine copy. Once all that's done, you're ready to go, though you've a three-day grace period so it's not necessary to activate the product immediately.
ALK's software ships with a branded Bluetooth GPS receiver based on SiRF's SiRFStar III chip - probably the best GPS chip there is. Certainly, I was able to get a satellite fix quickly and accurately even though I was sitting at my desk in the office with a further storey and the roof above me. Unlike the Bluetooth receiver rival Symbian sat nav seller Navicore provides, ALK's isn't compatible with the N70's AC adaptor. ALK only bundles an in-car cigarette lighter adaptor, so you can't charge up your receiver and pair it to the phone out of your vehicle. Since CoPilot Live for Symbian is so tightly tied to the N70, it's disappointing ALK didn't at least include an adaptor cable allowing you to charge the receiver using the N70's power plug.
Another drawback is the software's insistence you have the Bluetooth receiver paired and connected before you continue. I don't recall this being an issue with past versions of CoPilot I've looked at, but trying to run CoPilot on the N70 without the GPS receiver turned on automatically shut down the app every time. Sometimes it's handy to plot a journey then review the route before you travel, and you don't always want to do this sitting in your car just before setting off.
When the software is running, you're presented with CoPilot Live 6's standard icon-based menu. You can enter multi-stop routes, check out traffic data at a given location and get a route to a single destination. The user interface will be familiar to anyone who's used the Windows Mobile versions of CoPilot, but it's well adjusted to the Series 60 approach that Symbian fans new to the software should have no problems getting going with it. There are some gotchas: in some screens it's hard to see how to get back to where you were.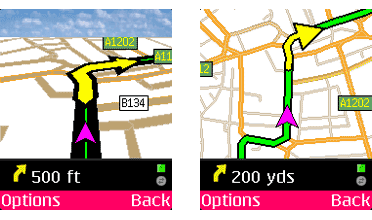 Case in point: the software's main menu, called the Welcome screen, can often only be reached by activating the Options soft menu and looking for it in, of all places, the Help sub-menu.
Routes can be selected using one of three modes: Guidance, Planning and Walking - though Flying might be a better name for the latter option since all it appears to do is draw a straight line from A to B, no matter what's in between. Guidance provides full spoken instructions for your drive, while Planning is about sussing out the best route before travelling. Now, this mode does let you work with no GPS receiver attached, but since the software defaults to Guidance mode, which won't work without the GPS, that doesn't help.
CoPilot Live 6 in all its forms incorporates full postcode searches, though it sometimes still requires a street name, even though the house number and postcode is all that it ought to require. At least the maps - from Navteq - are reasonably up-to-date, passing my usual test for finding a four-year old estate in a small Bedfordshire village. That said, it put the house I was after in the cul-de-sac parallel to the one it's actually in...
Integration with the phone's Contracts app was weak: I entered the full address of a former residence, but CoPilot was unable to locate it. To be fair, that may well because the N70's Contacts app has some odd pre-programmed address fields: where do you put the house number, for example? There's a P.O. Box entry, even for home addresses, and I suspect that's where, but CoPilot understandably doesn't recognise such an entry for what it is.
Route planning is reasonably quick, but not as fast as Navicore, I'd say. CoPilot will, as you'd expect, alert you when a route crosses the London congestion-charge zone or requires a toll road, and you can tell it to avoid these altogether or use them only when there's no other way. It will also - according to your preference - pick either the shortest route or the one that will get you there most quickly.
Traffic hazards notwithstanding, of course. This is where the 'Live' element of CoPilot comes into play. It's free for the first two years, though it's unclear how much you'll be charged after that time. In any case, the tracking features of Live are free. The system is accessed through a web page, which allows others to monitor your progress and to send you messages and new destinations - these are automatically added to the itinerary. The messages are displayed by CoPilot and linked to simple, single-key responses, such as Yes or No. It's a nice idea, but one more suited to PDAs than phones - it's less distracting for a driver to reach out and press a touchscreen than to press a handset's keys.
Most consumers, I suspect, won't use the tracking features, though the traffic information will be much more useful.
T-Mobile's N70 CoPilot bundle costs up to £300, depending on the size of the airtime contract you take out when you but it. If you already have an N70, the software, GPS receiver, car-mount kit, and UK and Ireland street maps cost £200. As I mentioned before, the European maps cost £100 more.
The price isn't bad, but Navicore's Navicore Personal, which has always targeted the Symbian OS, is cheaper and includes a GPS receiver that can be powered with a Nokia phone's charger - you'll be amazed how handy this is. Navicore also bundles a lifetime's free traffic and safety camera updates, and while ALK may ultimately give you this too - we'll have to see what happens in two years when the free-use period ends - it's not a given. Navicore Personal is slightly faster too.
But all that's not to say CoPilot is a poor competitor - it isn't. ALK has done a good job migrating its Windows Mobile software to Symbian, and if you're a T-Mobile user - or willing to become one - and you expect to take out a reasonably sized monthly contract you can get CoPilot with an N70 for a token sum or even nothing at all.
Were you to do so, there's no compelling reason to move to an alternative navigation tool - CoPilot does the business and does it well.
Verdict
ALK successfully brings its CoPilot Live 6 navigation software from Windows Mobile to Nokia's Symbian-based Series 60. T-mobile's bundle is attractive, particularly if you're a heavy-duty caller, and as we've seen, the Nokia N70 is a very nice 3G handset. All together, a fine phone-based sat nav package. ®