Original URL: http://www.theregister.co.uk/2006/07/13/review_sandisk_sansa_e250/
SanDisk Sansa e250 MP3 player
Has the proverbial iPod Nano beater arrived at last?
Posted in Personal Tech, 13th July 2006 11:51 GMT
Review There's no denying that Apple's ownership of the MP3 player market, but it's far from the only contender. SanDisk has been making MP3 players for quite some time, like the c150 I reviewed not so long ago. However, the new e200 series is a direct competitor to the iPod Nano, so let's see how well it compares...
SanDisk provided the Sansa e250 for review. It's the 2GB model, accompanied by the 4GB e260 and 6GB e270, with the possibility of an 8GB version becoming available shortly. There's even a MicroSD card slot for further memory expansion, although for the time being this is limited to 1GB due to the memory card format's capacity limitations. But larger cards are expected this year.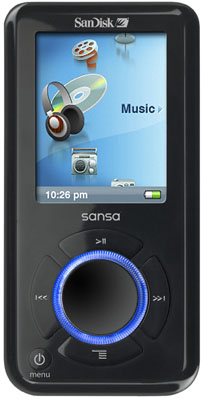 The e200 series shares its looks with the black iPod Nano, without copying it. There's no clickwheel - instead SanDisk has gone for a mechanical wheel with a blue backlight, and it works pretty well. At 8.9 x 4.4 x 1.3cm the Sansa is slightly wider, but a lot thicker than the Nano. It also weighs quite a lot more, but it still fits quite comfortably in a shirt pocket.
The back is made out of a metal alloy, the front from dark acrylic. It all feels very solid and appears to be quite scratch resistant. However, it's very prone to collecting greasy fingerprints, but these are easily polished off.
Besides the wheel there are six buttons on the front. As with the Sansa c150, the power button doubles up as the menu button - maybe not the greatest UI idea ever, but it works well as long as you don't press it for too long. The other five buttons are navigation and play controls. There's a play/pause button, a forward and reverse button and a sub-menu button. Finally, the centre of the scroll wheel is the select button.
SanDisk has also fitted a button on the left-hand side which launches the voice recorder. I managed to press this a couple of times by mistake, cutting off the music. At the top of the device is the built in microphone - which offers quite good recording quality and sensitivity - a rather stiff Hold button and the headphone jack.
The Sansa e200 series has the same proprietary USB connector as the c100 series, and once again I'd rather have seen a standard mini USB connector in its place. The problem is that you need to charge the player over USB, and mini USB chargers are quite commonplace and tend to come with some other devices that you might already own. Still, as long as you're happy to carry the cable with you, it's possible to get a small USB charger for around £10, into which you can attach any standard USB plug.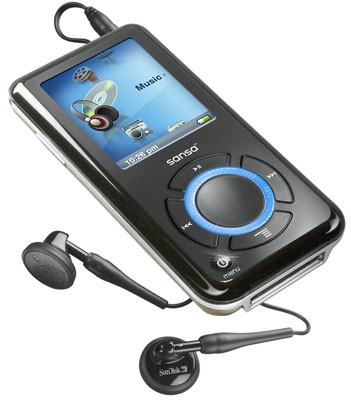 Apart from the USB cable, you get a pair of headphones - for a change a rather good set. The only problem is that the earplugs are large, so they might be hard to fit or uncomfortable if you have small ears. You also get a protective pouch to keep the player in and a lanyard for hanging it around your neck.
The menu system is rather straightforward, but what confused me and still gets me is that the menu - which positions the icons in a circle, though you can only see a section of it any one time - rotates in the opposite direction to the wheel. Rotate the control clockwise and the circle of icons turns anti-clockwise. I found this counter-intuitive, and it takes a while to get used to. Otherwise the menus are very slick and the 1.8in, 220 x 176 TFT display is very bright and easy to read. The screen is a huge improvement over the one on the c150 and can easily compete with many mobile phones for picture quality.
Having a large and quite high resolution display - at least for a Flash-based MP3 player - means the e250 can show a lot of information. Although this is handy when you're browsing your music, SanDisk has also included picture viewing and video support. However, you can't just copy any random content onto the e250, as it only plays QuickTime .mov files at 15fps. There is support for a wide range of picture formats, but the pictures can't be to high resolution or they won't display.
The SanDisk Media Converter will happily resize and convert your content into a suitable format for playback. It's a straightforward piece of software and it will even convert DVDs to a suitable format. However, it only supports still images and video, not music. The e200 range will play MP3, WMA and WMA DRM content. It will also sync with Windows Media Player 9 or later.
Interestingly, the Sansa e200 series appears to have been designed by MSI and it bears a striking resemblance to some of the upcoming models MSI had on display during Computex this year. MSI might not be the most experienced MP3 player designer around, but there are no major faults with the Sansa e200 series.

I have to be honest here though and mention one problem that occurred several times. Completely randomly the Sansa e250 wouldn't power on fully. The blue light of the scroll wheel would come on, but that was it. To get around this I had to hold down the power button for about ten seconds to turn the player back off again. At one stage I had this occur three times in a row, which got really annoying. Another minor issue I came across was the inability to delete voice recordings if the battery was about to run out, very strange to say the least.
Call me old-fashioned, but I like to be able to play files that I put in various folders on my MP3 player rather than having to play a certain category or artist, and this is sadly not an option in the current e200 series. You can create playlists on the fly, but this means that you have to select each track manually, which is a cumbersome procedure. Apart from this, I don't have any major complaints about the e250's functionality.
There is one minor oddity: the Sansa e250 doesn't have a manual equaliser option, even though the c150 does. This is quite poor and SanDisk should really consider adding this to its top-of-the-range player when the lesser model has it.
Beyond a longer list of features, the e250 has one other advantage over the Nano: price. The e250 can be bought online for around £110 whereas the 2GB iPod nano will set you back £129. I'll admit it's not a huge saving, but you get more functionality for less money.
Verdict
The SanDisk Sansa e200 series might not be quite as stylish or as slim as the iPod Nano, but if you're after a Windows-friendly Flash-based MP3 player, it's one of the better ones out there. It's competitively priced, offers a wide range of functionality and the overall sound quality is very good. ®