Original URL: https://www.theregister.co.uk/2006/07/06/citrix_iforum/
A postcard from Citrix iForum
Citrix devoteees experience Edinburgh
Posted in Software, 6th July 2006 10:57 GMT
Many of the attendees at Citrix iForum in Edinburgh had probably been aware of much of the content of Citrix CEO and president Mark Templeton's keynote already (Centralis had shared much of it with its customers a month or so back, for example, which makes its seminars good value).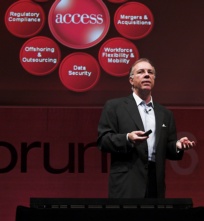 Citrix is reinventing itself as an Access company and Project Tarpon, which is all about streaming applications on demand, has been exciting Citrix customers in prospect for some time. Templeton (pictured right) also previewed, briefly, Citrix's next-generation Constellation application virtualisation technologies for Longhorn - the relationship with Microsoft seems as strong as ever.
However, the acquisition of Reflectent Software and its EdgeSight application user experience tools was definitely news. It highlights where Citrix is taking itself as with "Software as a Service"; where a means of monitoring the actual user experience being delivered (instead of measuring, say, server performance and extrapolating to user experience at the network edge) is vital.
It's all part of a capability to "place shift", as Mark puts it, to "dynamically move work to its optimum location", which implies that you have meaningful user-focused metrics that in some way help define "optimal".
Reflectent was a small company but one considered a leader in application performance monitoring, and its tools were used by some major players in the financial marketplace, such as Morgan Stanley.
Its president and CEO, Lou Shipley, remains with the product in its Boston home as general manager and VP of Citrix's new Management Systems Group. The Reflectent employee I talked to seemed enthusiastic about the move, as Citrix's resources will allow its application monitoring technology to be exploited further - for compliance monitoring and risk management applications, perhaps, and integration with Citrix's GoTo Assist and similar support technologies.
EdgeSight has an API and may become an opportunity for developers to build user experience monitoring into their software (delivering applications which report on the ROI being delivered, perhaps, and which advise uses on "best practice" if they're not working optimally), although Citrix seems to see it more as a separate cross-application monitoring application, for now, at least.
It's all part of Templeton's vision of "enabling IT services to be provided on a utility model - much like telco services, where the dial-tone is always there, operator assistance is easy, and bills are accurate" [well, mostly accurate- Ed].
Coming back down to earth, Keith Turnbull (VP product development) reminded me of the Citrix developer network - Citrix certification is highly respected and the Citrix platform provides an opportunity for developers to customise enterprise application interfaces, management applications, and the performance of advanced technologies (Citrix now handles advanced graphics better than ever before).
Citrix is developing into a very rich platform, so it is interesting to see the emergence Citrix Essentials, which is designed specifically for supply to the small business via a reseller (which often supplies the role of "CIO" to a small company) and which now handles print configuration better than it used to.
Citrix isn't only for the large enterprise, and although that seems like its natural home these days its sales are split 50:50 between large and small/medium customers. It's good to see Citrix attempting to keep in touch with its roots as the addition of features to Presentation Server was beginning to make it look a little complex to some original Citrix enthusiasts
Another part of Citrix is appliances and Wes Wassoon (VP marketing and product strategy), who looks after Citrix's appliance products, claims that it's in a unique position to manage the whole pipe from backend server to user desktop. Highlights appear to be the NetScaler appliance, which uses various technologies including both static and dynamic caching to maximise the utilisation of your web servers and an application firewall appliance that sits next to an application (possibly at the termination of a VPN pipe, which Citrix can also supply) and helps manage threats in the web traffic that you allow through your firewall.
To celebrate iForum, Citrix came up with some research (conducted among 100 leading companies in the UK, Ireland, Belgium and the Netherlands - some information on how they were selected and how many actual responses were obtained would have been nice).
Apparently, the majority of IT investment is made in non-revenue generating activities (six per cent - that's only six companies, presumably - were investing up to 80 per cent of their IT spend just to meet compliance needs - note that's "up to", so it could actually be one per cent of IT spend).
And 75 per cent of bosses in the UK don't trust their employees not to skive off if they introduce flexible working, perhaps because just under half of those surveyed bother to train their employees in mobile working practices. If these bosses actually looked at mobile and home working, they'd find that overworking is the most common issue - perhaps because good employees are overreacting to not being trusted.
However, this isn't much that we didn't know already and I really wonder why companies commission these surveys - although I wouldn't mind some of the money they probably pay for them...
In contrast to the survey, iForum itself had a good "buzz" - plenty of Citrix customers around and a lot of very enthusiastic technicians. The company's future looks bright, although there were a couple of unanswered questions. For example, it's not really clear how Microsoft's intended acquisition of SofTricity will affect the application virtualisation marketplace or whether it is just, as Mark says, needed to help Microsoft get Office 12 deployed more widely; and Wyse, a long time Citrix partner, already offers competing application streaming technology to that in Project Tarpon.
Questions to exercise us in the run up to at next year's iForum, perhaps. ®