Original URL: https://www.theregister.co.uk/2006/07/04/sharp_willcom_w-zero3_pda_phone/
Sharp, Willcom unveil Nokia Communicator competitor
Windows Mobile-based W-Zero3 to out-brick the brick?
Posted in Personal Tech, 4th July 2006 11:38 GMT
Japanese mobile phone company Willcom has unveiled a Windows Mobile 5.0-based handset to compete with Nokia's Communicator series - aka 'the brick'. Manufactured by Sharp and equipped with a 416MHz Intel XScale processor, the W-Zero3 WS700SH sports a 2.8in, 640 x 480 display and a slide-down QWERTY keyboard.
The screen is capable of displaying 65,536 colours - plenty for quickly reviewing shots taken on the handset's 1.3 megapixel camera. Pics can be stored in the WS700SH's 64MB of RAM or with the 60MB of Flash memory available to the user - the OS gets the rest of the 128MB of Flash. If you need more space, the phone has a MiniSD slot.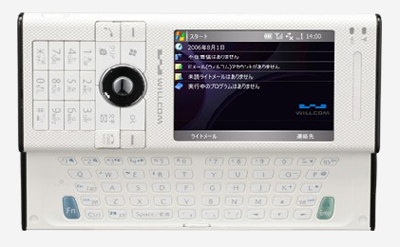 That said, since there's a MiniSD Wi-Fi adaptor accessory, you may prefer to add that to gain the extra connectivity not provided by the phone's W-SIM - Willcom's own SIM card system that incorporates the phone's radio, antenna and... er... everything.
The 175g, 13.5 x 5.6 x 2.1cm handset ships with the usual array of applications Microsoft bundles with Windows Mobile, but Willcom said it is also shipping the Opera browser on the machine.
Willcom said the phone's battery will provide up to seven hours' talk time and around 500 hours' operation in stand-by mode.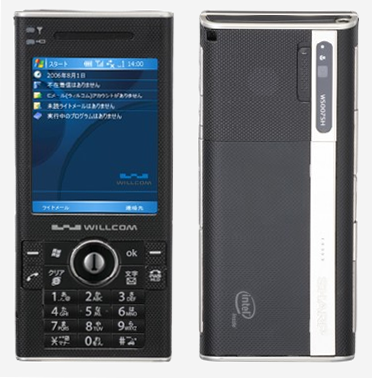 The supplier said it would begin shipping the WS700SH - which will be available in iPod-esque black and white forms - on 20 July, though it will begin taking orders on 14 July. Japanese consumers can expect to pay around ¥29,800 for the phone if they take out a one-year airtime contract. ®