Original URL: https://www.theregister.co.uk/2006/07/01/robobiz_photos/
Send in the clowns robots
Rising from the swamp of futility
Posted in Science, 1st July 2006 01:16 GMT
RoboBiz Our trip last week to the Robo Business conference in Pittsburgh confirmed one thing - the vast majority of robotics companies are in search of federal pork. About 80 per cent of the systems on display were small, autonomous vehicles capable of scouting missions, disarming bombs or carrying material.
In this photo retrospective of the event, we'll bring you plenty of military gear, but we're going to start off with the weird, the cool and the useless.
If you missed the stories from last week, have a gander here. Now, on to the photos.
Our first robot is either the weirdest or the most sexually-charged device on display. It comes from Yost Engineering - a small custom hardware and software shop in Ohio. The company was started by a professor who found it tough to pursue projects in a university environment where publishing and not producing was favored.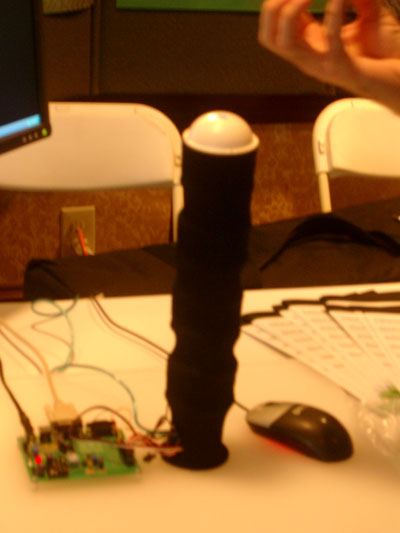 With a straight face, the Yost folks explained that this device could one day be used as a type of robotic octopus arm. It has a number of hinges and can bend in a variety of ways. It also has a camera and light attached to the tip, er, top.
We asked if it had a name and just got a laugh. You can see why.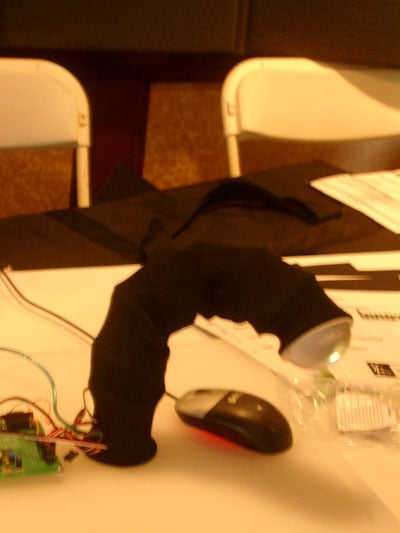 Yost also makes this artificial intelligence oddity. The freak in the hockey mask blinked and opened its mouth, as it tried to answer questions posed by Robo Business attendees. Yost has developed some manner of natural language system that lets the robot learn over time. It seemed to work okay.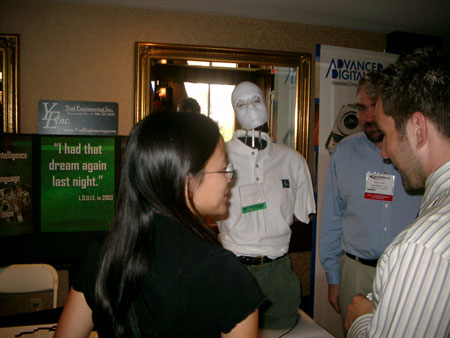 If you have $450,000 to spare and illegal aliens in the neighborhood are really getting you down, then have a gander at this baby from Skeyes Unlimited.
Yes, the world of aerial surveillance has really opened up with systems like these that take the "hard" out of hardcore snooping. This unmanned chopper can cruise about 60 miles roundtrip on a single tank of gas and deliver "real-time 3D aerial mapping." We're told that the unit can be used for border patrol or by companies that want to monitor, say, a pipeline and make sure no one is messing with their tube.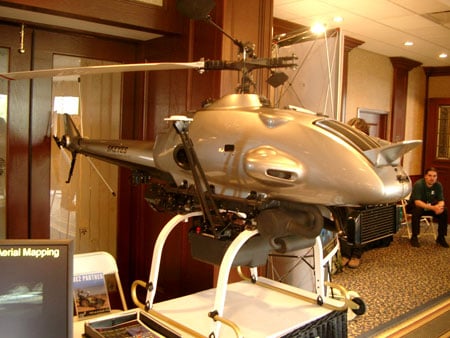 The FAA has fired up some experiments to determine just how safe these autonomous paparazzi really are. "The lack of FAA clearance is one of the barriers for commercial use right now," a Skeyes spokesman said.
No kiddin.
Don't want to go whole hog and buy the mini-copter? No problem. You can walk around with this surveillance system on a stick.
We're thinking a collection is in order to get one of these for Dvorak.
On we go.
Someone at the conference mentioned that these are very prominent bloggers. Apparently, the tubby one on the right is Robert Scoble, and the other one is CNET's chief Web 2.0 blowhard replacement for Rafe Needleman. We haven't confirmed that yet though, so don't hold us to it.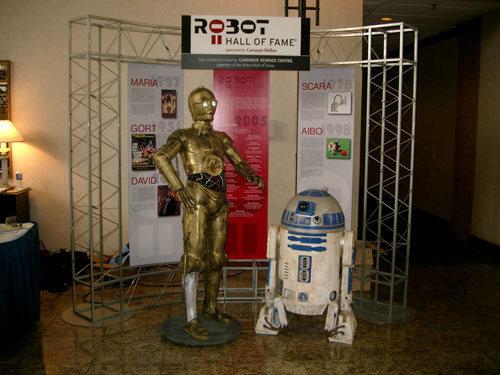 Speaking of Needleman replacements, Interbots had its Quasi robot on display, and the machine proved a big hit.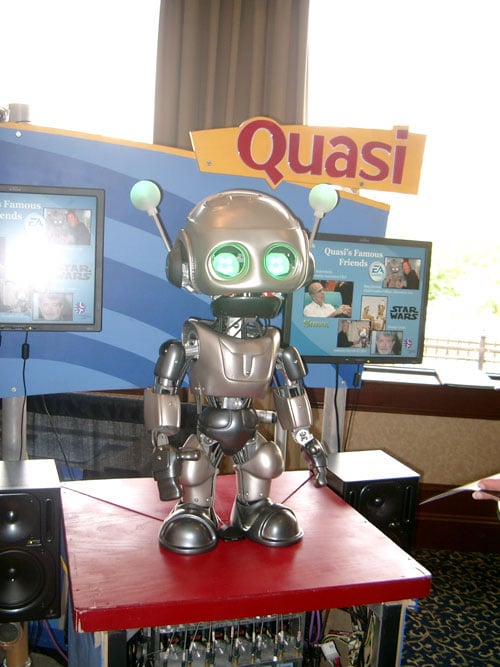 In the ultra-competitive world of robotics, cute goes a long way. We recommend that every company outfit their devices with large, round eyes and something approaching full, lifted cheekbones. Quasi can talk in a funny voice, so long as a human is around the corner speaking through a computer distortion device. You can check out more on the bot here.
These next guys aren't really robots, but they were our favorite devices on display. As you can see, a cord extends from the animal's ass to your USB port. Why? Well, these cute bastards are linked in to your instant messaging software and pipe up when they recognize phrases in a conversation. Quite seriously, the animals would say things like, "You're annoying" and "Do you want a beer?"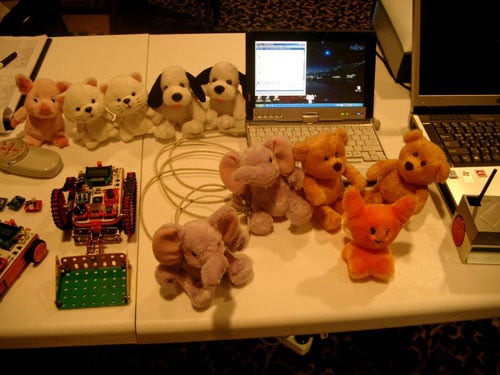 Korea's IZI Robotics makes these products along with a ton of other robots. We're told the furries will be on sale in the US soon for around $40 a pop.
No display of over-priced, hi-tech gear with questionable usefulness would be complete without the people from Segway LLC making an appearance. Segway hopes to generate some revenue of significance by tapping the military market. And, in fact, the US Department of Defense has been playing with the scooters.
Here you can see a Segway intimidating onlookers with its balancing act. Some people at the show commented that it would probably be cheaper for the Army to hire a bunch of circus freaks to pull off a similar task, but that kind of practicality would hardly do justice to our military and technology might.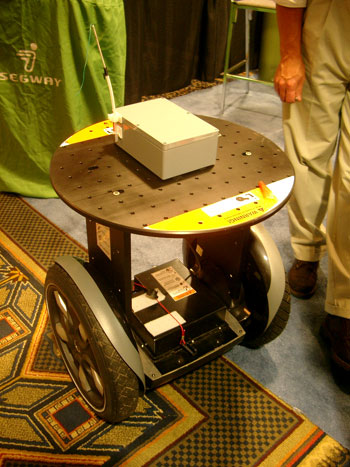 The PackBot system from iRobot seems more practical to us as a military machine. You can outfit the PackBot with different payloads to handle tasks such as defusing bombs or carrying gear. This particular machine is a bomb defuser, although it's only picking up a bottle of detergent on the day.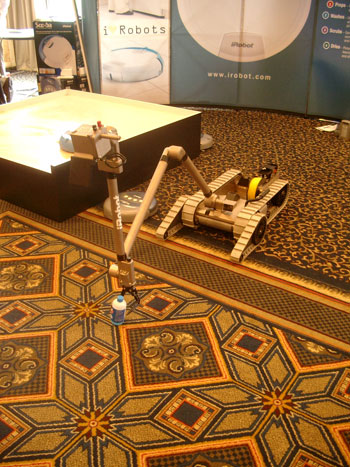 Success!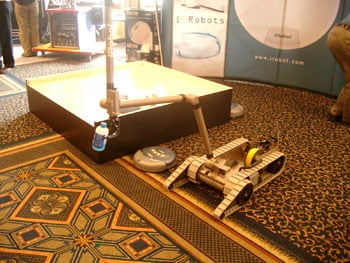 This PackBot has been outfitted with a super-sensitive listening system that can detect the location of snipers on the battlefield.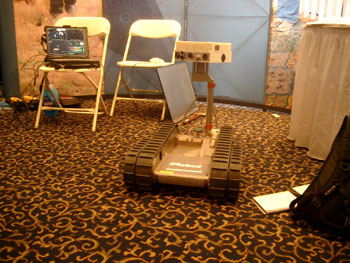 You can read more about the device here and check out our profile on iRobot here.
Next, we have robots and more robots sans sarcastic commentary.
The fourth of July weekend beckons, so we're going to leave you with an all pictures affair. These were some of the cooler looking systems. Almost all of them are being pushed at the military. Please excuse the insane carpet. It wasn't our fault.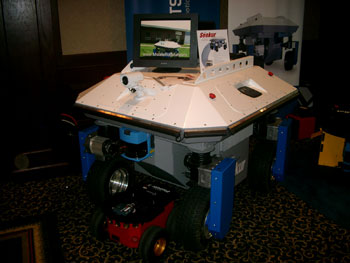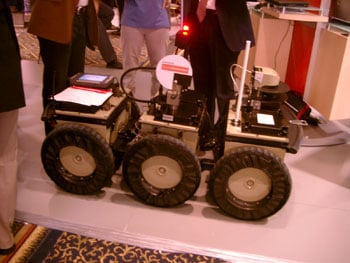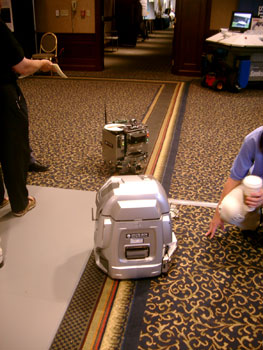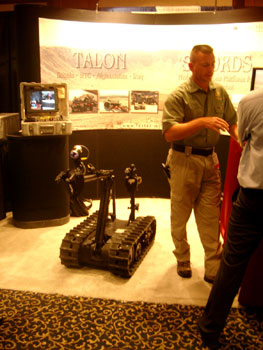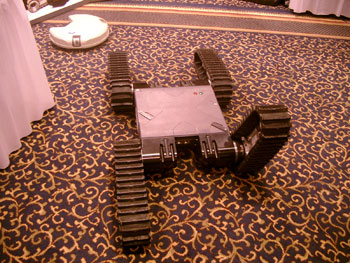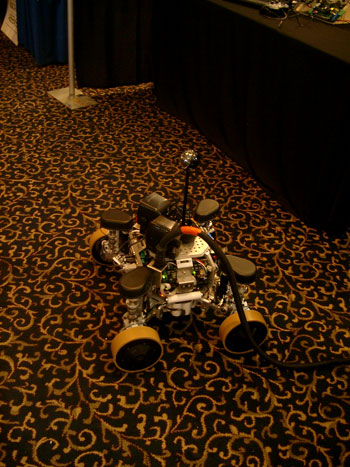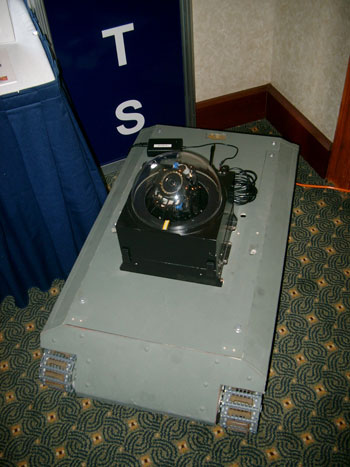 We call this piece "Aibo humping a table near a vacuum."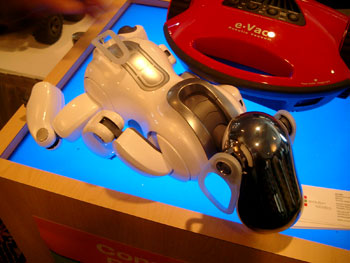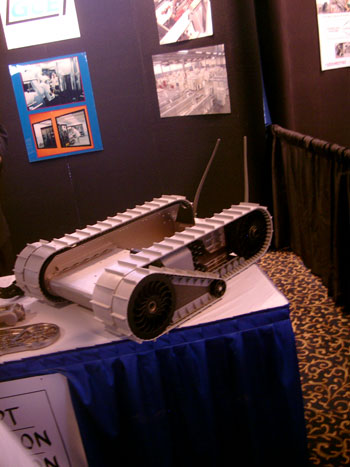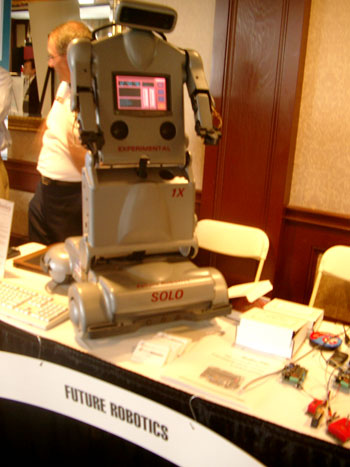 And we leave you with the scene of destruction left when the robots took off. ®