Original URL: https://www.theregister.co.uk/2006/06/30/review_nokia_n70/
Nokia N70 3G phone
Nokia's best smart phone yet?
Posted in Personal Tech, 30th June 2006 12:25 GMT
Review Ask Nokia and it will tell you its N series handsets are the acme of mobile phones. So much so that we're not even supposed to think of them as telephony devices but as "multimedia computers" that are "the next leap forward in personal computing"...
Meanwhile, back in the real world, Reg Hardware finds itself with an N70 3G phone - let's call a spade a spade and not a humous mobility implement - from those nice folk at T-Mobile. It's a 3G device, but unlike the N80 we reviewed t'other week, it's doesn't have Wi-Fi. Bluetooth 2.0 is part of the spec, however.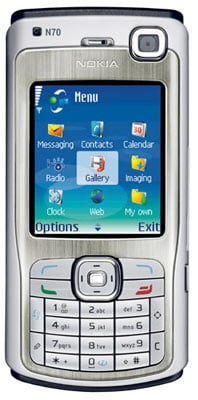 Next to the N80 slider, the candybar N70 feels positively slimline. It's still a couple of centimetres thick, mind, but it feels very comfortable in the hand. Its size makes for a very favourable comparison with my chunky, two-year-old GSM-only Nokia 6600, but looks beefy compared to the svelte Sony Ericsson W810i, for example. At 126g, it feels solid rather than heavy.
The front of the N70 is dominated by the gorgeous 2.2in, 176 x 208, 262,144-colour display surrounded by the N series' trademark stainless steel trim, itself bordered by black plastic which wraps around the handset's silver-look plastic shell. It's a stylish look that's business-friendly without appearing conservative. That said, this colour scheme is the T-Mobile World Cup variant - the regular version wraps silver plastic around a charcoal body. Personally, I'd say the T-Mobile model looks better: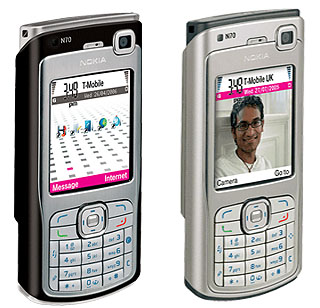 Below the screen, the keypad layout is compact but well designed and the keys sufficiently rounded and with just the right resistance to pressure for easy thumbing - text entry is quick and comfortable. The navigation control is raised slightly, but I still occasionally hit the call make/break and soft menu keys by mistake.
The top of the phone is home to the power switch and the speaker. Unlike plenty of past Nokias, the N70's power key isn't hard to activate, but there's still room for improvement. Why do Nokia power buttons never provide any tactile feedback? Time to move to the press-an-hold-the-call-end-button approach, folks. There's a loop attachment at the top, too, for folk who like to dangle their devices.
The bottom of the phone sports a Nokia USB 2.0-friendly Pop-Port and new-style weeny power connector - thankfully there's an adaptor in the box that allows you to connect an old-style Nokia charger. The N70's main, two-megapixel camera is on the back behind a slider that forms part of the black plastic surround. Sliding the cover down automatically activates the phone's camera application.
The main camera can take a pretty decent shot, producing a 1,600 x 1,200 image at a printer-friendly 300dpi. Outside, the shots weren't at all bad. Not up to the standard of a good compact digital camera, mind, but just fine for a phone - perfect for grabbing those ad hoc moments. Scale them down for email transmission and they look great. Indoors, the result's less effective. The flash helps, but only with close subjects.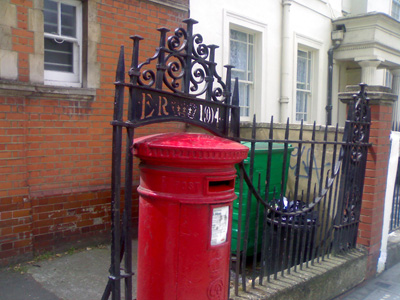 The N70's digital zoom runs to a whopping 20x, but you can limit it to 4x to ensure you get decent results. Certainly approaching 20x pixelises the image horribly and magnifies hand-shake significantly. At lower zoom levels, the results are better.
Videos are fine too, with a decent 352 x 288, 15fps MPEG 4 option and lower quality, memory/bandwidth-conserving options if you prefer. Again, the highest quality setting is fine for spur-of-the-moment shots, though it's hard to see why you'd use the lower settings unless you're an avid MMS sender.
On the left-hand side of the phone you'll find a dedicated camera button. It's just above the covered half-size MMC slot - the phone ships with a 64MB card, and there's up to 22MB of user-accessible memory on the phone itself. Keep the card in - it's very hard to push your finger in far enough to trigger the release mechanism and even harder to push a replacement card sufficiently far to catch the lock. How many folk, I wonder, will end up poking pens and such into the slot because their fingertips won't fit? Enough, I'd say, to warrant a rethink about the design of card slots.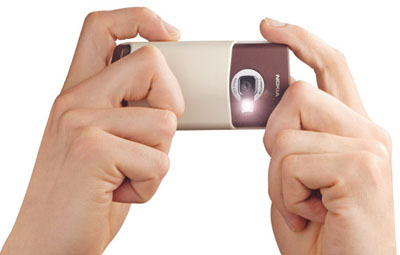 The N70 has Bluetooth 2.0 on board, and pairing it then syncing contacts and calendars with my MacBook Pro was a doddle, and I'd expect Nokia's own PC Suite to be much the same on a Windows machine. Transferring files was a joy at the higher speed Bluetooth 2.0 provides, though a wired connection is clearly better. Not that Mac OS X shows the N70 as a mass storage device, alas. A 7.8MB song took a couple of minutes or so, roughly, 520Kbps - sub-USB 1.1 speed, basically.
The N70 operates as a modem, connecting to the host machine by Bluetooth. I gave it a whirl, downloading Russ Barkman's handy Nokia 3G modem scripts package for his website, which also provided the T-Mobile access data. I connected on my first attempt and while 3G isn't quite broadband, it certainly beats GPRS. For web browsing and email, it worked just fine. Like GPRS, though, JPEG images in websites tend not to come out of the download too well.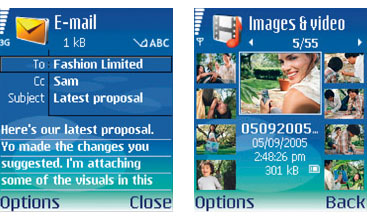 Speaking of speed, the N70's hardly zippy, either. It's by no means slow, but I've used phones that load apps and process data more quickly. It's certainly faster than my ancient Nokia 6600, but not as quick as you might expect as up-to-the-minute handset to be - or for a "high performance multimedia computer", as Nokia claims the N70 to be. In this instance, I'd happily trade a higher processor clock speed for some of the battery life. The N70 uses Nokia's standard compact battery but there's plenty of room under the hatch for a larger power cell. It wouldn't add that much to the handset's weight...
As it stands, the 970mAh delivers a claimed 3.5 hours' talk time on GSM, less with 3G, and an 11-day standby duration. You can disable 3G if you wish, but you're probably going to be recharging the N70 every night if you make plenty of calls, or every couple of days if you're a more moderate caller. The bottom line: the battery life's by no means poor, but it's certainly disappointing. If you're already in the habit of charging your phone regularly, you won't mind, perhaps, but it's a shame the N70 is still delivering the kind of battery life we were experiencing two years ago.
The N70 is equipped with the Symbian operating system, but it's Nokia's own Series 60 that users interact with, and its latest release maintains its ease of use and provides all the PIM and messaging tools you need. There's now Active Standby mode, which adds a Window Mobile Today-like screen, complete with five application and/or activity - eg. new text message - shortcut icons. Or you can set the navigation control to operate as a set of five application buttons.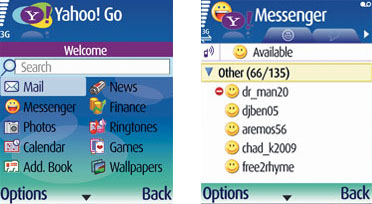 Little else has changed as Series 60 has evolved, however. The PIM apps look much the same and don't appear to have gained any major new features. One change that is unwelcome is the behaviour of the call-break key when you're in any app other than the main telephone screen. Hitting it still takes you straight back to phone mode, but now the app you were in quits rather than being placed in the background. Go back to that app and you have to wait while it loads again. Before, the transition was almost instantaneous.
The N70 supports Nokia's radio-with-pictures system, Visual Radio. Apparently. I gave it a whirl. The only London and/or national station the supports VR is Virgin. I selected the station, and activated VR... only to be told: "Sorry, but the mobile network you are currently accessing does not support the Visual Radio service." Fine, but why not figure this out beforehand, grey out the option and save me some data access?
Nokia's headset is bright white - good, perhaps, for iPod wannabes, but not for the N70's own styling. The wires are clad in a woven fabric. Presumably it's meant to look and feel more up-market than plain plastic, but it's too stiff and I didn't like it. Besides, the earpieces are large and clunky. The sound's not bad half bad though, and the Music Player app does everything you'd expect it to - it'll even play in the background while you run other apps. And despite Bluetooth 2.0, there's no A2DP support for wireless stereo.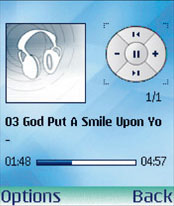 The N70 supports music downloads, though you may need to download a third-party app to make it work: T-Mobile's Music Jukebox app, in this case. Alas it isn't as good as Nokia's Music Player - it couldn't see the MP3s I'd copied over to the phone, so I need to run two music apps, depending on what music I want to hear. Oh, and the playback stuttered up every time I selected one of the soft menus.
Even using 3G, downloading was far from broadband speed, as I found using the N70 as a modem. Roll on HSPDA, I say. Speaking of 3G, I wanted to try video calling but, hey, no one I know has a 3G phone. Not enough chums, or folk really don't care about video calling? You decide... Whatever, the front-mounted camera is fit for the purpose and has a 2x zoom setting if you want to show off your pores...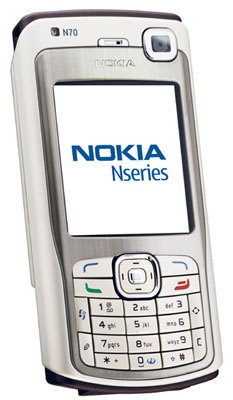 Verdict
Nokia's N70 isn't half bad. Unlike so many 3G phones - including Nokia's own N80 - it's neither chunky nor inelegant. It's got the slick look of Nokia's business phones coupled with a consumer-friendly feature set. The camera's good, and there's a nice music player for your MP3s - it supports iTunes-friendly the AAC format too, though not songs downloaded from Apple's online music store. Sure, it has its idiosyncracies - size, the lack of flight mode - and the battery's life could be (much) better, but the N70 won me over despite that. A great all-rounder. ®