Original URL: http://www.theregister.co.uk/2006/06/22/review_samsung_q1/
Samsung Q1 ultra-mobile PC
Nice hardware, shame about the OS?
Posted in Personal Tech, 22nd June 2006 14:43 GMT
Review The jury's still out on whether Microsoft's ultra-mobile PC (UMPC) form-factor is the next step in the evolution of mobile computing or just a development dead-end sandwiched somewhere between notebooks, PDAs and PMPs. For now, all we can do is judge whether the first-generation hardware can actually cut it as a portable PC, and since Samsung was the first to launch such a product, it's in the dock today...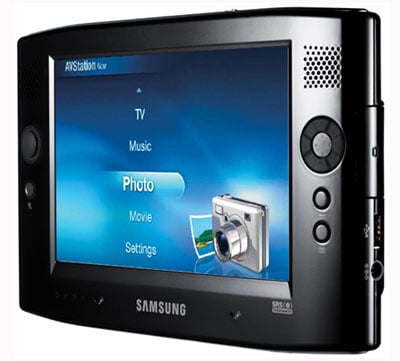 The Q1's about the size of a large paperback book, though it weighs considerably more than that. The front is dominated by the crisp, non-reflective 7in, 800 x 400 display, which looks very fine surrounded by the Q1's shiny black, control-covered faceplate. Make no mistake, this is a nice looking gadget. Below the screen are a pair of microphones, set up as an array to improve their pick-up ability. In the top right- and left-hand corners are the stereo speakers, driven by an SRS TruSurround XT engine.
The sound's not bad, but it's really only the bass-booster that makes a difference. In any case, nine times out of ten, you'll have headphones on. The array microphone is more useful, improving the quality of your end of a VoIP conversation - though network effects can still take their toll on the overall sound quality, of course. Array mics on a notebook with an integrated webcam make sense, but seem unnecessary on a device you unthinkingly pick up and hold in front of you when Skyping - at least, that's what I found myself doing.
To the left of the screen is a circular array of four user-definable application launch buttons, an Enter key and a button dedicated to Samsung's own settings application. On the other side of the screen sit a largely redundant analogue joystick - rather like the one on the Sony PlayStation Portable - and a key to activate non-native screen resolutions.
You'll use the latter rather a lot, though the results are irritating. The 800 x 400 display doesn't have sufficient vertically stacked pixels to show large dialogue boxes, forcing you to change the resolution to be able to see and click OK, Cancel and Apply buttons. You could keep the screen at 800 x 600 or 1024 x 600, but they're not native resolutions so you'll lose the screen's good looks.
Continuing our tour of the unit, the left-hand side is home to the power socket, a USB port and, beneath a nice flush-fitting hatch, the d-sub connector. There's a second USB port on the right-hand side, along with a 3.5mm earphone socket, volume rocker control, hold switch and - bizarrely - a wrist-strap anchor. Given the weight, this is not a machine you want swinging from your wrist while you're out and about. Not to mention the looks you'll get...
The top of the Q1 is where you'll find the CompactFlash socket, 10/100Mbps Ethernet port, the on/off switch and a tiny recessed button marked with a key icon - the Q1's answer to Ctrl-Alt-Del. The power switch also activates the Q1's basic media playback app that runs without having to boot Windows first. There's also a vent for the heat coming off the Q1's 900MHz Celeron M processor, 512MB of memory, 30GB hard drive and Intel 915GM chipset. The stylus bay is next to the vent.

The back of the Q1 is contoured to make it comfortable to hold with both hands - it is comfortable to use this way, with the joystick, application launch buttons and other controls well placed for nudging with your thumbs - including a Menu key that provides access to some of the more commonly accessed settings. There's a fold out stand to keep the machine upright, picture frame fashion. The battery is built into the base of the unit - push a couple of restraining clips on the back to free it.
The joystick acts as the Q1's arrow keys rather than the mouse. You can use it to cycle through Windows UI elements and icons, but with no mouse button, you still have to pull out the stylus to push buttons and so on. The joystick is a real wasted opportunity. It should provide the Q1 with a stylus-free control mechanism - as it is, you'll barely use it at all.
The same problem surfaces with text entry. There's a pop-up virtual keyboard and character recognition entry area, but neither are suited to use without the stylus. Microsoft has bundled some extra tools with UMPC-oriented version of Windows XP Tablet Edition, including a second virtual keyboard, this time with the characters arrayed in two semicircles, one on either side of the screen, dubbed DialKeys. Alas, this is implemented as an application, so you not only have to launch it in the first place yourself but you have to toggle it on and off screen using a System Tray icon which - surprise, surprise - requires the stylus.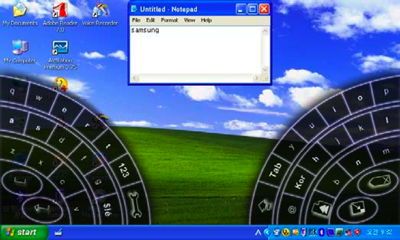 You can use a finger instead, but with a screen resolution of 800 x 400 you need to do so carefully to make sure you press the correct part of the screen.
DialKeys, when running, works surprisingly well as a simple text-entry system - once you've spent some time growing accustomed to it, of course. But then the application implementation gets in the way. You run IE and then DialKeys, say. But moving from IE to DialKeys loses the cursor focus, so you have to reactivate IE to activate the address field so you can go back to DialKeys to type in a URL. You may as well just whip out the stylus and tap the address in using the regular QWERTY keypad.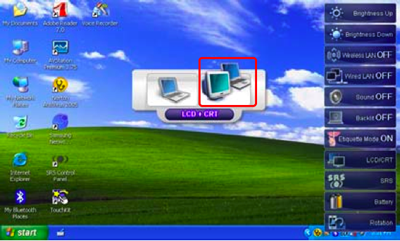 Throughout the time I spent with the Q1, this kind of thing kept cropping up. Any attempt to use the device as a casual information access tool - something a consumer would do, surely - brought up small but irritating inconsistencies in the way the Windows works on such a device. Using XP Tablet Edition is a mistake because the UMPC isn't a tablet.
The UMPC does work as a portable PC - the sort of thing you'd hook up to a keyboard and display in one location, unplug it, and then reconnect it to another set of peripherals on another desk. And with a screen, you can access your data between the two locations. I'm sure some folk will want to do this, to save carrying a laptop around, say. But by far the majority of business notebook users I know carry one because they're working on applications that require a decent-sized keyboard and screen. They are not impressed by the wee tablet - it's too fiddly to get real work done quickly.
And they weren't impressed with the speed either. The Q1's Celeron M isn't a slow chip, but the hard drive isn't as quick as you'd expect from an up-to-date laptop, and there's plenty of clicking and waiting while the hard drive thrashes away to load the applications and data you want.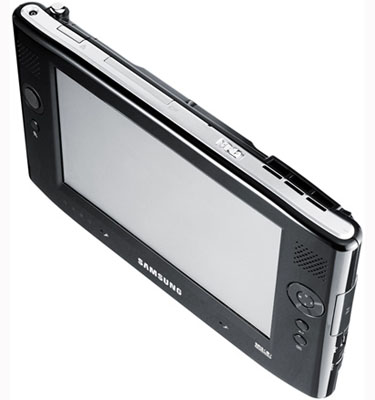 That leaves two target markets: consumers and vertical applications. As we've seen, there are usability issues that limit the Q1's value to consumers. To be fair, this will be a problem with many other UMPCs, Samsung's just got exposure by being first. Vertical markets, on the other hand, will see the UMPC as another electronics clipboard, and for such roles it's perfect. No surprise there, Microsoft's pen computing efforts have always been pitched in this direction, not least because unlike everyone else these applications really do require a stylus as a tool in its own right and not as a crude mouse replacement.
I should point out that Microsoft hasn't ignored non-professional users this time round. Every UMPC ships with a Media Centre-esque launcher to call up apps as well as music, videoes and photos. The downside is that sooner or later you're going to have to write something so you're back to the stylus. In any case, you run a full version of Windows XP because you want all of the features it has to offer. Why then run a much-simplified launcher on top of it? You may as well stick with a Windows Mobile device and at least gain some battery life benefits.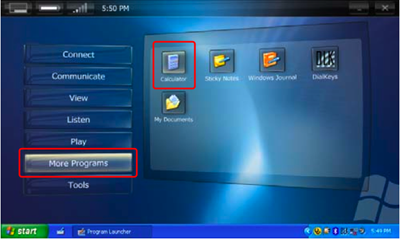 The Q1's price also stands in the way of broad consumer acceptance. To me, £800 seems a lot for a machine to check email over your home WLAN, do some casual browsing and maybe a little media playback. There are much cheaper PMPs out there, and plenty of web tablet-type devices, such as Wi-FI equipped big-screen smart phones.
Of course, they don't have full PC functionality, and it's that that will attract the early adopters: the ability to do all of the PMP and web tablet stuff and to 'proper' computing tasks too. Alas the battery life's not really there yet to make it worthwhile and I'll bet most folk who try the Q1 will quickly go back to their laptops, not so much for the bigger display but certainly the real keyboard.
You can do that with the Q1, of course, but who wants to mess around with wires and cables - it's better, surely, to have all that in a single, all-in-one box? And since you can buy such a machine - one that's has the same compute power as the Q1 - from Dell and co. for under £400 why would you choose an expensive toy like the UMPC?
Samsung has now begun bundling a compact USB keyboard with the Q1, and if that's not a tacit admission that it has a problem selling a tablet in the face of cheap notebooks, I don't know what is. A keyboard certainly makes text entry easier but defeats the object of the UMPC.
Verdict
Like the first-generation iPod, Samsung's Q1 is an expensive bragging tool. Unlike Apple's gadget, the UMPC simply isn't ready for primetime, even if the price comes down. Samsung's design isn't bad but there are few hardware issues and the software needs some work. It'll get there eventually, though look how long it took Microsoft to get PocketPC/Windows Mobile right. For now, though, only early adopters need apply. ®