Original URL: http://www.theregister.co.uk/2006/06/21/review_orange_nokia_n80/
Nokia N80 3G phone
Wi-Fi, 3G and three megapixels
Posted in Personal Tech, 21st June 2006 16:09 GMT
Review The N80 is Nokia's latest attempt to offer a "does everything" phone. It's also one of the company's first handsets to incorporate Wi-Fi and to take the camera resolution to three megapixels. It's an all-singing, all-dancing phone, and it certainly cuts a dash. But does it hit the right notes?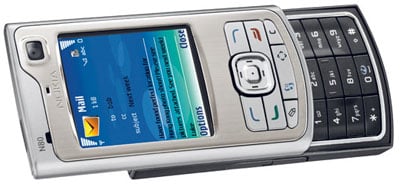 This is Nokia's first three-megapixel camera phone, although there's no auto-focus, unlike the N90. Far more interesting is the fact that Nokia has added 802.11b/g Wi-Fi to the N80. As such, it's one of the first non-Windows Mobile devices to feature Wi-Fi, although Nokia's implementation is rather unusual - and there's no bundled VoIP client. But more on Wi-Fi later.
Let's start with the basics. The N80 is a quad-band GSM/GPRS handset with EDGE and UMTS (3G). You can use it virtually anywhere in the world with the possible exception of Japan. Using the Symbian/Series 60 operating system classifies this as a smart phone.
The 2.1in screen has a rather odd resolution - 352 x 416 - but it seems to be a Nokia standard resolution on newer Series 60 devices. However, the screen looks very sharp in use and can display no fewer than 262,144 colours. The backlight on the screen automatically adjusts depending on the ambient light, although this can be slightly annoying at times.
At 9.5 x 5 x 2.6cm closed, the N80 is a rather chubby slider. It weighs in at 134g, which is rather a lot compared to other smart phones without large touch screens, which tend to weigh in around the 100g mark. It doesn't feel that great in the hand either, mainly due to the fact that it's quite wide and thick. There's no thumb grip for opening the N80 either, and with the stainless steel fascia being quite slippery – especially if you have sweaty fingers – it can be difficult to open at times.
The N80 is available in two colour schemes: Smooth Stainless or Pearl Black – although Orange currently only offers the Smooth Stainless version. One problem with using fancy materials like stainless steel is that the N80 collects fingerprints like nobody's business and the colour of the metal will change with age. However, it does look rather smart compared to silver-look plastic.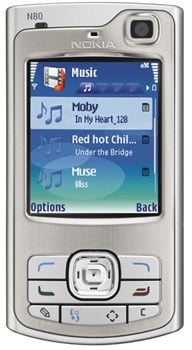 Just below the screen you'll find the top half of the keypad: a four-way navigation pad which is depressed to make selections, two soft keys, call make and break buttons, and the Edit, Menu, Multimedia and Clear buttons. On the bottom right-hand side of the phone is a dedicated camera button, which also launches the camera application. As with many Nokia phones the power button is on the top of the N80 alongside the IrDA receiver. Finally, on the left-hand side, is a slot for MiniSD cards, a standard I prefer to the various MMC formats Nokia has used in the past.
What I did miss though is a set of volume buttons, as you have to use the navigation pad to increase the volume once you've started a call, which I found annoying but will be familiar to long-time Nokia users.
The N80 used Nokia's de facto standard Pop-Port connector, but at least it supports full USB 2.0 speed which makes transferring files and music painless. However, I had some major issues with getting the Nokia PC Suite to play ball. The version on the CD wouldn't install properly and the downloaded version wasn't agreeing with my computer for one or another reason, so the phone wasn't detected properly by Windows.
Luckily, if you only need to transfer a few files across you can turn the N80 into a USB mass storage device. It also supports PictBridge, which allows you to connect it to a compatible printer - I had no issues using it with my Canon i865 printer. The N80 even detected the printer model correctly and the print quality was quite acceptable.
You can also connect the N80 over Bluetooth to a suitable printer, or any other Bluetooth 1.2 compatible device you might own. The N80 doesn't have support for stereo audio, which is something of a disappointment considering that many other new phones do. The N80 also supports UPnP, and you can share files with a PC or another Wi-Fi enabled device this way. You can even stream video, images and music from the N80 to another UPnP device.
As I mentioned at the start of the review, the N80's Wi-Fi implementation is quite different to that of any other device I have used as you can't disable it. Yes, you read that correctly: there is no option to disable the Wi-Fi radio in the N80. Even the manual says so. You can prevent it from searching for new access points, but you still couldn't use it on board an aircraft. The impact on the battery life is hard to judge, but it doesn't seem like having Wi-Fi enabled at all times does too much reduce to it.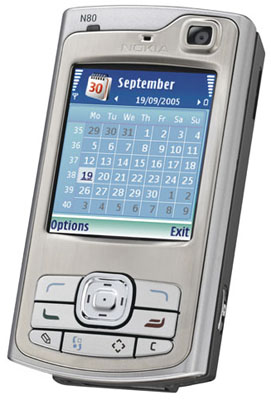 Setting up Wi-Fi connections is quite easy as long as there's an open access point, but once you have to enable encryption and so forth, it gets tricky due to the lack of a proper keyboard for entering SSIDs and WPA passwords. The range doesn't seem to be as good as some other handheld Wi-Fi devices I've used.
With a reasonably high-resolution screen like the one on the N80, it's quite perfectly possible to watch videos on the train into work without going blind. To its advantage the N80 comes with RealPlayer and Macromedia Flash support, and it will also play MP4 and 3GP video files.
There's a wide support for audio file formats, something that is quickly becoming the norm with mobile phones. The N80 supports MP3, AAC, m4a, eAAC+ and WMA file, although there's only 40MB of built-in memory. As it happens, Nokia provides a 128MB MiniSD card, but this is still not enough for anyone serious about music or video content. If you grow tired of your music collection, there's also an FM radio with Nokia's Visual Radio interface.
I wasn't too impressed by the supplied headphones' audio quality, but as it is a combined headset I can forgive Nokia to a degree here. I'm not so sure about the over-the-head fit, but this is more of a matter of personal preference than bad design. There's a rather large piece of plastic which houses the microphone, but this appears to end up on your chest, too far away from your mouth in my view. There are an answer button and volume controls on the right-hand side of the dongle. The headset connects to the N80 via the Pop-Port.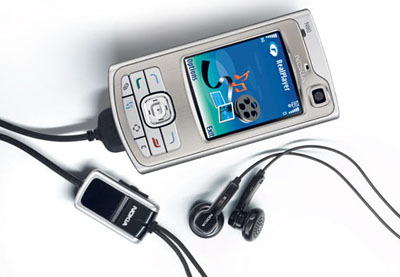 Now, if you'd rather not use the supplied headset, then you'll be glad to know that Nokia bundles a 3.5mm audio jack adaptor with the N80. What I don't understand is why there has to be a rather large square bit of plastic around the round 3.5mm socket. You can connect any pair of headphones to this, but you won't have the ability to answer phone calls this way.
A charger is also supplied, but this is a new type of connector which is smaller than the traditional Nokia chargers. Fortunately, some genius at Nokia came up with the clever idea of supplying a small adaptor that allows you to use an old Nokia chargers with the N80.
Network providers like to customise their phones, and Orange has added a few extra features to the N80. The Orange Photography add-on is actually quite a clever feature, at least on a 3G phone with a decent camera. It allows you to upload your snaps to an online gallery and also order prints. Orange supplies a 30-day trial and you even get the first few prints free of charge.
Why you'd use it with the N80 is another matter. I was disappointed with the quality of the pictures it produced. At 3Mp I expected the camera's picture quality to be a lot better. It didn't matter much if I switched to the macro mode for close up shots. There are plenty of shooting modes and a built-in LED flash allows for shots in darker conditions. You can also shoot video at a maximum resolution of 352 x 288.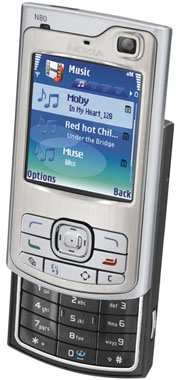 Apart from the photo add-on, Orange has left the N80 quite unscathed, at least compared to some other devices that tend to get a complete makeover.
There's a wide range of other standard applications, like a voice recorder, a notepad, a unit converter, a calculator and a calendar. Add to this the inclusion of an instant messaging client, a blog application, a couple of games and the QuickOffice tool for reading and editing Microsoft Office files, and the N80 offers a fairly substantial collection of pre-installed software.
I have to give the multimedia button a quick mention, as it plays a little sound once pressed and brings up a dedicated menu which gives you quick access to the FM radio, the music player, Orange Photography and the web browser. Not the most useful button I've come across on a phone, especially as you can have most of these functions on the standby screen anyhow.
Voice-call quality was very good, although I didn't get a chance to try out the video call quality, due to a lack of friends equipped with video phones. The front-mounted camera is of VGA resolution and should offer good enough quality for video chats.
Orange doesn't offer the N80 for free, which is rather unusual even for a high-end phone these days, so expect to fork out £50 if you intend to procure one.
Verdict
The Nokia N80 certainly packs in the features, but many of them aren't implemented as well as they should, or are ideosyncractic. Fans of Nokia phones will appreciate the N80's looks, and consumers seeking a non-Windows Mobile device that nonetheless does Wi-Fi should take a look too. But while the N80 is a solid enough product, it fails to excite. ®