Original URL: https://www.theregister.co.uk/2006/06/16/mio_c210_sat_nav/
Mio launches C210 Sat Nav in Brussels
And it's cheap, very cheap
Posted in Personal Tech, 16th June 2006 08:32 GMT
Belgian company Mio Technology has launched the C210 Sat Nav package, with a very reasonable retail price of £199.
This SiRFstarIII GPS receiver combines a 400 MHz processor, a 2.7 inch screen and an SD slot for the map. It weighs 110g and runs on four AA batteries to provide over 4.5 hours of navigation on foot with the backlight on and GPS function at full power. An in-car charger provides the C210 with power when the user is on the road.
The key feature as far as we Brits are concerned is the seven digit postcode recognition, rather than the six digits used by some software. Seven digits locates an address to within a few metres, while six digits covers a number of streets - even if you don't have a full postcode, the software will narrow down the options as you key in each letter of the address on the touch screen.
With an optional Traffic Messaging Channel (TMC) antenna plugged in (price TBA), the C210 will receive live updates of traffic problems and hotspots and either automatically plan a new route to avoid problem areas or provide the user with a choice of a new route or continuing on the original route.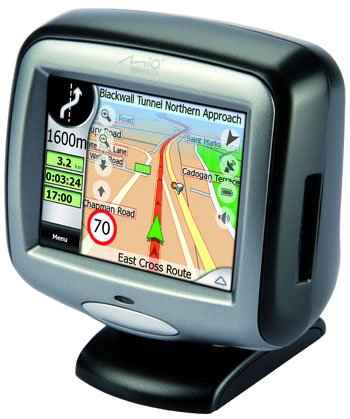 In addition, there's a taxi mode designed to take the user on short-cuts across towns and cities. Presumably this mode also discusses policing in East London and offers an opinion on the Football.
We also like the safety camera database which alerts drivers of camera locations, offers the ability to add new cameras and comes with free database update for one year. If several users identify the same new camera location, Mio will then verify the camera and make its location available for all registered owners to download. ®