Original URL: https://www.theregister.co.uk/2006/06/14/designer_phones_from_nokia/
Non-scents from Nokia
A nose at the new concept phones
Posted in Personal Tech, 14th June 2006 09:45 GMT
For six months, 25 Industrial Design MA students from London's CSM College of Art and Design have been working to create concepts for a premium but mass market mobile device capable of providing 4G or 5G multimedia services.
The students worked for a cash prize and, more importantly, for the chance to work side-by-side with Nokia's design team during a summer placement at the Nokia design studios.
The winning design, was also made into a dummy handset for an exhibition in London's Air Gallery this week.
One of the designs, the Nokia Scentsory, is superb, partly because it reminds us of the paper clackers that we used to make many, many years ago in the innocent days of our childhood. In Closed mode you use it like a slim candy bar phone, in open mode you can use the screens and keyboard. But the real piece of resistance is the Scentsory mode that uses scent detectors that "allow you to see, hear, feel and smell your caller's environment".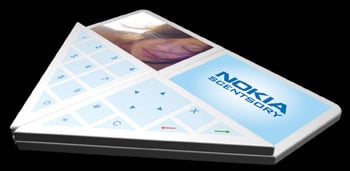 "Hello, yes, that's right, I'm in the pub toilet - how did you guess?"
We like the Scentsory because it's as mad as a box of frogs, and if you dump the smell-o-vision nonsense, it looks like a damn fine phone.
The winner of the competition is the Nokia 111 by Daniel Meyer, and this is where the New Age speak goes into overdrive. The phone looks - to our eye - like a candy bar with a hinge in the middle, but it is, apparently: "Inspired both by the advent of video calling and the traditional practice of carrying pictures of friends or family members with you. The handset is designed to sit as a picture frame wherever the user is, serving the dual purpose of communications device and a comforting familiar focal point; at home, at work or in a hotel while away on business."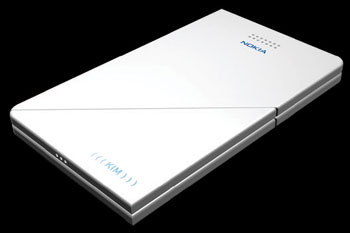 Well, OK, fair enough. These are designers so we have to cut them some slack, but Nokia goes on to indulge in some excruciating Zen-speak.
"This concept means to encourage new behaviours. As a piece of electronic furniture the user creates a new relationship to the product and treats it differently. Pieces of furniture belong somewhere, unlike the mobile phone which belongs nowhere. This encourages people to find favourite places to leave the device. It is not only a portable phone but also a piece of home that you can carry around with you. It's an emotional object that creates a comforting effect by reminding you of a favourite place or special person."
Taking the mickey out of that little lot would be like shooting fish in a barrel, so we shall rise above it. ®
The Future of Mobile Design exhibition is running from 13 to 16 June at the Air Gallery, Dover Street, London, and is open daily from 10am until 6pm. Entry is free.