Original URL: http://www.theregister.co.uk/2006/06/13/don_eigler_valley/
A man and his microscope: IBM's quest to make atom-sized chips
The silver surfer speaks
Posted in Science, 13th June 2006 08:42 GMT
Into the Valley When taken into the room holding the world's highest resolution microscope, we expected to witness a pristine marvel of engineering. Workers in bunny suits would be rushing around in an ultra-clean chamber, tweaking the microscope with refined instruments and unparalleled care. Instead, we found a hand-crafted oddity composed of tin foil, a maze of cables and iced tea cans. Somehow this monster can resolve the height variations of a surface down to about 1/10,000 the diameter of a typical atom, according to its creator IBM Fellow Don Eigler.
Eigler works at IBM's idyllic Almaden Research Center and is best-known - at least in certain circles - for using the scanning tunneling microscope in 1990 to spell out I-B-M with atoms.
We recently sat down with the pony-tailed researcher-cum-surfer to discuss past and present work being done at IBM to create nanoscale computers. Eigler walked us through the burden of being the "atom man" and talked up a new technique for building processors one spin at a time.
El Reg: Give us some of the origins behind the now famous I-B-M in atoms work.
DE: IBM has traditionally supported, in some sense, more than its fair share of the long-range research. It has worked very successfully for our business model.
When I started here, I was doing work which was very fundamental. It had to do with understanding the physics of surfaces. This was a very important problem for small things because when things are small enough everything comes at or near the surface or the interface of that small thing to the next small thing near it.
Through a combination of hard work, some horse sense and good, old fashioned blind luck, I happened to be positioned to discover that I could manipulate individual atoms with a scanning tunneling microscope.
El Reg: As we understand it, the particular scanning tunneling microscope was one of your own design.
DE: Yes. It's my own design.
Building your own instruments is a long-standing tradition of physics. It is my greatest professional strength. If you ask me what I'm strongest at, it is designing and building my own instruments.
El Reg: Well, it used to be a requirement for physicists to build their own equipment, didn't it?
DE: That's right.
It's certainly not a requirement that everybody be a good instrument builder, but we definitely want, in the community of physicists especially, we want some of our people to be really good at building instruments. There's no doubt about that.
You mentioned that you visited SLAC (Stanford Linear Accelerator) and NASA Ames. Well, there's instrument after instrument at those places that are one-of-a-kind.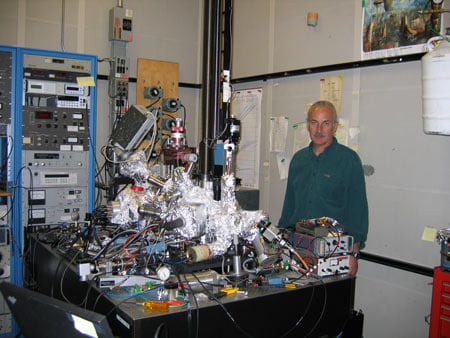 El Reg: What gave your design an edge over the other scanning tunneling microscopes?
DE: What was unique about my instrument was that it was the first instrument that operated at very low temperatures - the temperatures of liquid helium at four degrees Kelvin. It combined the ability to do tunneling microscopy at low temperatures on clean surfaces. That was key to doing the atom manipulation work.
El Reg: Spelling out I-B-M seems like an obvious decision, but was there anything else that you thought about printing?
DE: I made that decision on my own. Management never said anything to me beforehand, and I did it with a very clear purpose in my mind. IBM gave me a job, gave me the opportunity when I needed one, gave me the opportunity to excel at doing the things that I love in life, and it was payback time. I pull no punches on that. It was my way of giving back to the corporation some of what the corporation gave to me.
I guess that I could have written out M-O-M. It's three letters and about as complicated as I-B-M. I am sure my mom would have been very proud of that, but she is proud enough of me as it is.
Seriously though, when a group of people or an institution does something good for you, it's your natural impulse to want to do something back.
[You can hear Eigler discuss the larger context behind his work here.]
El Reg: Have you grown weary of recounting all this?
DE: I don't mind talking to people when they're curious, for instance, about what I was thinking about or why did I do this or something like that.
The thing is that I always get introduced to people as the guy who wrote I-B-M in atoms. After you have heard that enough times, you don't really need to hear it five more times. Everybody who knows me will tell you that my ego if anything does not need inflating. That's not a problem.
Not that that inflates my ego anymore. It's old. I just try to tolerate it as best as possible.
El Reg: When you were doing this work, was it more to see just how far you could push things or where you thinking seriously about applications for semiconductor physics?
DE: When I first started working at IBM, the motivation was to lay a foundation of knowledge about surfaces because we knew that knowledge was going to play into our industry. We knew that we could identify areas where we really wanted to understand things better.
But, since we have learned to move atoms around, we have definitely changed the flavor of our research to being more applied. Now we ask more direct questions. Can we build things that compute that small?
And, we have learned to do that. We've built the smallest switch, which is just the motion of a single atom. Four or five years ago we came out with new kinds of logic circuits called molecule cascades, which are far and away the smallest logic circuits ever built, and they really do computation for you.
[Eigler discusses how a one atom switch works here.]
El Reg: What are you examining these days?
DE: My work has been more on the exploratory/revolutionary part. We have to get out there and look for the stuff to follow on. What will augment silicon or follow silicon. The work that has been going on in my laboratory has really been addressed at that level of questioning.
There is no guarantee that anything coming out of our laboratory will lead directly to something that is shipping in a product.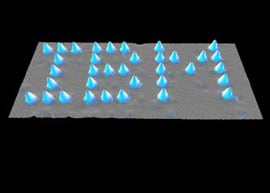 El Reg: What seems to be the most promising direction at the moment?
DE: One of the things that has me excited and that the group is working on is this. We really want to do computation with spins. Electrons have this property of having a magnetic moment of spin.
The way the transistor works is by controlling the flow of electrons. When electrons move from place to place, they bang into things, they lose their kinetic energy and that warms things up and creates all these problems such as resistance and leakage. That's the way the world does computation right now.
One of the buzzwords floating around is spintronics. This generally refers to using the flow of electrons to control the magnetic orientation of the spins - at some region - of a solid or using the spins to control the flow of electrons. It's kind of a way of switching things or doing computation using the combination of the motion of electrons and the spin of electrons.
Right now we are working towards being able to do computation only using the spin.
El Reg: Can you explain more how that would work?
DE: Imagine that you have a bunch of electrons. Suppose the spins of these electrons are all aligned and then I come to the end of the chain, and I grab one spin and knock it down. Can I make a type of reaction happen where they all go down?
One of the things I have just done is transport a bit of information from one place to another. Information transfer from place to place sounds very mundane, but, it's a huge issue. If you look at everyday semiconductor chips, the transistors are in an active layer of silicon and then on top of that in a CPU, there might be 12 layers of wiring. Why do we have all that wiring and what is it doing?
The vast majority of that wiring is doing nothing more than moving information from place to place. It is not doing logical operations on information. It is just moving information from a place where logical operations can be done to the next place where that information has to be processed.
So being able to transfer information just using the spin and not letting electrons move around is something we're interested in. But we are also interested in learning how to use the spins to do the logical operations. In fact, we are interested in learning how to do everything with the spins except for the input and the output.
El Reg: Does this type of technology really look that practical? Why spins?
DE: Well, for one, because it's there.
Two is that we think there is a possibility that it could be done in an extraordinarily dense way. We might be able to achieve three-dimensional integration as opposed to two-dimensional integration, which is what we conventionally do. And then we might be able to do it in a way that consumes very, very low power.
Do we know the answers? Can I tell you that any of those things are likely? No, we don't know the answers. But for somebody with a job like mine, when someone says we don't know the answer, we smile and say, "Job security." That's what we're paid to do is go out there and dig up those answers.
El Reg: How do you get one of those spins to go down, as you say?
DE: We're thinking about the techniques used with molecule cascades. They work the same way as dominoes in the sense that you can stack dominoes up, and they stay there assuming there is no big earthquake, and then you knock one over and have this cascade. You have to put in energy. With dominoes that's the process of standing them up. With magnetic spins you have to do the same thing globally with a magnetic field from the outside. We create a magnetic field that stands our spins up and once they are up, without moving them around, we should be able to knock over key dominoes at the input and dominoes/spins will flip.
El Reg: How close are you? Have you done this?
DE: Well, we've done the molecule cascades. That's inspired us to do it with spins. We have put in place a tool, which allows us to interrogate the spin configuration first for a single atom to determine how much energy it takes to flip the spin. Then, we have a paper coming out in Science magazine where we show that we can take that tool and understand what the spin configuration of a group of atoms is. So, we are still at the little baby steps.
But, we are also just now taking the first steps toward engineering a spin system at the atomic scale. It will say, "Okay, we want it to cost more energy to flip the spin on this atom and make cost less energy to flip the spin on this other atom." We are almost there.
Once we learn how to engineer systems like that, then we take a big step toward being able to demonstrate the kinds of things required to do computation.
I promise you IBM will not ship a spin cascade computer this year.
[Eigler discusses IBM's approach to facing Moore's Law here.]
El Reg: Anyone dabbling in nanotechnology these days seems required to frighten us with a "what if" scenario. What have you got for us along those lines?
DE: A lot of people may not be comfortable with it, but we are definitely heading in the direction of having implantable electronics - things that we have that go into our bodies that are valuable to us. We're going to want them. Society will become ultimately comfortable with it.
This is in some ways not new. Pacemakers are not a point of dispute anymore. As soon as grandma has a pacemaker, then society suddenly becomes comfortable with it because we love having granny around. Well, I could very easily see in the future that we're going to want to carry around certain pieces of information with us, and we're not going to want to worry about security or leaving them behind. So, we will want that implanted in our bodies.
We may want something more than that. We may want onboard computational power. We might not want to worry about batteries running down. We might want to be able to power up our onboard computational power just by eating. We will have to learn ways to take the chemical power in our blood and convert that to useful electrical energy.
A lot of this might sound like Sci-Fi, but if you think about where the world is going and what manufacturing small structures may allow us to do, it becomes less and less Sci-Fi and more and more real, especially when you realize the first steps have already been taken.
El Reg: How many decades are we talking about here for something like this to appear?
DE: Don't hold your breath.
But I'm just using this as one example of an area that you can see just blossoming on the back of the knowledge we are creating today.
I think the enthusiasm behind nanotechnology is largely warranted. The reason is that every time we learn how to build something, how to do something, how to interact with something on a length scale that we have not had access to in the past - something really good comes from it. That is just our history. ®
Offsite links
You can find Eigler's bio here and a bit more on the I-B-M atom spelling here.