Original URL: https://www.theregister.co.uk/2006/06/08/intel_gelsinger_stanford/
Intel's server chip chief knocks Itanium, Gates and AMD
One of these is not like the others
Posted in The Channel, 8th June 2006 19:07 GMT
Has Pat Gelsinger sinned? We think so. Intel's former CTO and current sever processor chief made one confession after another, during a session yesterday at Stanford University. Gelsinger did the unthinkable by knocking Itanium and Microsoft and unleashed some future product details. He even dashed into the uncomfortable territory of suffering from a mother's disappointment for her son.
It may have been the weed-addled computer science students in the audience or a splash of LSD plopped into the executive's water bottle. Something had Gelsinger feeling good and loose upon this return to his alma mater to take part in a speaker series that is part of the students' course requirement.
"I have wonderful, fond memories of Stanford," Gelsinger said. "I quit Intel three times and, on multiple occasions, they hired me back to the company, so I never finished my PhD."
The lack of the doctorate would come back to haunt Gelsinger as he surged up Intel's executive ranks. After informing his mother that he'd been named Intel's first ever CTO, she responded, "That's great, honey. What's a CTO? When are you going to finish your PhD?"
"So, I still have never quite made it in my mother's eyes," Gelsinger said.
No tears were shed, as Gelsinger used this anecdote to ingratiate himself with the Stanford crowd and prove he's not just a brain locked away in a nerdery but instead a real huckster.
Of course, you all probably care less for Gelsinger's Freudian issues than for product information. So, here we go, starting with the grandest confession first.
"I have not in my career been an Itanium advocate," Gelsinger said, noting that being forced to run the Itanium business has been an "interesting exercise." This comment garnered big laughs from the students who seemed fascinated by Itanic.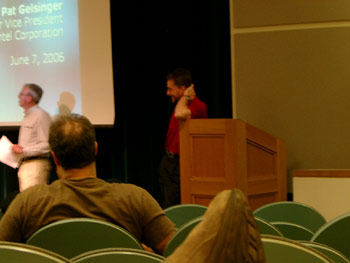 Gelsinger admitted that Intel "was way optimistic at how fast we could create a new software paradigm."
"In a five year period, you can't move the software industry," he said. "You just can't get it done."
Too bad HP's customer base didn't get that memo.
An Intel man to the end, Gelsinger went on to defend Itanic, claiming the fifth miracle in the processor's history.
"Amazingly, my Itanium business today is doing great. Demand is strong. The market is taking off. . . . Everybody on the planet has lined up to build their mainframe replacement behind it."
Which is true, if by "everybody," you don't count three of the four largest server vendors and ignore the fact that no vendor other than HP sold more than 230 Itanium servers in the first quarter, according to Gartner. Gelsinger noted that Itanium sales are now half as large as SPARC and Power sales. He failed to mention that Itanium sales only account for half of HP's RISC/Itanium revenue as well and that total Itanium sales reached only $625m in the first quarter, while RISC sales hit $3.9bn. But let's not split "industry standard" hairs.
You can, of course, only talk about Itanic so much - a maxim we've done out best to bust. On to the good stuff.
Most of Gelsinger's talk centered around Intel's new "Core" architecture being rolled over the next year for servers, desktops and notebooks. This is the design that Intel hopes will stall AMD's market share march by giving Intel a product that does well on a performance per watt scale.
Speaking to a knowledgeable crowd, Gelsinger burrowed into topics such as wide dynamic execution, digital media boost, smart memory access and better power management. These are things we've already discussed here and here.
For the first time that we can think of, Gelsinger confessed to an internal squabble over how long Intel could keep pushing GHz rather than heading toward a lower power, multicore product line like its competitors.
"We thought we had a couple more generations of these things to go," he said, while other people within Intel said "we had to change."
Despite falling behind rivals, Intel has now caught up and has "engineering marvels" on the way. Intel will introduce the Woodcrest chip for dual-socket and below servers "next week," Gelsinger said. He then went on to chastise AMD for making disingenuous claims about how Opteron will stack up against the new Woodcrest server chips.
"With all deference to the marketing program of the 'A' company . . . a lot of (what they say) doesn't bear out when you look at load and latencies."
In particular, Gelsinger thinks AMD makes too much of its on-chip memory controller. Intel thought it more practical to keep relying on pumping data through the front side bus and boosting performance by strapping chips with mammoth caches.
Er, but, Intel will adopt the on-chip memory controller anyway. "Yes, we will do it at some point," Gelsinger said.
Gelsinger also confirmed the obvious by saying Intel will start producing eight-core processors when it moves to a 45nm manufacturing process in 2008.
We're hearing better and better reviews for Woodcrest.
"Opterons don't have a chance against Woodcrest," one customer at a prominent financial services company told us. "Under Windows Server 2003 64-bit running SQL 2005, the pre-release Woodcrest systems are over 30 per cent faster than a similar Opteron, while consuming a smidgen less power.
"Intel got caught 100 per cent resting on its laurels for one full CPU generation. It's not going to happen again."
One of the big challenges facing Intel and AMD as they move to multi-core processors is a lack of software than can take advantage of the fancy chips.
"A couple of years ago, I had a discussion with Bill Gates (about the multi-core products)," Gelsinger said. "He was just in disbelief. He said, 'We can't write software to keep up with that.'"
Gates called for Intel to just keep making its chips faster. "No, Bill, it's not going to work that way," Gelsinger informed him.
The Intel executive then held his tongue. "I'm won't say anything derogatory about how they design their software, but . . . " Laughter all around.
VMware co-founder Mendel Rosenblum was sitting in the audience at Stanford and called Gelsinger out on the Gates jab.
"As much as I like to hear someone make fun of Microsoft, Bill Gates was dead on," he said. "This is a paradigm shift. Am I going to get a magic compiler that will parallelize my code?"
Gelsinger went on to confirm that Intel will re-introduce Hyperthreading in the generation of chips that follow "Core," which will add to the software adventure.
You can find even more about some of the geekier issues Gelsinger addressed here. ®