Original URL: https://www.theregister.co.uk/2006/06/04/preview_intel_core_2_duo/
Intel Core 2 Duo performance preview
A taste of things to come, but when?
Posted in Personal Tech, 4th June 2006 16:02 GMT
Preview Last week, Intel gathered the European press in Munich for a sneak peek at its the Core 2 Duo chip - aka 'Conroe'. Reg Hardware was there. We were limited to running a set of pre-installed benchmarks on the systems provided so this isn't a conclusive performance review of what Core 2 Duo is capable of...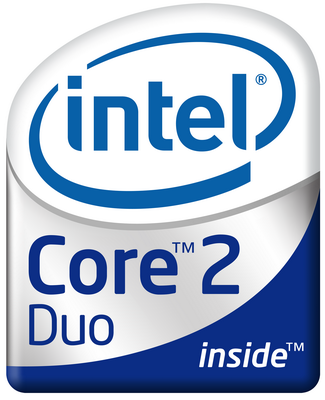 Nonetheless, the numbers are very impressive, but let's start with a look at what's on offer and why you should consider moving to the Core 2 Duo platform. Intel is touting Core 2 Duo as a power-efficient processor that also offers better performance than the Pentium 4 and Pentium D chips.
Intel was keen to highlight some of the new functions of the Core 2 Duo processors. First of all there will be versions with either 2 or 4MB of shared cache - ot Intel Advanced Smart Cache, if you're into marketing wording. The two cores have to "fight" between themselves for cache allocation, and Intel claimed this technique delivered the best performance in their simulations.
One of the most important features is what Intel refers to as Wide Dynamic Execution, which allows for more data to be processed per clock cycle compared to previous generation of products. The Core 2 Duo processors can processes four full instructions per clock cycle, compared to the NetBurst architecture's three. A part of this is a technqiue Intel refers to as "macrofusion" which enables common pairs of instructions to be combined into a single instruction. The result: certain types of data can be processed in less time than it took on previous generations of Intel processors.
Smart Memory Access has been designed to lower memory latency and improve data access. The key to this is "memory disambiguation", which allows the execution cores to pre-load instructions that are about to be executed before the previous instruction has finished. This is based on a set of intelligent algorithms and it doesn't work under all circumstances, although it means that in most cases the processor will spend less time idling and more time processing data. A better memory pre-fetch system, with twin pre-fetches in both the L1 and L2 cache, should also improve the rate at which the correct data is being made available for the cores to process.
This takes us on to Intel Advanced Digital Media Boost - and I thought long, silly technology names where reserved for Asian companies - which is just an improved version of SSE. What Intel has done is to allow a 128-bit SSE operastion to be executed in a single processor cycle, which means that SIMD operations that previously have taken two clock cycles now complete in half the time.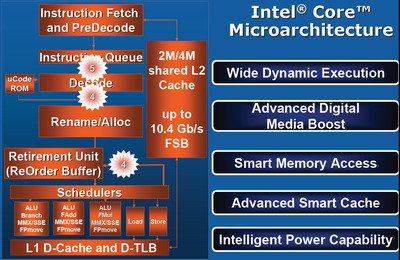 Many of Conroe's power saving features aren't really power saving as such, but rather related to the more efficient processor design, which means that more data can be done in less time. In turn, that equals less power usage. However, Intel has lowered the TDP to 65W on the desktop parts, which is nonetheless very impressive.
But enough marketing material. Let's start with the test systems that Intel had set up for us. The processor was clocked at 2.67GHz and it should be known as the E6700 when it hits retail. As you might already have guessed the machines had an Intel-branded motherboard and as the Core 2 Duo processors operate at a 1066MHz frontside bus, the motherboard of choice was the Intel D975XBX. This is a top-of-the-range model from Intel. We weren't permitted to change any BIOS settings.
Intel had also installed 1GB of Corsair DDR 2 memory which was clocked at 800MHz and set to run at 4-4-4-12 timings. Add to this a couple of ATI Radeon X1900XTs in a CrossFire setup and you're looking a decent machine. The graphics drivers where the Catalyst 6.3 beta release, as supposedly these are the only drivers that currently work with the Core 2 Duo.
You'll find that the various publications that attended the Intel briefing have run slightly different benchmarks, as there was a selection of applications to run. I tried to stick with benchmarks familiar to Reg Hardware readers, and this also offered some sort of comparison against the AMD Athlon 64 FX-62 I reviewed last month. Although the 3D benchmarks aren't comparable, at least PCMark 2005 and POV-Ray offer an idea of how much faster the Core 2 Duo is.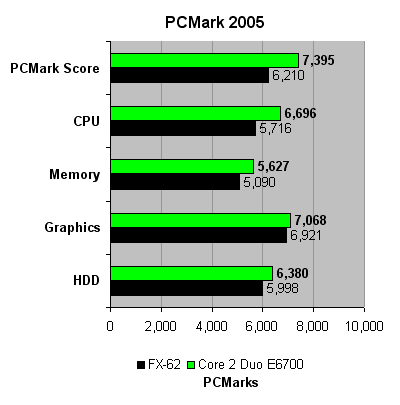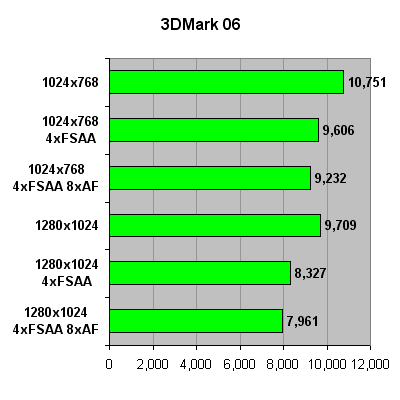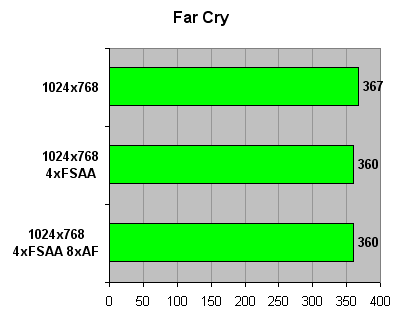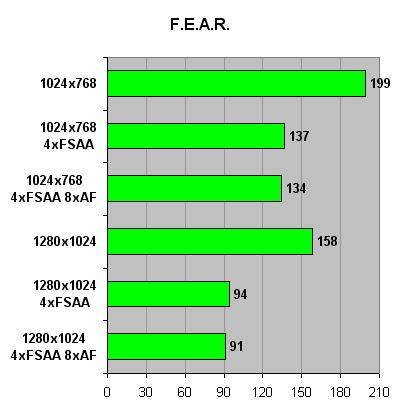 The overall PCMark 2005 score is more than 1,100 points higher than the FX-62's score which is nothing short of incredible as the FX-62 is a higher-clocked processor, although some of this has to be credited to the graphics cards. The default render test in POV-Ray shaved 1m 12s off the FX-62 in dual-core mode. Conroe was 2m 12s faster when both CPUd were running in single core mode. With results like this Intel better have a stock pile of processors lined out to be ready to ship if nothing changes from now on.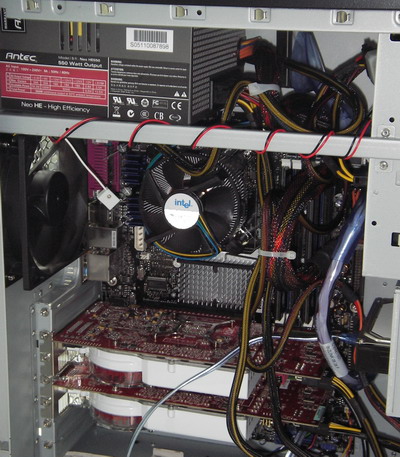 The 3D results are similarly impressive and although I don't have any exact comparisons and was only able to run the tests at fairly low resolutions, they bode very well. Intel had a couple of FX-60 systems set up as well, both overclocked to 2.8GHz and with a similar setup to the Core 2 Duo machines. For a rough comparison the Core 2 Duo system managed to produce 367fps in FarCry on the training level, whereas the FX-60 machine only mustered 250fps. As this was at 1,024 x 768 resolution it is likely that the gap will narrow at higher resolutions, but Intel has an amazing lead here.
A default 3DMark 06 score of 9709 is quite impressive as well, but not as good as 199fps in F.E.A.R. at 1,024x768 at optimal performance settings for the platform. The reason for the F.E.A.R. score being especially noteworthy is because this is a very CPU-limited game. Sure, Intel had fitted two very fast graphics cards in the machine as well, but the results are almost twice as fast as any other platform out there. Remember that this was on a fairly default setup without any tweaks that I could spot to make it go faster.
I'm sure many of our more hardened readers by now think that I'm an Intel fanboy and that I've swallowed the bait, hook, sink and line all in one go. Well, this is a preview and I can only go by what I've had a chance to actually play with, which was quite limited. However, I believe it is unlikely that Intel is trying to pull the wool over anyone's eyes - it would cause it no end of grief in the long run.
On a side note, 'Merom', Intel's notebook-oriented Core 2 Duo, was also demo'd, though we weren't allowed to do any testing. Intel claims Merom delivers up to 25 per cent more performance while maintaining the same power efficiency as the current Core Duo platform. But for those not satisfied with a dual-core processor, there was a final treat: 'Kentsfield'. Although for some bizarre reason this quad-core processor was only used to host the PowerPoint slides we where shown. Talk about waste of CPU power...
But back to the Core 2 Duo. At a predicted retail price of $530 for the E6700, this performance doesn't come cheap, but the 2MB cache versions are much more affordable and one of the Intel representatives claimed that even the E6400 which is clocked at a mere 2.1GHz would outperform an AMD Athlon 64 FX-60. Time will tell if this really is the case, but it goes to show that Intel is confident in its new range of desktop processors. Now, let the price war begin.
Intel wouldn't confirm a launch date, but processors will be shipping to its partners some time this month, so one can only presume that the launch isn't too far away. Yields are said to be very good and there shouldn't be any shortages of processors, although officially Intel doesn't comment on yields, so we'll just have to wait and see.
Verdict
My first impression of Core 2 Duo is very positive, though the testing had to be conducted in a 'controlled' environment. We'll bring you an in-house review as soon as Intel sends over a review kit, so stay tuned for a more in depth follow-up to this preview. ®