Original URL: https://www.theregister.co.uk/2005/09/20/google_earth_democracy_two/
Google Earth threatens democracy - again
More secrets laid bare to Godless commies
Posted in Bootnotes, 20th September 2005 14:44 GMT
Our recent article on Google Earth blowing military secrets to the forces of darkness provoked a huge response - much of it from eagle-eyed readers who obviously have nothing better to do than spend all day peering at the earth's surface for eye-catching hardware and installations.
Accordingly, we thought we'd chase up a few of the leads provided and present the results to an amazed world. First up, many of you said the White House roof - plus related government buildings - are no longer obscured. Well, here's the evidence, from Google Earth and Google Maps: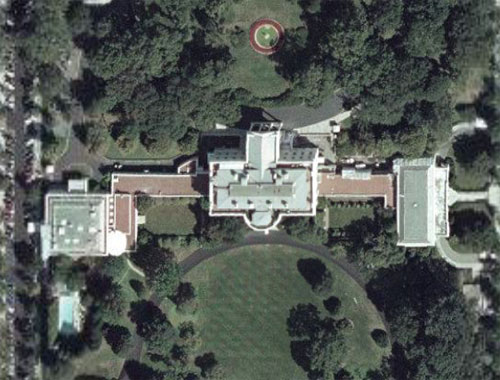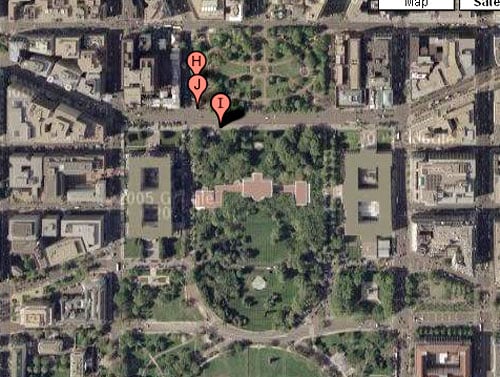 Google Maps appears to be a little backward in coming forward on this one. Splendid effort by Google Earth, though, and not a black helicopter in sight.
Next, British and US air bases in the UK. Who needs Google?, asks Ross Fenton:
You can just hire a light aircraft and fly over RAF and USAF stations at 1200 ft taking as many pictures as you like. The trick is to fly at the weekend when the military are out shopping. I have yet to try this in North Korea.

I went for a flight in late July flew from Elstree to Norwich and then to Leicester. On the way I flew over USAF Mildenhall and Lakenheath, RAF Marham and Wittering and through RAF Cottersmore's MATZ. Of those MIldenhall were in but were not bothered, Marham was in and actually gave me a transponder code so I could be tracked on radar. I attach photo's as proof. Quality is not that good as I was trying to fly a plane at the time, it was foggy and I am a lousy photographer.

The photos are Mildenhall from 1200 ft, Lakenheath from a similar height and Wittering from 2000 ft. Note the harrier jump ramp on the south of the runway: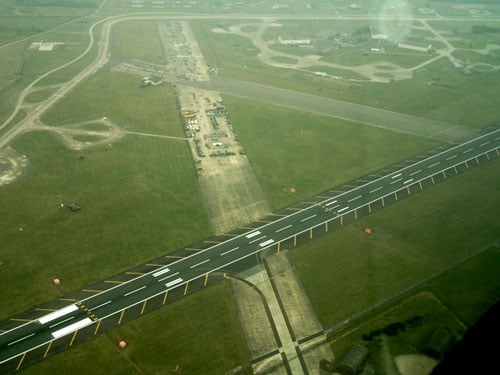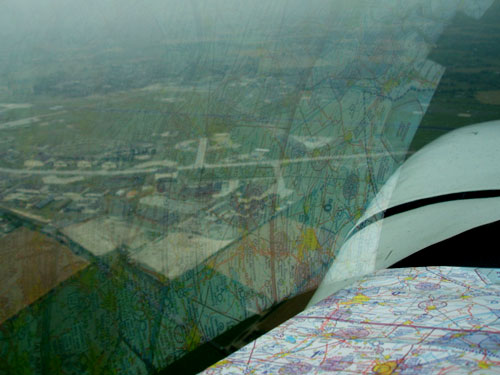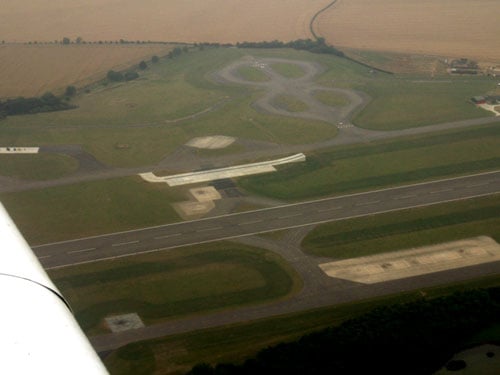 Good stuff. Probably a good idea not to try it over North Korea, though - even on a Sunday afternoon when they're all down the Kim Jong Il DIY superstore buying flat-pack pine-effect shelving units.
If you need a good snap of Aldermaston, however, you won't need a Cessna and a digital camera. Try Multimap, as spotted by the suspiciously-named Jeremy French: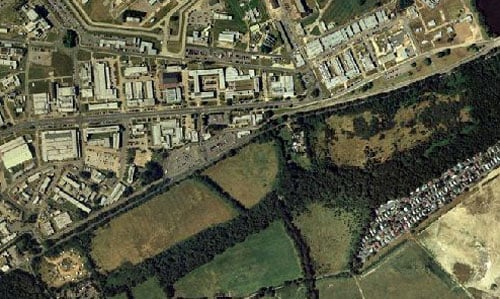 They even offer a link to "Purchase more detailed aerial photography here", which is very handy if you're sitting in cave in Afghanistan with a satellite broadband connection and an al-Qaeda Platinum credit card.
Over in Russia, meanwhile, we have a winner!: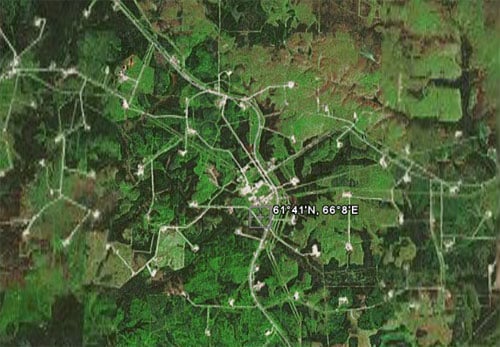 Good work by Ian Ameline, who took up our challenge to spot the nuke silo and came up trumps. As did Matt Woodward's "dear mother", as he puts it, who opens our entertaining section entitled "Ah, so that's where the Navy lives..."
Yes indeed, Matt's mum provided us with the co-ordinates of the French naval base at Brest: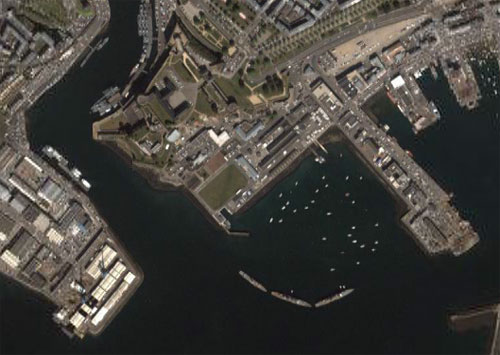 Tasty. Try some hi-res, hot warship-on-warship action: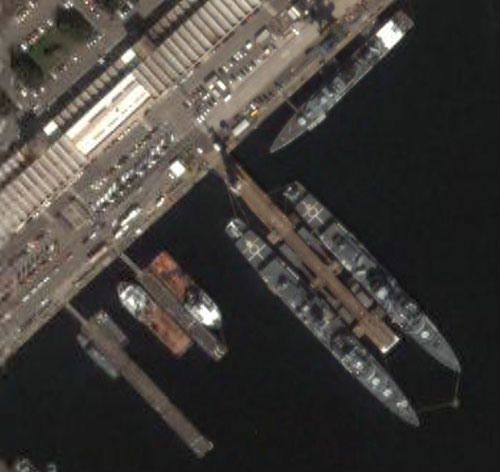 As we previously noted, the Brits are rather reticent about allowing the public to view its submarine bases, as this grab of Faslane (home of the Trident sub) shows: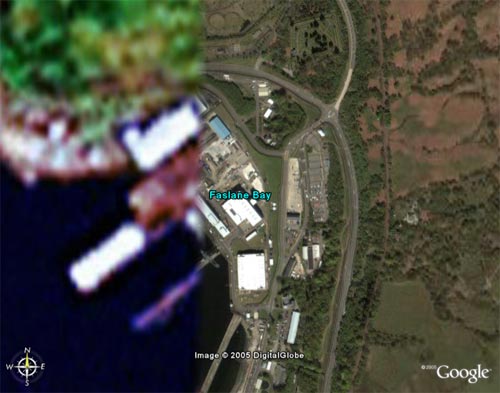 The French, of course, dismiss such childish obfuscation and share their facilities with pride: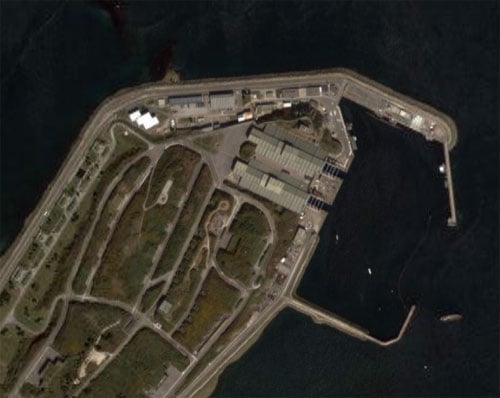 This particular installation lies just over the water south of Brest. Look like the chaps were at home, too, when Google called: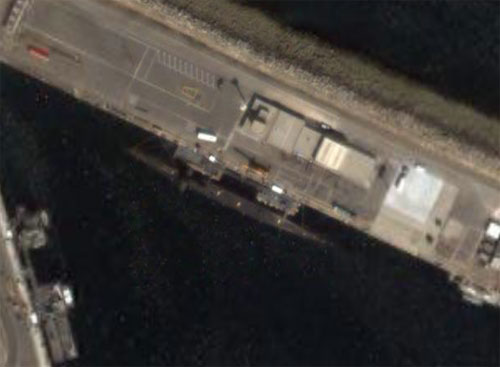 Marvellous. Matt says of his inquisitive mother: "No, I don't know why she was engaging in a bit of virtual snooping around high-security military installations either. I've reported her to MI5 anyway - you can never be too careful."
Quite so, although you can tell your mum that the following should give her something to peruse while she's being held without trial pending deportation to Syria - Rota naval base in Spain: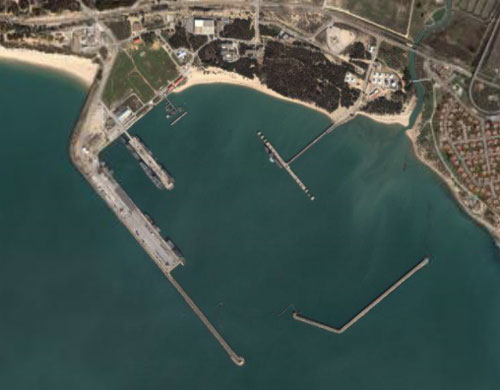 And here's a detail for aircraft carrier spotters (the Spanish Principe de Asturias, we are reliably informed: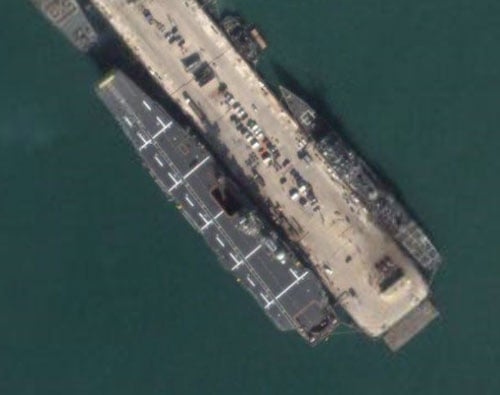 The base blurb reads:
Naval Station Rota, Spain is strategically located near the Straits of Gibraltar and at the halfway point between the United States and Southwest Asia. Because of this ideal location, the base is able to provide invaluable support to both U.S. SIXTH Fleet units in the Mediterranean and to USAF Air Mobility Command units transiting into or through the theater.

Naval Station, Rota and its tenant commands are located within the boundaries of the 6,100 acre Spanish 'Base Naval de Rota.' Under the guidance of the Agreement for Defense Cooperation, the U.S. and Spanish navies work together and share many facilities.
Yes they do, like the airfield: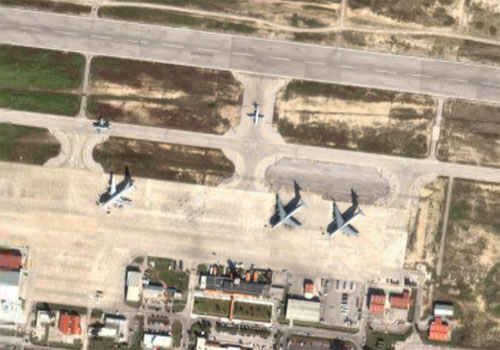 Sadly, security down at Rota isn't what it might be. There's clear evidence that Godless commie peaceniks have already infiltrated the base and left their mark. Well spotted by Liam Southwood: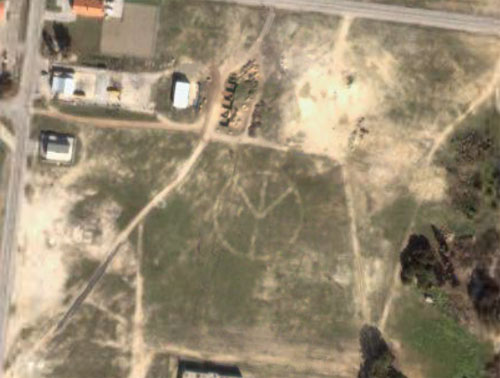 Good lord. To conclude this naval review, let's have a look at something truly strange way out in New Mexico: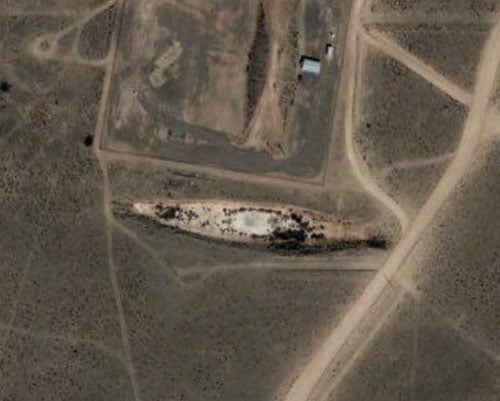 According to reader David Branch, this is an earth representation of the Bismarck, constructed for the Royal Navy but never used. The fact that's it's on White Sands Missile Range should set alarm bells ringing, as should its proximity to Holloman Air Force Base, home of the 49th Fighter Wing and its F-117As: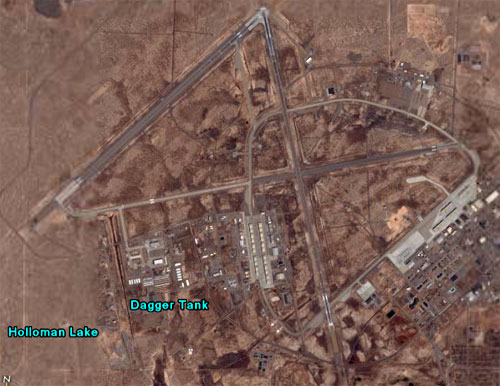 Don't bother to scour Holloman for F117As, though. They're not silly enough to leave 'em out during the day for passing satellites to snap. Instead, take a trip to Air Force Plant 42, in Palmdale: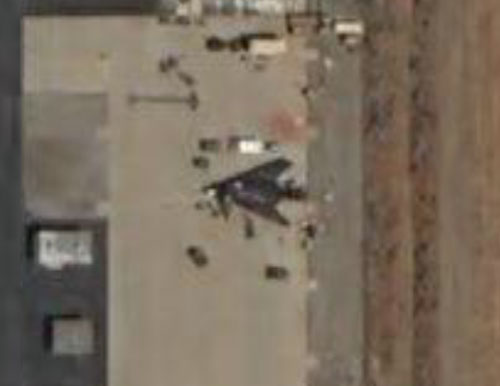 Like your stealth aircraft? Palmdale can also offer you the B-2: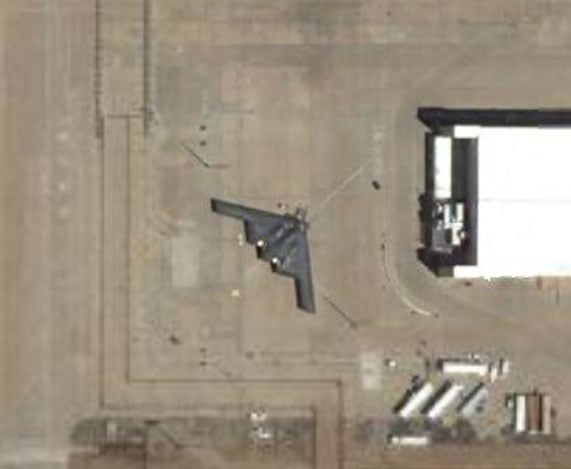 And back at our old favourite, Edwards AFB, feast your eyes on this impressive display of B1-Bs:
In Washington, meanwhile, this is where Air Force One lives on Andrews Air Force Base. Note the double fence and guard posts. You can't be too careful: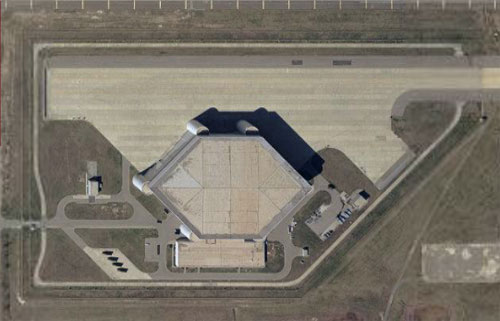 Ta very much to David Branch for all of those delicious aircraft locations. We'll conclude by offering three last images in a sort-of homage to the Cold War and the power of satellite imaging. Firstly, Oleg Dopertchouk's recommendation for those searching for an anti-ballistic missile silo near Moscow: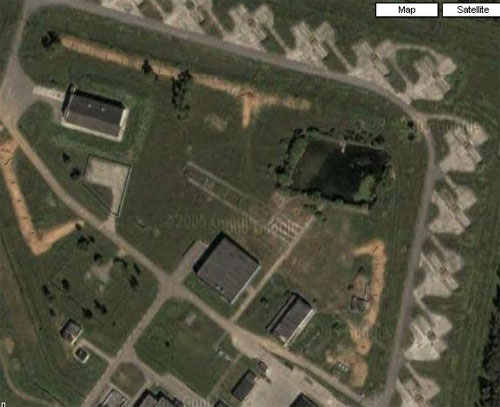 Back in the US of A, Davis-Monthan Air Force Base near Tucson is where those venerable Cold Warriors go to die: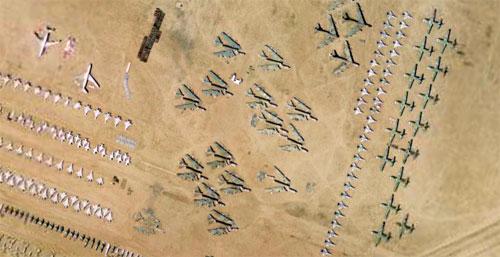 A tad melancholy, yes, but on the bright side: if you're looking for a second-hand A-10 Warthog, Google knows where there are dozens available at knock-down prices. Happy hunting: