Breaking Fad For decades Hollywood actually binned its 4K files. Doh!
Game Theory It feels very familiar - but it's still good
Worstall @ the Weekend Iron Age ends... and a point is proven
Something for the Weekend, Sir? Plus: 'NostrilTime' wristjob vid action
Antique Code Show Monsters need to earn a living too
Sysadmin blog 'Niche' cloud player in the only niche that matters, says Trevor Pott
Columnist Roll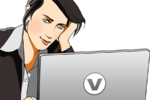 Verity Stob is the pseudonym of a software developer based in London. Since 1988, she has written her "Verity Stob" column for .EXE magazine, Dr. Dobb's Journal and, now, The Register.