Worstall on Wednesday
He wants to export taxation to China, as well as production
Worstall @ the Weekend
Assuming anyone votes for it, as I did
SFTW, Sir?
Just ask the young gonzo techblogsterz
Comment
Daily Mail
readers created the
Daily Mail
, not the other way round
Set your pipes free, within reason
Worstall on Wednesday
Ignore the 'leccy meter, chump
Columnist Roll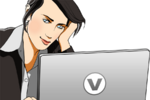 Verity Stob is the pseudonym of a software developer based in London. Since 1988, she has written her "Verity Stob" column for .EXE magazine, Dr. Dobb's Journal and, now, The Register.