Something for the Weekend, Sir?
That's the way the cookie crumbles
Open Source Insider
25 years, eight updates, all gravy
Stob
Where's pocket Bjarne Stroustrup when you need him?
Something for the Weekend, Sir?
I am guilty of too much clouded thinking
Peace, love and Docker or Kubernetes – you must choose
Tech sector needs decluttering
Columnist Roll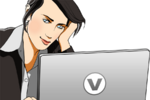 Verity Stob is the pseudonym of a software developer based in London. Since 1988, she has written her "Verity Stob" column for .EXE magazine, Dr. Dobb's Journal and, now, The Register.