Something for the Weekend, Sir?
Mr Dabbs, you are incompatible with today's IT world :)
Episode 1
Is that leave without absence, or absence without leave?
Breaking Fad
'More How than Wow' says Sky
Game Theory
'Your mother was a hamster and your father smelt of elderberries!'
Worstall on Wednesday
Quit whinging. Change the system if you care that much
Worstall @ the Weekend
Jam-makers and DIY types will kill the market
Columnist Roll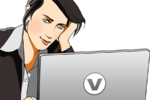 Verity Stob is the pseudonym of a software developer based in London. Since 1988, she has written her "Verity Stob" column for .EXE magazine, Dr. Dobb's Journal and, now, The Register.