Downrange
Bizarrely, no 3D printing was involved
Episode 16
Avé! Duci Novo ...
Something for the Weekend, Sir?
Ciggy bar dust
Worstall on Wednesday
What will happen when the ROBOTS turn up, eh?
Worstall @ the Weekend
Surely not the US of 'F*ck the Poor' A? Actually, yes
Columnist Roll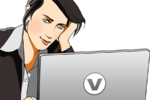 Verity Stob is the pseudonym of a software developer based in London. Since 1988, she has written her "Verity Stob" column for .EXE magazine, Dr. Dobb's Journal and, now, The Register.