Game Theory Is Ubisoft's bugfest really that bad?
Breaking Fad The format that wouldn't die is officially in remission
Worstall on Wednesday Say it with me: planning permissions
When even senior sysadmins work on an iPhone connected to an Apple TV, the end is nigh
Downrange Now, about that random spot check campaign...
Worstall @ the Weekend Dodd-Frank is POINTLESS
Columnist Roll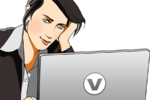 Verity Stob is the pseudonym of a software developer based in London. Since 1988, she has written her "Verity Stob" column for .EXE magazine, Dr. Dobb's Journal and, now, The Register.