Antique Code Show
16-bit showcase game that was just too tough to be fun
Game Theory
Holy franchise finale!
Worstall @ the Weekend
Assuming that what we're told is correct, that is ...
Something for the Weekend, Sir?
Seeking the heart and groin of smart retail
Game Theory
Coming to a console, PC or mobile near you
Sysadmin blog
In IT paranoia is never a bad thing
Columnist Roll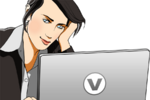 Verity Stob is the pseudonym of a software developer based in London. Since 1988, she has written her "Verity Stob" column for .EXE magazine, Dr. Dobb's Journal and, now, The Register.