Something for the Weekend, Sir?
Oh come on! It's ripe for renaming
How to stop hackers letting the gas flow in your connected oven? Bitcoin has the answer
Breaking Fad
New multi-channel sound technology loves the speakers you already have
Doing my own 'ting
Sweating the small stuff, again and again
Worstall @ the Weekend
That's the Waltons of Walmart, not John-Boy and family
Something for the Weekend, Sir?
There are many cubicles – this one's mine
Columnist Roll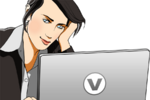 Verity Stob is the pseudonym of a software developer based in London. Since 1988, she has written her "Verity Stob" column for .EXE magazine, Dr. Dobb's Journal and, now, The Register.