Something for the Weekend, Sir? Like chillax, Dabbsy-o
Worstall on Wednesday Santa Clara? Wall St? WTH?
Comment Hey you, get off of our cloud
Protecting journalists alone won't protect their sources
Worstall @ the Weekend We do have inequality, but that's not quite the same thing
Crawling from the Wreckage Fags and booze to the rescue
Columnist Roll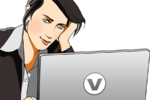 Verity Stob is the pseudonym of a software developer based in London. Since 1988, she has written her "Verity Stob" column for .EXE magazine, Dr. Dobb's Journal and, now, The Register.