Something for the Weekend, Sir?
Let's bring it back to level pegging
Breaking Fad
Haters begone! You can now buy 'em with your bangers and mash
Worstall @ the Weekend
Not if it's just to dodge some taxes, anyway ...
Something for the Weekend, Sir?
Don't trust experts to fix anything
Game Theory
Fun-packed thrills for couch potatoes ... or something like that
Worstall on Wednesday
Dodd-Frank stupidity writ large
Columnist Roll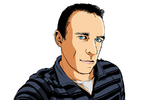 Alistair Dabbs is a freelance technology tart, juggling IT journalism, editorial training and digital publishing.