Episode 5
You opened Pandora's Box, you shut it again
Something for the Weekend, Sir?
Oh come on! It's ripe for renaming
How to stop hackers letting the gas flow in your connected oven? Bitcoin has the answer
Breaking Fad
New multi-channel sound technology loves the speakers you already have
Doing my own 'ting
Sweating the small stuff, again and again
Worstall @ the Weekend
That's the Waltons of Walmart, not John-Boy and family
Columnist Roll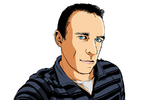 Alistair Dabbs is a freelance technology tart, juggling IT journalism, editorial training and digital publishing.