Insurers have no idea how to protect the digital realm. So they need to buy those who do
Worstall @ the Weekend
Although, actually you know, we already do
Something for the Weekend, Sir?
You chumps
¡Bong!
The original disruptor in the act of imagining his legacy
Worstall on Wednesday
And yes, economics is a science
Worstall @ the Weekend
First we had agriculture, then the scientific method, now …
Columnist Roll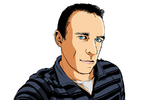 Alistair Dabbs is a freelance technology tart, juggling IT journalism, editorial training and digital publishing.