This Damn War
Monday morning blues
Episode 2
Onward, Ultrabook solderers! Marching as to war...
Something for the Weekend, Sir?
Reg
columnist snorts suspicious powder
Line break
We want to share your lessons learned
The more your phone knows about the world, the more useful - and invasive - it becomes
Comment
Take your SaaSy nonsense and shove it, pal. This is the real deal
Columnist Roll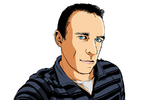 Alistair Dabbs is a freelance technology tart, juggling IT journalism, editorial training and digital publishing.