Something for the Weekend, Sir?
And printers play silly buggers for fun
Breaking Fad
The fight for the living room's future is on
Game Theory
Finding direction and picking an heir to the late Satoru Iwata
Worstall @ the Weekend
A look in the ledgers of Trotter & Worstall Independent Traders
Something for the Weekend, Sir?
No, his post 1920s work, you fool
Who needs computers everywhere when the one in your pocket is ready for work?
Columnist Roll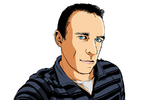 Alistair Dabbs is a freelance technology tart, juggling IT journalism, editorial training and digital publishing.