Game Theory And yes it does need a fat HDD (or SSD, it's cool with either)
Worstall on Wednesday Get out your hankies: Facebook, Google use in-house teams
Something for the Weekend, Sir? The piss always taking is he. Bastard the.
Antique Code Show Baywatch for nerds?
Anything that simple to use has got to be complex to set up
Breaking Fad Don't bin your multichannel home cinema system just yet
Columnist Roll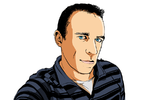 Alistair Dabbs is a freelance technology tart, juggling IT journalism, editorial training and digital publishing.