Something for the Weekend, Sir?
Reg
columnist snorts suspicious powder
Line break
We want to share your lessons learned
The more your phone knows about the world, the more useful - and invasive - it becomes
Comment
Take your SaaSy nonsense and shove it, pal. This is the real deal
Episode 1
The internet's new motto: Citius, Altius, Fortius
Something for the Weekend, Sir?
Mystic Meg? Bring it on, Delusive Dabbs!
Columnist Roll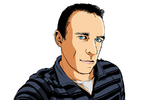 Alistair Dabbs is a freelance technology tart, juggling IT journalism, editorial training and digital publishing.