Something for the Weekend, Sir? My life according to a Google Arse
Breaking Fad Are the days of floorstanders and separates numbered?
Blocks and Files Upstart says it's up, up and away ... but not on the giants' radar – yet
Worstall on Wednesday Never mind the Ts&Cs, what does the law say?
Game Theory
War is
Fun
Hell
Something for the Weekend, Sir? What in HELL does 'hit go' mean?!
Columnist Roll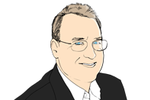 Dan Olds is the owner and founder of
Gabriel Consulting Group
, a technology analysis and consulting firm based in Beaverton, Oregon. He pays particularly close attention to how technology continues to fundamentally transform both business and science.