Breaking Fad Don't bin your multichannel home cinema system just yet
Worstall on Wednesday Even Moore's Law can't help the architects of statism now
Something for the Weekend, Sir? Examining the frothy disconnect in indie cafe culture
Worstall on Weds Australia's National Ballsup Network
Sysadmin blog World peace, natch, what did you think it was?
Episode 7 'We have to be sure the system works!'
Columnist Roll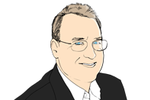 Dan Olds is the owner and founder of
Gabriel Consulting Group
, a technology analysis and consulting firm based in Beaverton, Oregon. He pays particularly close attention to how technology continues to fundamentally transform both business and science.