Something for the Weekend, Sir? South Korea's Hall of Shame
Something for the Weekend, Sir? Tight-fit rubber and tape
Nadella. It's about time. He's been Satya for 22 years
How would you power a data centre 10 years from now?
Something for the Weekend, Sir? 'It's a sin,' say the Pet Shop Boys
Game Theory It's stiff business, dealing with hairy axemen and giant spiders
Columnist Roll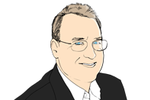 Dan Olds is the owner and founder of
Gabriel Consulting Group
, a technology analysis and consulting firm based in Beaverton, Oregon. He pays particularly close attention to how technology continues to fundamentally transform both business and science.