Something for the Weekend, Sir?
Get offa ma property, boy!
Insurers have no idea how to protect the digital realm. So they need to buy those who do
Worstall @ the Weekend
Although, actually you know, we already do
Something for the Weekend, Sir?
You chumps
¡Bong!
The original disruptor in the act of imagining his legacy
Worstall on Wednesday
And yes, economics is a science
Columnist Roll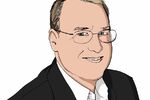 Dan Olds is the owner and founder of
Gabriel Consulting Group
, a technology analysis and consulting firm based in Beaverton, Oregon. He pays particularly close attention to how technology continues to fundamentally transform both business and science.