Something for the Weekend, Sir?
YouTube's copyright killjoy bots amok
Worstall on Wednesday
Zuck should have hired ME
Worstall @ the Weekend
Where economics, altruism intersect
Something for the Weekend, Sir?
No satirical jokes about prophets, please (unless it's Ian Watkins)
Strolling through a data privacy minefield
Spilling Hollywood's secrets woke money-land to the need for intrusive oversight
Columnist Roll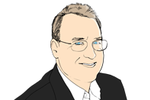 Dan Olds is the owner and founder of
Gabriel Consulting Group
, a technology analysis and consulting firm based in Beaverton, Oregon. He pays particularly close attention to how technology continues to fundamentally transform both business and science.