Episode 16
Avé! Duci Novo ...
Something for the Weekend, Sir?
Ciggy bar dust
Worstall on Wednesday
What will happen when the ROBOTS turn up, eh?
Worstall @ the Weekend
Surely not the US of 'F*ck the Poor' A? Actually, yes
Episode 15
Bodily violence? PLEASE. I was protecting the children
Columnist Roll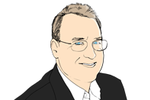 Dan Olds is the owner and founder of
Gabriel Consulting Group
, a technology analysis and consulting firm based in Beaverton, Oregon. He pays particularly close attention to how technology continues to fundamentally transform both business and science.