And helping online floggers shift tat. If you want the rainbow …
Agriculture proving fertile ground for analytical startups
Worstall @ the Weekend
It's really not that taxing
Something for the Weekend, Sir?
Tech tagging horror 'n' itchy collars
Game Theory
New games for all sorts
Worstall @ the Weekend
One snarked and, inevitably, fell
Columnist Roll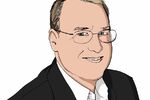 Dan Olds is the owner and founder of
Gabriel Consulting Group
, a technology analysis and consulting firm based in Beaverton, Oregon. He pays particularly close attention to how technology continues to fundamentally transform both business and science.