Episode 13
We'll take you away from misery of Hell Desk
Sysadmin Blog
DIY is hard
Something for the Weekend, Sir?
Why Pinky? What are we doing tomorrow?
Episode 12
Boss, are you blushing?
Special report
The inside story of Google's plan to pwn the TV biz
This Damn War
Get back to the data centre, stat
Columnist Roll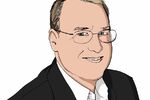 Dan Olds is a partner at OrionX, a strategy and research firm based in the US.