Worstall @ the Weekend
And yes, we can prove that markets can beat racism
Something for the Weekend, Sir?
Mr Dabbs, you are incompatible with today's IT world :)
Episode 1
Is that leave without absence, or absence without leave?
Breaking Fad
'More How than Wow' says Sky
Game Theory
'Your mother was a hamster and your father smelt of elderberries!'
Worstall on Wednesday
Quit whinging. Change the system if you care that much
Columnist Roll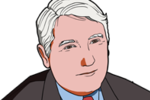 Dominic Connor used to boss IT pros and quants around in banks, and now recruits people for less crappy jobs in the City.