Antique Code Show Baywatch for nerds?
Anything that simple to use has got to be complex to set up
Breaking Fad Don't bin your multichannel home cinema system just yet
Worstall on Wednesday Even Moore's Law can't help the architects of statism now
Something for the Weekend, Sir? Examining the frothy disconnect in indie cafe culture
Worstall on Weds Australia's National Ballsup Network
Columnist Roll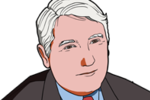 Dominic Connor used to boss IT pros and quants around in banks, and now recruits people for less crappy jobs in the City.