Antique Code Show
16-bit showcase game that was just too tough to be fun
Game Theory
Holy franchise finale!
Worstall @ the Weekend
Assuming that what we're told is correct, that is ...
Something for the Weekend, Sir?
Seeking the heart and groin of smart retail
Game Theory
Coming to a console, PC or mobile near you
Sysadmin blog
In IT paranoia is never a bad thing
Columnist Roll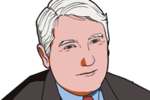 Dominic Connor used to boss IT pros and quants around in banks, and now recruits people for less crappy jobs in the City.