Downrange
Bizarrely, no 3D printing was involved
Episode 16
Avé! Duci Novo ...
Something for the Weekend, Sir?
Ciggy bar dust
Worstall on Wednesday
What will happen when the ROBOTS turn up, eh?
Worstall @ the Weekend
Surely not the US of 'F*ck the Poor' A? Actually, yes
Columnist Roll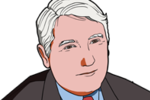 Dominic Connor used to boss IT pros and quants around in banks, and now recruits people for less crappy jobs in the City.