Something for the Weekend, Sir? South Korea's Hall of Shame
Something for the Weekend, Sir? Tight-fit rubber and tape
Nadella. It's about time. He's been Satya for 22 years
How would you power a data centre 10 years from now?
Something for the Weekend, Sir? 'It's a sin,' say the Pet Shop Boys
Game Theory It's stiff business, dealing with hairy axemen and giant spiders
Columnist Roll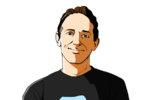 Matt Asay is vice president of corporate strategy at 10gen, the MongoDB company. Previously he was SVP of business development at Nodeable, which was acquired in October 2012. He was formerly SVP of biz dev at HTML5 start-up Strobe (now part of Facebook) and chief operating officer of Ubuntu commercial operation Canonical. Asay is an emeritus board member of the Open Source Initiative (OSI).