Breaking Fad Are the days of floorstanders and separates numbered?
Blocks and Files Upstart says it's up, up and away ... but not on the giants' radar – yet
Worstall on Wednesday Never mind the Ts&Cs, what does the law say?
Game Theory
War is
Fun
Hell
Something for the Weekend, Sir? What in HELL does 'hit go' mean?!
Blocks and Files IT titan scoffs at rivals' whisperings
Columnist Roll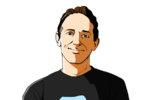 Matt Asay is vice president of corporate strategy at 10gen, the MongoDB company. Previously he was SVP of business development at Nodeable, which was acquired in October 2012. He was formerly SVP of biz dev at HTML5 start-up Strobe (now part of Facebook) and chief operating officer of Ubuntu commercial operation Canonical. Asay is an emeritus board member of the Open Source Initiative (OSI).