Five families own more than 20% of the UK do? Rubbish
Something for the Weekend, Sir? Online retailers might slurp your data but they still don't know jack
Blocks and Files These rebels need to find a cause, says the Sage of Storage
Comment After lying in a deathlike slumber for years, the developer market is twitching
¡Bong! While Crimea teeters on the edge, a plan is being hatched in Shoreditch...
Something for the Weekend, Sir? Blow me a fuse, darlin', I got 499 more where that came from
Columnist Roll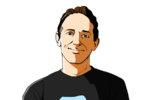 Matt Asay is vice president of corporate strategy at 10gen, the MongoDB company. Previously he was SVP of business development at Nodeable, which was acquired in October 2012. He was formerly SVP of biz dev at HTML5 start-up Strobe (now part of Facebook) and chief operating officer of Ubuntu commercial operation Canonical. Asay is an emeritus board member of the Open Source Initiative (OSI).