Breaking Fad Don't bin your multichannel home cinema system just yet
Worstall on Wednesday Even Moore's Law can't help the architects of statism now
Something for the Weekend, Sir? Examining the frothy disconnect in indie cafe culture
Worstall on Weds Australia's National Ballsup Network
Sysadmin blog World peace, natch, what did you think it was?
Episode 7 'We have to be sure the system works!'
Columnist Roll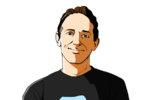 Matt Asay is vice president of corporate strategy at 10gen, the MongoDB company. Previously he was SVP of business development at Nodeable, which was acquired in October 2012. He was formerly SVP of biz dev at HTML5 start-up Strobe (now part of Facebook) and chief operating officer of Ubuntu commercial operation Canonical. Asay is an emeritus board member of the Open Source Initiative (OSI).