Worstall on Wednesday They just think the current schemes are terrible
Something for the Weekend, Sir? Your stupid minds! Stupid! Stupid!
Game Theory Is Ubisoft's bugfest really that bad?
Breaking Fad The format that wouldn't die is officially in remission
Worstall on Wednesday Say it with me: planning permissions
When even senior sysadmins work on an iPhone connected to an Apple TV, the end is nigh
Columnist Roll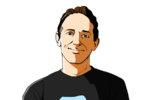 Matt Asay is vice president of corporate strategy at 10gen, the MongoDB company. Previously he was SVP of business development at Nodeable, which was acquired in October 2012. He was formerly SVP of biz dev at HTML5 start-up Strobe (now part of Facebook) and chief operating officer of Ubuntu commercial operation Canonical. Asay is an emeritus board member of the Open Source Initiative (OSI).