HPC Blog Skyline High and Bentley and NEU teams in cheap cluster clash
Something for the Weekend, Sir? Sod 'Things', we're getting the Internet of Furbys
Episode 13 It's FRY-DAY at Mission Central
Something for the Weekend, Sir? Comms-unist revival could put us in the broadband fast lane
Game Theory Plus: More Zelda and a fairy tale of New York...
Something for the Weekend, Sir? Why doesn't software come with a book any more?
Columnist Roll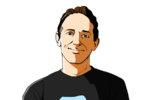 Matt Asay is vice president of corporate strategy at 10gen, the MongoDB company. Previously he was SVP of business development at Nodeable, which was acquired in October 2012. He was formerly SVP of biz dev at HTML5 start-up Strobe (now part of Facebook) and chief operating officer of Ubuntu commercial operation Canonical. Asay is an emeritus board member of the Open Source Initiative (OSI).