Breaking Fad Are the days of floorstanders and separates numbered?
Blocks and Files Upstart says it's up, up and away ... but not on the giants' radar – yet
Worstall on Wednesday Never mind the Ts&Cs, what does the law say?
Game Theory
War is
Fun
Hell
Something for the Weekend, Sir? What in HELL does 'hit go' mean?!
Blocks and Files IT titan scoffs at rivals' whisperings
Columnist Roll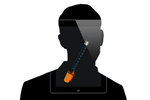 Steve Bong is the founder of Bong Ventures, an early stage investor and incubator focusing on innovative new technology start-ups, based in Shoreditch, London.