Breaking Fad For decades Hollywood actually binned its 4K files. Doh!
Game Theory It feels very familiar - but it's still good
Worstall @ the Weekend Iron Age ends... and a point is proven
Something for the Weekend, Sir? Plus: 'NostrilTime' wristjob vid action
Antique Code Show Monsters need to earn a living too
Sysadmin blog 'Niche' cloud player in the only niche that matters, says Trevor Pott
Columnist Roll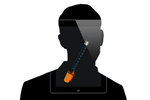 Steve Bong is the founder of Bong Ventures, an early stage investor and incubator focusing on innovative new technology start-ups, based in Shoreditch, London.