Breaking Fad
Firm ramps up TV production, unveils new 4K models — and cries wolf?
Game Theory
Includes Schrödinger's Cat, an alien mayoral candidate and more
Stob
Little Hitlers gonna Hitle
Something for the Weekend, Sir?
DIE Butterflies
Antique Code Show
The granddaddy of game consoles
Worstall on Wednesday
You may have noted there's an election in the offing
Columnist Roll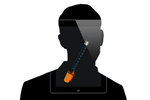 Steve Bong is the founder of Bong Ventures, an early stage investor and incubator focusing on innovative new technology start-ups, based in Shoreditch, London.