Game Theory
Holy franchise finale!
Worstall @ the Weekend
Assuming that what we're told is correct, that is ...
Something for the Weekend, Sir?
Seeking the heart and groin of smart retail
Game Theory
Coming to a console, PC or mobile near you
Sysadmin blog
In IT paranoia is never a bad thing
Worstall @ the Weekend
No one told us we could do that!
Columnist Roll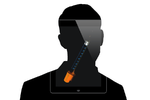 Steve Bong is the founder of Bong Ventures, an early stage investor and incubator focusing on innovative new technology start-ups, based in Shoreditch, London.