Something for the Weekend, Sir?
YouTube's copyright killjoy bots amok
Worstall on Wednesday
Zuck should have hired ME
Worstall @ the Weekend
Where economics, altruism intersect
Something for the Weekend, Sir?
No satirical jokes about prophets, please (unless it's Ian Watkins)
Strolling through a data privacy minefield
Spilling Hollywood's secrets woke money-land to the need for intrusive oversight
Columnist Roll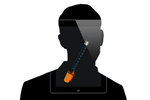 Steve Bong is the founder of Bong Ventures, an early stage investor and incubator focusing on innovative new technology start-ups, based in Shoreditch, London.