Something for the Weekend, Sir? South Korea's Hall of Shame
Something for the Weekend, Sir? Tight-fit rubber and tape
Nadella. It's about time. He's been Satya for 22 years
How would you power a data centre 10 years from now?
Something for the Weekend, Sir? 'It's a sin,' say the Pet Shop Boys
Game Theory It's stiff business, dealing with hairy axemen and giant spiders
Columnist Roll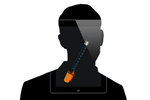 Steve Bong is the founder of Bong Ventures, an early stage investor and incubator focusing on innovative new technology start-ups, based in Shoreditch, London.