Something for the Weekend, Sir?
There's no security on holiday when you're a bellend
Something for the Weekend, Sir?
Or just wait and buy it when it's ready
Episode 10
Special tables with special chairs for special people
Stob
In which Chronicles of Delphi scribe Verity gives praise to post-book world
Open Source Insider
Mozilla runs counter to Valley narrative
With three different forms of Chinese spoken across one mega-city, smartphone translation is essential
Columnist Roll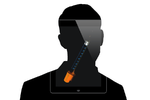 Steve Bong is the founder of Bong Ventures, an early stage investor and incubator focusing on innovative new technology start-ups, based in Shoreditch, London.