Downrange
Bizarrely, no 3D printing was involved
Episode 16
Avé! Duci Novo ...
Something for the Weekend, Sir?
Ciggy bar dust
Worstall on Wednesday
What will happen when the ROBOTS turn up, eh?
Worstall @ the Weekend
Surely not the US of 'F*ck the Poor' A? Actually, yes
Columnist Roll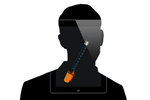 Steve Bong is the founder of Bong Ventures, an early stage investor and incubator focusing on innovative new technology start-ups, based in Shoreditch, London.