Worstall @ the Weekend
Is it simply that inflation creates Nazis? REALLY?
Something for the Weekend, Sir?
Been there, seen it, haven't done it
Comment
Build a better interface and the world will... wait, where are you all going?
Worstall @ the Weekend
Ostrom's work more than simply disproving Hardin
Something for the Weekend, Sir?
And printers play silly buggers for fun
Breaking Fad
The fight for the living room's future is on
Columnist Roll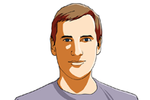 Mike Plant grew up on a diet of Final Fantasy, Monkey Island, TIE Fighter and Super Mario Bros. He now takes advantage of this idle youth by dividing his time between his The Console column for newspaper The Independent and editing his own blog
GamesCatalyst.com
. His quest to dispel the myth held by mainstream media, that games are the work devil, continues.