Worstall on Wednesday
He wants to export taxation to China, as well as production
Worstall @ the Weekend
Assuming anyone votes for it, as I did
SFTW, Sir?
Just ask the young gonzo techblogsterz
Comment
Daily Mail
readers created the
Daily Mail
, not the other way round
Set your pipes free, within reason
Worstall on Wednesday
Ignore the 'leccy meter, chump
Columnist Roll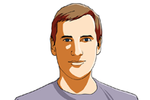 Mike Plant grew up on a diet of Final Fantasy, Monkey Island, TIE Fighter and Super Mario Bros. He now takes advantage of this idle youth by dividing his time between his The Console column for newspaper The Independent and editing his own blog
GamesCatalyst.com
. His quest to dispel the myth held by mainstream media, that games are the work devil, continues.