Episode 10
Even printer salesmen get the blues
Something for the Weekend, Sir?
Those backup passwords aren't for everyone
Review
Trek
works when the struggle is within, not when the fights are fast and furious
Something for the Weekend, Sir?
Time for trouble (make it double)
Episode 9
Just slap on our custom VR headset, Boss
In China, they get it, QR codes are like money and mobile payments are everywhere
Columnist Roll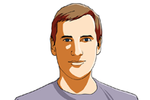 Mike Plant grew up on a diet of Final Fantasy, Monkey Island, TIE Fighter and Super Mario Bros. He now takes advantage of this idle youth by dividing his time between his The Console column for newspaper The Independent and editing his own blog
GamesCatalyst.com
. His quest to dispel the myth held by mainstream media, that games are the work devil, continues.