Antique Code Show
16-bit showcase game that was just too tough to be fun
Game Theory
Holy franchise finale!
Worstall @ the Weekend
Assuming that what we're told is correct, that is ...
Something for the Weekend, Sir?
Seeking the heart and groin of smart retail
Game Theory
Coming to a console, PC or mobile near you
Sysadmin blog
In IT paranoia is never a bad thing
Columnist Roll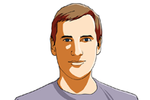 Mike Plant grew up on a diet of Final Fantasy, Monkey Island, TIE Fighter and Super Mario Bros. He now takes advantage of this idle youth by dividing his time between his The Console column for newspaper The Independent and editing his own blog
GamesCatalyst.com
. His quest to dispel the myth held by mainstream media, that games are the work devil, continues.