Something for the Weekend, Sir?
This app could have grave consequences etc
Oldies will retain mobility and independence when Teslas can self-drive them to work or be sent out to do the shopping
Episode 8
Do we have an agenda? Why
of course
we do!
Something for the Weekend, Sir?
Let's invent a dustbin that throws itself away
Open Source Insider
Some times it really is, though
Episode 7
Migrate data? If you're keen on seeing clouds...
Columnist Roll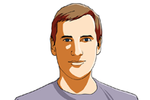 Mike Plant grew up on a diet of Final Fantasy, Monkey Island, TIE Fighter and Super Mario Bros. He now takes advantage of this idle youth by dividing his time between his The Console column for newspaper The Independent and editing his own blog
GamesCatalyst.com
. His quest to dispel the myth held by mainstream media, that games are the work devil, continues.