Crawling from the Wreckage We write a proper bug report, for starters
Something for the Weekend, Sir? Let's bring it back to level pegging
Worstall on Wednesday Come on, readers - fill us in
Breaking Fad Soundbars to Dolby Atmos: surround on Freeview, Netflix, Blu-ray et al
Something for the Weekend, Sir? Feeling sticky, punk?
Worstall @ the Weekend Rent control: Better than bombs at destroying housing
Columnist Roll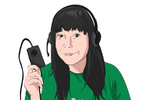 Having a scientist Dad, Lucy Orr grew up close to CERN and FERMILAB. Although surely exposed to high dosages of radiation, sadly her mutant talents never manifested, so she had to resort to playing MUDs, programming BASIC and reading comics. Now an expansively tattooed lecturer in digital arts and animation, she finds enough time to review games in between petting ferrets, drinking cider and listening to pop punk.