Worstall on Wednesday
What will happen when the ROBOTS turn up, eh?
Worstall @ the Weekend
Surely not the US of 'F*ck the Poor' A? Actually, yes
Episode 15
Bodily violence? PLEASE. I was protecting the children
Something for the Weekend, Sir?
Our survey says: whuh-waah
Game Theory
Fast, furious, FUN... and banned in Australia
Worstall on Wednesday
The basic idea might be nuts, but the specific point is spot on
Columnist Roll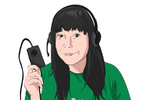 Having a scientist Dad, Lucy Orr grew up close to CERN and FERMILAB. Although surely exposed to high dosages of radiation, sadly her mutant talents never manifested, so she had to resort to playing MUDs, programming BASIC and reading comics. Now an expansively tattooed lecturer in digital arts and animation, she finds enough time to review games in between petting ferrets, drinking cider and listening to pop punk.