Episode 8 11 mins? 12 mins? SPARE ME the CHOICES
Game Theory And yes it does need a fat HDD (or SSD, it's cool with either)
Worstall on Wednesday Get out your hankies: Facebook, Google use in-house teams
Something for the Weekend, Sir? The piss always taking is he. Bastard the.
Antique Code Show Baywatch for nerds?
Anything that simple to use has got to be complex to set up
Columnist Roll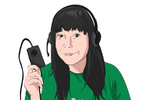 Having a scientist Dad, Lucy Orr grew up close to CERN and FERMILAB. Although surely exposed to high dosages of radiation, sadly her mutant talents never manifested, so she had to resort to playing MUDs, programming BASIC and reading comics. Now an expansively tattooed lecturer in digital arts and animation, she finds enough time to review games in between petting ferrets, drinking cider and listening to pop punk.