Episode 2
Onward, Ultrabook solderers! Marching as to war...
Something for the Weekend, Sir?
Reg
columnist snorts suspicious powder
Line break
We want to share your lessons learned
The more your phone knows about the world, the more useful - and invasive - it becomes
Comment
Take your SaaSy nonsense and shove it, pal. This is the real deal
Episode 1
The internet's new motto: Citius, Altius, Fortius
Columnist Roll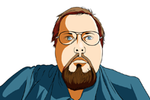 Trevor Pott is a full-time nerd from Edmonton, Alberta, Canada. He splits his time between systems administration, technology writing, and consulting. As a consultant he helps Silicon Valley start-ups better understand systems administrators and how to sell to them.