Something for the Weekend, Sir? If she has nothing to hide, she has nothing to worry about, right?
Worstall on Wednesday Or why the reversal of globalisation ain't gonna 'appen
Downrange Populist campaign goes off at half cock
Something for the Weekend, Sir? Honestly, it's a piece of piss
Nobody - not you, devlopers or carriers - can afford the next generation of mobile services
Something for the Weekend, Sir? Hang on, there's a shortcut
Columnist Roll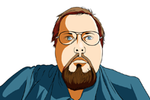 Trevor Pott is a full-time nerd from Edmonton, Alberta, Canada. He splits his time between systems administration, technology writing, and consulting. As a consultant he helps Silicon Valley start-ups better understand systems administrators and how to sell to them.