Something for the Weekend, Sir? Like chillax, Dabbsy-o
Worstall on Wednesday Santa Clara? Wall St? WTH?
Comment Hey you, get off of our cloud
Protecting journalists alone won't protect their sources
Worstall @ the Weekend We do have inequality, but that's not quite the same thing
Crawling from the Wreckage Fags and booze to the rescue
Columnist Roll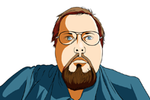 Trevor Pott is a full-time nerd from Edmonton, Alberta, Canada. He splits his time between systems administration, technology writing, and consulting. As a consultant he helps Silicon Valley start-ups better understand systems administrators and how to sell to them.