Port problem, captain: Microservices to the event horizon
Something for the Weekend, Sir?
Pause, play, rewind, break… buy another pair
Matter is going to move more freely and cheaply than ever before
Episode 2
Come right this way. The PFY doesn't bite... that hard
Something for the Weekend, Sir?
Put the bamboo down and step back
Open Source Insider
'Community' can buy what money can't
Columnist Roll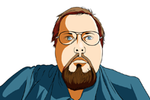 Trevor Pott is a full-time nerd from Edmonton, Alberta, Canada. He splits his time between systems administration, technology writing, and consulting. As a consultant he helps Silicon Valley start-ups better understand systems administrators and how to sell to them.