Something for the Weekend, Sir?
This is Spartaaaaa(n)!
Breaking Fad
Firm ramps up TV production, unveils new 4K models — and cries wolf?
Game Theory
Includes Schrödinger's Cat, an alien mayoral candidate and more
Stob
Little Hitlers gonna Hitle
Something for the Weekend, Sir?
DIE Butterflies
Antique Code Show
The granddaddy of game consoles
Columnist Roll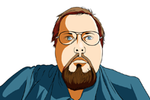 Trevor Pott is a full-time nerd from Edmonton, Alberta, Canada. He splits his time between systems administration, technology writing, and consulting. As a consultant he helps Silicon Valley start-ups better understand systems administrators and how to sell to them.