Something for the Weekend, Sir? Ten ways to fool you into reading online lists
Antique Code Show Food shooting N00bs
Worstall on Wednesday Let's just call it a runtime error
Something for the Weekend, Sir? My life according to a Google Arse
Breaking Fad Are the days of floorstanders and separates numbered?
Blocks and Files Upstart says it's up, up and away ... but not on the giants' radar – yet
Columnist Roll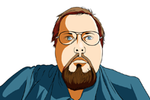 Trevor Pott is a full-time nerd from Edmonton, Alberta, Canada. He splits his time between systems administration, technology writing, and consulting. As a consultant he helps Silicon Valley start-ups better understand systems administrators and how to sell to them.