Strolling through a data privacy minefield
Spilling Hollywood's secrets woke money-land to the need for intrusive oversight
Antique Code Show
But oh how we love it
Worstall on Wednesday
Fracking analagous to move from mainframe to PC
Worstall @ the Weekend
And how to spot the difference
Something for the Weekend, Sir?
A great time for natty cyberpunk Kim Jong Un, though
Columnist Roll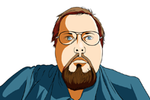 Trevor Pott is a full-time nerd from Edmonton, Alberta, Canada. He splits his time between systems administration, technology writing, and consulting. As a consultant he helps Silicon Valley start-ups better understand systems administrators and how to sell to them.