Worstall @ the Weekend
In which our man comes out as pretty much a lefty
Something for the Weekend, Sir?
Otherwise I might go 'full Clarkson'
Worstall on Wednesday
As the Chinese found out with those pesky rare earths
Antique Code Show
'So real it hurts'
Worstall @ the Weekend
And how come the nerds get so much damn money?
Episode 5
You opened Pandora's Box, you shut it again
Columnist Roll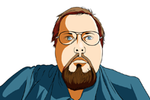 Trevor Pott is a full-time nerd from Edmonton, Alberta, Canada. He splits his time between systems administration, technology writing, and consulting. As a consultant he helps Silicon Valley start-ups better understand systems administrators and how to sell to them.