Worstall @ the Weekend
And yes, we can prove that markets can beat racism
Something for the Weekend, Sir?
Mr Dabbs, you are incompatible with today's IT world :)
Episode 1
Is that leave without absence, or absence without leave?
Breaking Fad
'More How than Wow' says Sky
Game Theory
'Your mother was a hamster and your father smelt of elderberries!'
Worstall on Wednesday
Quit whinging. Change the system if you care that much
Columnist Roll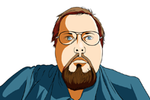 Trevor Pott is a full-time nerd from Edmonton, Alberta, Canada. He splits his time between systems administration, technology writing, and consulting. As a consultant he helps Silicon Valley start-ups better understand systems administrators and how to sell to them.