Game Theory Bioware's fantasy forces in fine fettle
Worstall on Wednesday They just think the current schemes are terrible
Something for the Weekend, Sir? Your stupid minds! Stupid! Stupid!
Game Theory Is Ubisoft's bugfest really that bad?
Breaking Fad The format that wouldn't die is officially in remission
Columnist Roll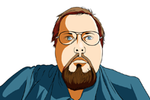 Trevor Pott is a full-time nerd from Edmonton, Alberta, Canada. He splits his time between systems administration, technology writing, and consulting. As a consultant he helps Silicon Valley start-ups better understand systems administrators and how to sell to them.