Something for the Weekend, Sir?
No satirical jokes about prophets, please (unless it's Ian Watkins)
Strolling through a data privacy minefield
Spilling Hollywood's secrets woke money-land to the need for intrusive oversight
Antique Code Show
But oh how we love it
Worstall on Wednesday
Fracking analagous to move from mainframe to PC
Worstall @ the Weekend
And how to spot the difference
Columnist Roll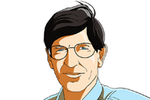 Chris Mellor covers storage and allied technology areas for
The Register
. After experience working for DEC, Unisys and SCO, he became an IT journalist writing for a variety of print publications. He edited the UK's first storage print magazine and then moved into the online world writing for IDG's Techworld, then started up the Blocks & Files blog, which was bought by El Reg.
He has written many sportscar buying guides, a few mountaineering guides and drives a car that's faster than he is.