Something for the Weekend, Sir?
If the shoe fits... it'll be a miracle
This Damn War
When the going gets tough, the tough get messy
Reg man gets his hands on Samsung's only-in-Korea Gear 360 VR cam
Something for the Weekend, Sir?
Hoping that the Wi-Fi is better than the app
Stob
Verily, they did make support for the Internet of
Things
Something for the Weekend, Sir?
My messaging apps are spouting lines from a 'Carry On' script
Columnist Roll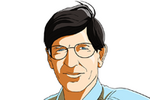 Chris Mellor covers storage and allied technology areas for
The Register
. After experience working for DEC, Unisys and SCO, he became an IT journalist writing for a variety of print publications. He edited the UK's first storage print magazine and then moved into the online world writing for IDG's Techworld, then started up the Blocks & Files blog, which was bought by El Reg.
He has written many sportscar buying guides, a few mountaineering guides and drives a car that's faster than he is.