Comment
Build a better interface and the world will... wait, where are you all going?
Worstall @ the Weekend
Ostrom's work more than simply disproving Hardin
Something for the Weekend, Sir?
And printers play silly buggers for fun
Breaking Fad
The fight for the living room's future is on
Game Theory
Finding direction and picking an heir to the late Satoru Iwata
Worstall @ the Weekend
A look in the ledgers of Trotter & Worstall Independent Traders
Columnist Roll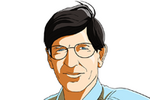 Chris Mellor covers storage and allied technology areas for
The Register
. After experience working for DEC, Unisys and SCO, he became an IT journalist writing for a variety of print publications. He edited the UK's first storage print magazine and then moved into the online world writing for IDG's Techworld, then started up the Blocks & Files blog, which was bought by El Reg.
He has written many sportscar buying guides, a few mountaineering guides and drives a car that's faster than he is.