Worstall @ the Weekend
That is to say, here's Richard Murphy, everybody!
Something for the Weekend, Sir?
Let's bring it back to level pegging
Breaking Fad
Haters begone! You can now buy 'em with your bangers and mash
Worstall @ the Weekend
Not if it's just to dodge some taxes, anyway ...
Something for the Weekend, Sir?
Don't trust experts to fix anything
Game Theory
Fun-packed thrills for couch potatoes ... or something like that
Columnist Roll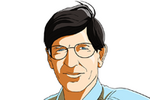 Chris Mellor covers storage and allied technology areas for
The Register
. After experience working for DEC, Unisys and SCO, he became an IT journalist writing for a variety of print publications. He edited the UK's first storage print magazine and then moved into the online world writing for IDG's Techworld, then started up the Blocks & Files blog, which was bought by El Reg.
He has written many sportscar buying guides, a few mountaineering guides and drives a car that's faster than he is.