Something for the Weekend, Sir?
Well, it gets a prosthetic thumbs-up from me
Episode 9
Thronging gangs of idiots besiege tech
Something for the Weekend, Sir?
How long have you been having these delusions?
Something for the Weekend, Sir?
This app could have grave consequences etc
Oldies will retain mobility and independence when Teslas can self-drive them to work or be sent out to do the shopping
Episode 8
Do we have an agenda? Why
of course
we do!
Columnist Roll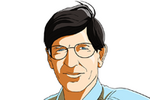 Chris Mellor covers storage and allied technology areas for The Register. After working for DEC, Unisys and SCO, he became an IT journalist, writing for a variety of print publications. He edited the UK's first storage print magazine, moved onto IDG's Techworld, then started up Blocks & Files, a blog bought by The Register. He has written many sportscar buying guides, a few mountaineering guides and drives a car that's faster than he is.