Worstall @ the Weekend
Assuming anyone votes for it, as I did
SFTW, Sir?
Just ask the young gonzo techblogsterz
Comment
Daily Mail
readers created the
Daily Mail
, not the other way round
Set your pipes free, within reason
Worstall on Wednesday
Ignore the 'leccy meter, chump
Worstall @ the Weekend
As Brenda rightly says, no one even predicted the crash
Columnist Roll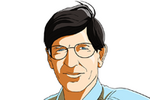 Chris Mellor covers storage and allied technology areas for
The Register
. After experience working for DEC, Unisys and SCO, he became an IT journalist writing for a variety of print publications. He edited the UK's first storage print magazine and then moved into the online world writing for IDG's Techworld, then started up the Blocks & Files blog, which was bought by El Reg.
He has written many sportscar buying guides, a few mountaineering guides and drives a car that's faster than he is.