Episode 13 It's FRY-DAY at Mission Central
Something for the Weekend, Sir? Comms-unist revival could put us in the broadband fast lane
Game Theory Plus: More Zelda and a fairy tale of New York...
Something for the Weekend, Sir? Why doesn't software come with a book any more?
Episode 11 Nurse, nurse – he's out of bed again
Get your pre-launch skinny here
Columnist Roll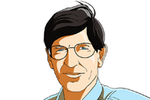 Chris Mellor covers storage and allied technology areas for
The Register
. After experience working for DEC, Unisys and SCO, he became an IT journalist writing for a variety of print publications. He edited the UK's first storage print magazine and then moved into the online world writing for IDG's Techworld, then started up the Blocks & Files blog, which was bought by El Reg.
He has written many sportscar buying guides, a few mountaineering guides and drives a car that's faster than he is.