Something for the Weekend, Sir? South Korea's Hall of Shame
Something for the Weekend, Sir? Tight-fit rubber and tape
Nadella. It's about time. He's been Satya for 22 years
How would you power a data centre 10 years from now?
Something for the Weekend, Sir? 'It's a sin,' say the Pet Shop Boys
Game Theory It's stiff business, dealing with hairy axemen and giant spiders
Columnist Roll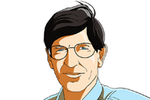 Chris Mellor covers storage and allied technology areas for
The Register
. After experience working for DEC, Unisys and SCO, he became an IT journalist writing for a variety of print publications. He edited the UK's first storage print magazine and then moved into the online world writing for IDG's Techworld, then started up the Blocks & Files blog, which was bought by El Reg.
He has written many sportscar buying guides, a few mountaineering guides and drives a car that's faster than he is.