The greatest change takes place outside CABs
Something for the Weekend, Sir?
When white goods go bad
Something for the Weekend, Sir?
As its lithe synthetic fingers fumbled with my trouser buttons...
Yes, they really are. Enrico Signoretti takes a look at what firms are up to
Episode 6
Just because it's half-dead doesn't mean you shouldn't keep flogging it
Something for the Weekend, Sir?
12 questions later, your life is a little shorter
Columnist Roll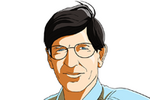 Chris Mellor covers storage and allied technology areas for
The Register
. After experience working for DEC, Unisys and SCO, he became an IT journalist writing for a variety of print publications. He edited the UK's first storage print magazine and then moved into the online world writing for IDG's Techworld, then started up the Blocks & Files blog, which was bought by El Reg.
He has written many sportscar buying guides, a few mountaineering guides and drives a car that's faster than he is.