Something for the Weekend, Sir?
No satirical jokes about prophets, please (unless it's Ian Watkins)
Strolling through a data privacy minefield
Spilling Hollywood's secrets woke money-land to the need for intrusive oversight
Antique Code Show
But oh how we love it
Worstall on Wednesday
Fracking analagous to move from mainframe to PC
Worstall @ the Weekend
And how to spot the difference
Columnist Roll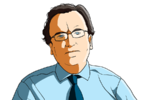 Tim Worstall is an Englishman who has failed at many things. Thus his turn to writing, the last refuge of many who could make a living no other way. He is, as an example of his business and financial perspicacity, the head of the international scandium oligopoly: the only commodity which has not risen in price in the past decade.