Something for the Weekend, Sir?
Mr Dabbs, you are incompatible with today's IT world :)
Episode 1
Is that leave without absence, or absence without leave?
Breaking Fad
'More How than Wow' says Sky
Game Theory
'Your mother was a hamster and your father smelt of elderberries!'
Worstall on Wednesday
Quit whinging. Change the system if you care that much
Worstall @ the Weekend
Jam-makers and DIY types will kill the market
Columnist Roll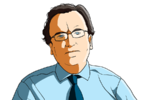 Tim Worstall is an Englishman who has failed at many things. Thus his turn to writing, the last refuge of many who could make a living no other way. He is, as an example of his business and financial perspicacity, the head of the international scandium oligopoly: the only commodity which has not risen in price in the past decade.