Breaking Fad
Firm ramps up TV production, unveils new 4K models — and cries wolf?
Game Theory
Includes Schrödinger's Cat, an alien mayoral candidate and more
Stob
Little Hitlers gonna Hitle
Something for the Weekend, Sir?
DIE Butterflies
Antique Code Show
The granddaddy of game consoles
Worstall on Wednesday
You may have noted there's an election in the offing
Columnist Roll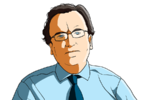 Tim Worstall is an Englishman who has failed at many things. Thus his turn to writing, the last refuge of many who could make a living no other way. He is, as an example of his business and financial perspicacity, the head of the international scandium oligopoly: the only commodity which has not risen in price in the past decade.