Antique Code Show
16-bit showcase game that was just too tough to be fun
Game Theory
Holy franchise finale!
Worstall @ the Weekend
Assuming that what we're told is correct, that is ...
Something for the Weekend, Sir?
Seeking the heart and groin of smart retail
Game Theory
Coming to a console, PC or mobile near you
Sysadmin blog
In IT paranoia is never a bad thing
Columnist Roll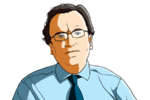 Tim Worstall is an Englishman who has failed at many things. Thus his turn to writing, the last refuge of many who could make a living no other way. He is, as an example of his business and financial perspicacity, the head of the international scandium oligopoly: the only commodity which has not risen in price in the past decade.