Breaking Fad Are the days of floorstanders and separates numbered?
Blocks and Files Upstart says it's up, up and away ... but not on the giants' radar – yet
Worstall on Wednesday Never mind the Ts&Cs, what does the law say?
Game Theory
War is
Fun
Hell
Something for the Weekend, Sir? What in HELL does 'hit go' mean?!
Blocks and Files IT titan scoffs at rivals' whisperings
Columnist Roll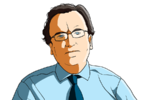 Tim Worstall is an Englishman who has failed at many things. Thus his turn to writing, the last refuge of many who could make a living no other way. He is, as an example of his business and financial perspicacity, the head of the international scandium oligopoly: the only commodity which has not risen in price in the past decade.