Episode 10
Even printer salesmen get the blues
Something for the Weekend, Sir?
Those backup passwords aren't for everyone
Review
Trek
works when the struggle is within, not when the fights are fast and furious
Something for the Weekend, Sir?
Time for trouble (make it double)
Episode 9
Just slap on our custom VR headset, Boss
In China, they get it, QR codes are like money and mobile payments are everywhere
Columnist Roll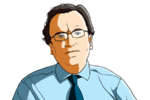 Tim Worstall is an Englishman who has failed at many things. Thus his turn to writing, the last refuge of many who could make a living no other way. He is, as an example of his business and financial perspicacity, the head of the international scandium oligopoly: the only commodity which has not risen in price in the past decade.