Breaking Fad Don't bin your multichannel home cinema system just yet
Worstall on Wednesday Even Moore's Law can't help the architects of statism now
Something for the Weekend, Sir? Examining the frothy disconnect in indie cafe culture
Worstall on Weds Australia's National Ballsup Network
Sysadmin blog World peace, natch, what did you think it was?
Episode 7 'We have to be sure the system works!'
Columnist Roll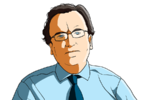 Tim Worstall is an Englishman who has failed at many things. Thus his turn to writing, the last refuge of many who could make a living no other way. He is, as an example of his business and financial perspicacity, the head of the international scandium oligopoly: the only commodity which has not risen in price in the past decade.