Downrange
Bizarrely, no 3D printing was involved
Episode 16
Avé! Duci Novo ...
Something for the Weekend, Sir?
Ciggy bar dust
Worstall on Wednesday
What will happen when the ROBOTS turn up, eh?
Worstall @ the Weekend
Surely not the US of 'F*ck the Poor' A? Actually, yes
Columnist Roll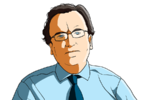 Tim Worstall is an Englishman who has failed at many things. Thus his turn to writing, the last refuge of many who could make a living no other way. He is, as an example of his business and financial perspicacity, the head of the international scandium oligopoly: the only commodity which has not risen in price in the past decade.