Episode 13 It's FRY-DAY at Mission Central
Something for the Weekend, Sir? Comms-unist revival could put us in the broadband fast lane
Game Theory Plus: More Zelda and a fairy tale of New York...
Something for the Weekend, Sir? Why doesn't software come with a book any more?
Episode 11 Nurse, nurse – he's out of bed again
Get your pre-launch skinny here
Columnist Roll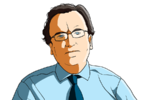 Tim Worstall is an Englishman who has failed at many things. Thus his turn to writing, the last refuge of many who could make a living no other way. He is, as an example of his business and financial perspicacity, the head of the international scandium oligopoly: the only commodity which has not risen in price in the past decade.