Episode 5
Fires and server crashes also known to work
Something for the Weekend, Sir?
Read the signs and weep because NO ONE CARES
Episode 4
Putting the shi* into internship
Something for the Weekend, Sir?
Your bot looks cute but it's easy to crack
Stob
He's both the sharpest tool AND two spanners short
Open source insider
What Mozilla's browser rewrite means to... Mozilla
Columnist Roll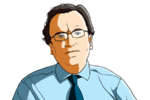 Tim Worstall is an Englishman who has failed at many things. Thus his turn to writing, the last refuge of many who could make a living no other way. He is, as an example of his business and financial perspicacity, the head of the international scandium oligopoly: the only commodity which has not risen in price in the past decade.