Something for the Weekend, Sir?
This app could have grave consequences etc
Oldies will retain mobility and independence when Teslas can self-drive them to work or be sent out to do the shopping
Episode 8
Do we have an agenda? Why
of course
we do!
Something for the Weekend, Sir?
Let's invent a dustbin that throws itself away
Open Source Insider
Some times it really is, though
Episode 7
Migrate data? If you're keen on seeing clouds...
Columnist Roll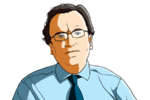 Tim Worstall is an Englishman who has failed at many things. Thus his turn to writing, the last refuge of many who could make a living no other way. He is, as an example of his business and financial perspicacity, the head of the international scandium oligopoly: the only commodity which has not risen in price in the past decade.