Worstall on Wednesday
Zuck should have hired ME
Worstall @ the Weekend
Where economics, altruism intersect
Something for the Weekend, Sir?
No satirical jokes about prophets, please (unless it's Ian Watkins)
Strolling through a data privacy minefield
Spilling Hollywood's secrets woke money-land to the need for intrusive oversight
Antique Code Show
But oh how we love it
Columnist Roll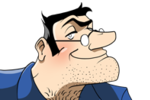 Simon Travaglia is the author of BOFH, the Bastard Operator from Hell, the long-running series about a rogue sysadmin. He lives in New Zealand.