Breaking Fad
'More How than Wow' says Sky
Game Theory
'Your mother was a hamster and your father smelt of elderberries!'
Worstall on Wednesday
Quit whinging. Change the system if you care that much
Worstall @ the Weekend
Jam-makers and DIY types will kill the market
Something for the Weekend, Sir?
Singing in the pain, just singing in the pain
AI is coming to take sysadmins' jobs, but greybeards have an escape route
Columnist Roll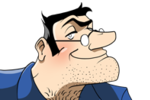 Simon Travaglia is the author of BOFH, the Bastard Operator from Hell, the long-running series about a rogue sysadmin. He lives in New Zealand.