Something for the Weekend, Sir? South Korea's Hall of Shame
Something for the Weekend, Sir? Tight-fit rubber and tape
Nadella. It's about time. He's been Satya for 22 years
How would you power a data centre 10 years from now?
Something for the Weekend, Sir? 'It's a sin,' say the Pet Shop Boys
Game Theory It's stiff business, dealing with hairy axemen and giant spiders
Columnist Roll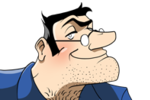 Simon Travaglia is the author of BOFH, the Bastard Operator from Hell, the long-running series about a rogue sysadmin. He lives in New Zealand.