Game Theory Bioware's fantasy forces in fine fettle
Worstall on Wednesday They just think the current schemes are terrible
Something for the Weekend, Sir? Your stupid minds! Stupid! Stupid!
Game Theory Is Ubisoft's bugfest really that bad?
Breaking Fad The format that wouldn't die is officially in remission
Columnist Roll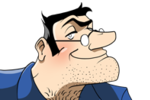 Simon Travaglia is the author of BOFH, the Bastard Operator from Hell, the long-running series about a rogue sysadmin. He lives in New Zealand.