Something for the Weekend, Sir? Ten ways to fool you into reading online lists
Antique Code Show Food shooting N00bs
Worstall on Wednesday Let's just call it a runtime error
Something for the Weekend, Sir? My life according to a Google Arse
Breaking Fad Are the days of floorstanders and separates numbered?
Blocks and Files Upstart says it's up, up and away ... but not on the giants' radar – yet
Columnist Roll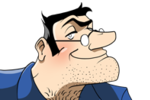 Simon Travaglia is the author of BOFH, the Bastard Operator from Hell, the long-running series about a rogue sysadmin. He lives in New Zealand.