Worstall on Wednesday
He wants to export taxation to China, as well as production
Worstall @ the Weekend
Assuming anyone votes for it, as I did
SFTW, Sir?
Just ask the young gonzo techblogsterz
Comment
Daily Mail
readers created the
Daily Mail
, not the other way round
Set your pipes free, within reason
Worstall on Wednesday
Ignore the 'leccy meter, chump
Columnist Roll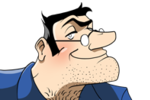 Simon Travaglia is the author of BOFH, the Bastard Operator from Hell, the long-running series about a rogue sysadmin. He lives in New Zealand.