Worstall on Wednesday
What will happen when the ROBOTS turn up, eh?
Worstall @ the Weekend
Surely not the US of 'F*ck the Poor' A? Actually, yes
Episode 15
Bodily violence? PLEASE. I was protecting the children
Something for the Weekend, Sir?
Our survey says: whuh-waah
Game Theory
Fast, furious, FUN... and banned in Australia
Columnist Roll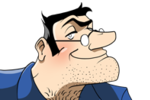 Simon Travaglia is the author of BOFH, the Bastard Operator from Hell, the long-running series about a rogue sysadmin. He lives in New Zealand.