Something for the Weekend, Sir? Sod 'Things', we're getting the Internet of Furbys
Episode 13 It's FRY-DAY at Mission Central
Something for the Weekend, Sir? Comms-unist revival could put us in the broadband fast lane
Game Theory Plus: More Zelda and a fairy tale of New York...
Something for the Weekend, Sir? Why doesn't software come with a book any more?
Episode 11 Nurse, nurse – he's out of bed again
Columnist Roll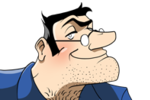 Simon Travaglia is the author of BOFH, the Bastard Operator from Hell, the long-running series about a rogue sysadmin. He lives in New Zealand.