Comment
Build a better interface and the world will... wait, where are you all going?
Worstall @ the Weekend
Ostrom's work more than simply disproving Hardin
Something for the Weekend, Sir?
And printers play silly buggers for fun
Breaking Fad
The fight for the living room's future is on
Game Theory
Finding direction and picking an heir to the late Satoru Iwata
Worstall @ the Weekend
A look in the ledgers of Trotter & Worstall Independent Traders
Columnist Roll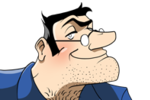 Simon Travaglia is the author of BOFH, the Bastard Operator from Hell, the long-running series about a rogue sysadmin. He lives in New Zealand.