Five families own more than 20% of the UK do? Rubbish
Something for the Weekend, Sir? Online retailers might slurp your data but they still don't know jack
Blocks and Files These rebels need to find a cause, says the Sage of Storage
Comment After lying in a deathlike slumber for years, the developer market is twitching
¡Bong! While Crimea teeters on the edge, a plan is being hatched in Shoreditch...
Something for the Weekend, Sir? Blow me a fuse, darlin', I got 499 more where that came from
Columnist Roll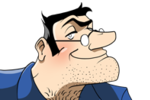 Simon Travaglia is the author of BOFH, the Bastard Operator from Hell, the long-running series about a rogue sysadmin. He lives in New Zealand.