Ignite: Microsoft drops veil on Honolulu, releases SQL Server on Linux into the wild
What went down last week in Florida?
Dynamics and PowerApps
What is the new Visual Basic or Access? This is a question that has preoccupied Microsoft for years, as it has attempted to introduce a variety of rapid application tools, things like Visual Studio LightSwitch, now deprecated.
The current answer is PowerApps, introduced early in 2016. The idea is that you connect to data or services, allow PowerApps to build screens for browsing and searching data, and customise it with additional controls and formulae. It works alongside Flow, for creating workflows, and PowerBI, for data visualisation. PowerApps can be used independently, but is most at home alongside Microsoft's Dynamics business applications.
"It provides both a model-driven capability, starting with the data, or you can start from a beautiful user experience and connect that to data," corporate VP James Phillips told the Reg. "We've got 160 connectors that allow you to connect to everything from raw database systems to SaaS applications. It's now not just a rapid application platform, but also the embeddable extensibility mechanism for both Office and Dynamics."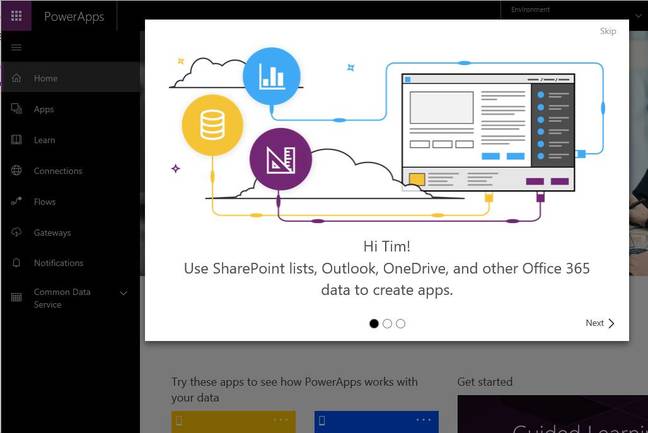 PowerApps, Microsoft's current offering for quick cloud-based applications
The difficulty with such highly automated tools is frustration when they do not do quite what you want. Much of this will also feel like reinventing the wheel for experienced developers. "We are happy to announce that we plan to add support in the Common Data Service for relationships and server-side logic by Q1 2018," says an Ignite post. These look like unfortunate omissions from the current offering.
It is worth noting that if you commit to Microsoft's cloud platform, and especially if you go the whole way with Dynamics business apps as well as Office 365, PowerApps is the current direction for custom applications.
You can also have some AI with that. At Ignite, Microsoft announced Dynamics 365 AI solutions, which combine Dynamics data (and LinkedIn data) with AI services such as Cognitive Services, Machine Learning, and Microsoft Graph, to enable smart applications. How this works in detail was all a bit vague. At Ignite, we saw an HP virtual assistant demo, and the initial focus is on customer service.
Microsoft 2017
Nadella's Microsoft has made remarkable progress in "transitioning away from a purely Windows-centric approach," as company co-founder Bill Gates notes in the forward to Hit Refresh. There was much to like at Ignite, from Project Honolulu to SQL Server on Linux, or Azure Stack for instant cloud-like applications in the data centre.
The overall strategy strikes me as pretty good, though whether PowerApps, for example, will still be a favoured child in say two years' time is open to speculation.
Microsoft also lets itself down on occasion with complexity or frailty of implementation. When I set out to create a PowerApp, I got the lovely error message, "Unable to navigate to AAD for login. This can happen in IE and Edge if Trust Zones are misconfigured."
I may just be unlucky, but experience tells me otherwise. The error is worth mentioning because of the deeper point, that the success of the company's platform still depends on synergies between desktop Windows and Office, and cloud services, and the links between the two are not always as robust as they should be.
Still, there is plenty of energy in Microsoft 2017, and plenty to look forward to if it can get the detail right. ®