Please virtualize my reality before asking me to goggle at a fake one
VR's killer app is shared simulations of closed spaces, not immersive entertainment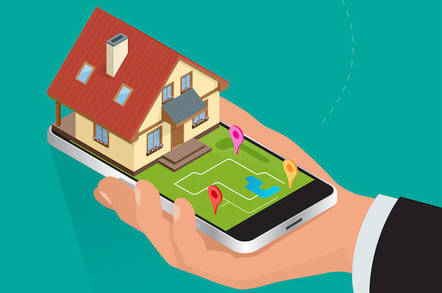 My family's growing up fast so we're considering adding a room or three to the house. I'm therefore arranging all manner of meetings at which different tradespeople run an eye over the place so they can scare me with the price of the stuff we want done.
It would all be so much easier if my house was a virtual environment.
What I want to do is give my house a full body scan so I can let tradespeople access a virtual model that gives them a decent look at the place and its measurements. My hope is that by doing so it becomes possible for suppliers to quote for work without having to schlep across town to measure it up.
Those who want to bid for my business could then send me the VR model of my home complete with models of their wares. This would be exponentially better than the quotes I get now – scrawled jargon on hard-to-read triplicate carbon paper.
I said "bid" for a reason because once my virtual home removes the need for builders to visit, it makes sense for them to participate in a quotation marketplace in which I seek suppliers based on price, materials, crowdsourced reputation scores and other useful ratings.
If this comes to pass I'll stop working from home quite so much [Sorry, boss!] and local roads would be just a little less trafficked. That last point's kind of a big deal given Sydney, where I live, is currently building a lazy $20bn or so on tollways with the justification that tradespeople need to be able to get about town more easily.
At this point readers may wonder how my home will be virtualised. One way is the CAD files we'll need to get some of this work signed off. Today, those files don't get far beyond the people involved in the project - an architect, whoever hires them, the council that signs off on building projects and the builder. Those CAD files clearly deserve to be re-used in a virtual model.
I expect WiFi and my smartphone can help too. It's already possible to use WiFI to locate objects in space and that smartphones can capture 360-degree photos. Someone will sort the rest of the pieces out, boil things down into a simple spatial-capture gadget or send people through meatspace to make VR models.
If I had a robot vacuum cleaner, its maker might even capture enough data to make a model and sell it to me. I quite like robot vacuums so if a vendor gives me a good deal on one in order to insert itself into this virtual chain, I won't mind because the value a virtualised home can deliver dwarfs that on offer from VR goggles intended for immersive gaming or filmed entertainment.
That 75 per cent of time in VR is spent staring straight ahead tells us that VR clearly awaits the auteurs that take it from novelty to compelling entertainment experiences. The continued failure of 3D to enhance entertainment suggests those virtual Hitchcocks might never emerge – I think we may be hard-wired to infer bits of story in the periphery of our imagination, rather than enjoy being completely wrapped in unreal experience.
That last bit is speculation. But I am certain that VR's future is brightest in simulation, taking us into places it is otherwise hard to reach or use.
I'm also certain that shared virtual realities will unlock the technology's value to a greater degree than VR-for-entertainment. All the best digital businesses succeed because they simplify connections. Cisco was a billion dollar e-business in 1996, thanks to online router configuration tools. Amazon started out by letting anyone sneak into the book industry's closed EDI systems. Yahoo and Google connected us to information. Facebook connected us to our friends more efficiently than was previously possible.
Virtualized homes offer the chance to connect us all to industries that are notoriously hard to engage with, and do so without having to make the physical connection or hang around the house all day waiting for someone to show up with a tape measure and a knowing eye that could do its early work behind the lens of a Google Glass 2.0 or a similar device.
Which may save me some of the misery of project planning. Now can someone figure out how to help me survive the mess, noise and stress if we actually build this thing? ®
Mark Pesce gets August off.