Small biz breaks out pen, paper after Brit tax collectors' Digital Form Service goes down
Soz, SMEs, you can't submit your monthly returns online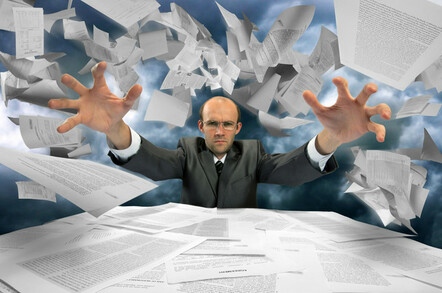 The taxman's Digital Forms Service, intended to allow small businesses in the UK to submit returns online, has been down for maintenance since the beginning of the week – forcing SMEs to use pen and paper.
The service is intended to provide a digital replacement for all appropriate HMRC print and post forms, a key part of the department's Making Tax Digital programme. In total HMRC wants to transform 600 forms for DFS.
The DFS page, which is currently a trial project, currently reads: "This service is unavailable due to maintenance."
One user, who asked not to be named, said he was unable to use the service to declare the duty payable on beer for his nano-brewery.
"The HMRC site went down a couple of days ago, I was in the middle of submitting online form EX46 for beer duty. Since then every time I've checked it's been a 500 error," he said.
"I have been using the extremely broken online forms for submitting monthly returns, although I'm starting to think that paper returns are just easier!"
Under its £1.3bn tax digitisation programme, HMRC will require businesses to keep their records in a digital format followed by an end-of-year reconciliation.
However, those plans could be delayed by at least a year after the Treasury Committee exposed "serious shortcomings" with the programme.
The taxman has since said businesses will not now be mandated to use the Making Tax Digital for Business system until April 2019 and then only to meet their VAT obligations.
An HMRC spokesman said: "We apologise to any customers who have been unable to access our iForms service. We are working hard to restore this service and are sorry for any inconvenience caused." ®