Zero accidents, all of your data – what The Reg learnt at Bosch's autonomous car bash
Roving reporter returns from test track in deepest Baden-Württemberg
No drugs at the wheel for you sir, it's only level 3
Of course it wouldn't have been a proper junket if all the hacks weren't given a spin round the track, and Bosch obliged.
We'll start with the Bosch-Tesla level 3 car – a level not yet on the market, which means the driver can turn their attention away from the drive but needs to be ready to respond immediately. "They can't drink or take drugs," our co-driver helpfully pointed out.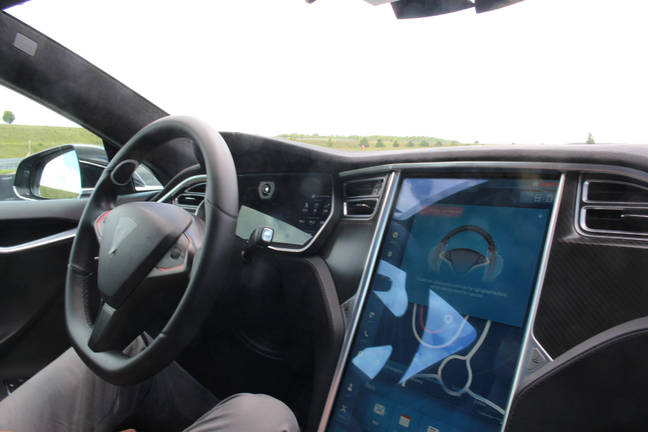 Look, Mum! No hands!
The trip round the circuit, though impressive, was too short to get a real feel for driverless travel, and the car never went over 50kmph. Perhaps most unnerving was the camera that detects which way your eyes are looking so the car can tell when you're not paying attention to the road.
Other test drives offered more obviously practical and closer-to-market tech. For instance, Bosch demo'd a neck-wrenching emergency braking system for bikes (which can be overridden by a very severe jerk on the steering wheel – just in case you did want to run the cyclist over).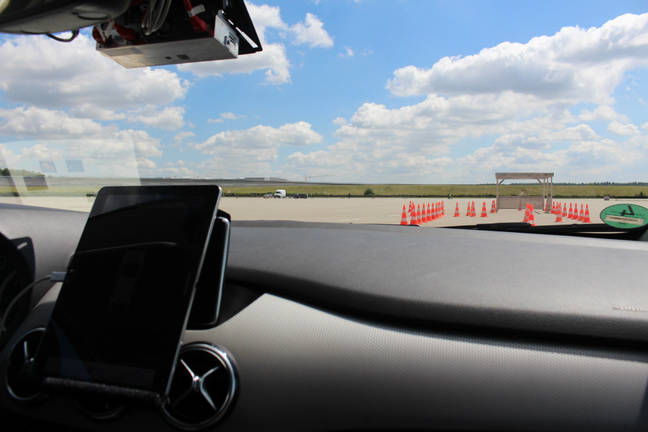 Could you park your car in the shed, via the cone slalom?
Bosch had also set up a slalom into a wooden "garage" to demonstrate their autonomous parking system. The car will drive for up to 200m and then park for you, and can be controlled from your phone so you don't whack the car door against the pillar you have to park next to every day.
The only issue is that you have to drive it once for the car to learn the route. "Maybe get a neighbour who's a good driver to do it for you one time," said the driver when El Reg asked if it would copy your usual 52-point parking routine.
At least that's one way of interacting with a human in the age of connected everything. ®
Sponsored: Minds Mastering Machines - Call for papers now open