Toshiba Twist holds out bowl, WDC sweetens flash plant deal to $18bn
Eat your gruel and we won't go to international arbitration court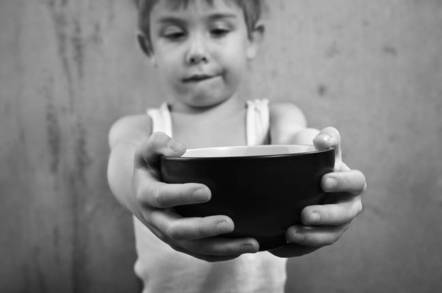 The Toshiba memory business saga careers on with a consortium including WDC set to raise its bid to ¥2tn ($18bn) or more.
Bidders reported to be involved by Reuters and the Nikkei are:
Japanese state-backed investment fund Innovation Corporation Network of Japan (ICNJ) plus WDC and Bain Capital with its raised bid of ¥2tn ($18bn)
Broadcom, Silver Lake and three Japanese banks with a ¥2.2tn bid
Hon Hai (Foxconn), Apple and Amazon with a bid previously reported to be ¥3tn ($27bn)
WDC initially offered ¥1.6tn then ¥2tn. Toshiba said no each time. The new bid will apparently include a $25bn multi-year capital spending commitment for the Yokkaichi foundry with two new fabs as part of that, plus $39bn for R&D there and pledges to increase the workforce there by 5 per cent annually for two years.
The increased offer will be presented on 15 June, on which day Toshiba has said it will choose a preferred bidder. If Toshiba plumps for WDC, the company will stop its international arbitration court effort to prevent the memory business sale.
Toshiba is worried that any bid involving WDC could run into time-consuming regulatory problems, which could delay its ability to recapitalise itself following the catastrophic losses in its US nuclear power station business.
The recapitalisation depends upon it selling its memory business, which uses NAND chips from a flash foundry joint venture with WDC. If WDC effectively gains control then the number of NAND foundry operators shrinks to four – Intel-Micron, Samsung, SK Hynix and WDC – which would spark antitrust competition concerns.
To counter this, WDC is reportedly looking to buy memory business debt in a corporate bond deal and not have a direct equity stake, which it initially wanted.
+Comment
Stifel analyst and MD Aaron Rakers outlines concerns about any WDC failure to be part of a winning bid group:
How should we think about the arbitration process playing out (up to 24 months)?
At what stage would WDC consider its next legal step? Filing to impose a permanent injunction preventing Toshiba from transferring its JV interest to a third party without WDC-owned SanDisk's consent.
How should we think about the future operating relationship between Toshiba and Western Digital?
We might think, for example, that WDC could look to a linkup with SK Hynix. The flash foundry business fun and games continues. ®
Sponsored: Minds Mastering Machines - Call for papers now open