Plutus Payroll clients and staff fell for plausible business model fairy tales
Free payroll service claimed to make money with commissions and short term loans
Fallen Australian payroll-services-for-contractors company Plutus Payroll convinced clients and staff that it had hit upon a business model let it fund free payroll services with clever money market plays, commission deals with financial services companies and by selling workers' details to marketers.
But those revenue sources appear to be chimerical as Plutus has since been named as a vehicle used to perpetrate an AU$165m (US$122.5m, £94.5m) tax fraud scheme.
The Register has today spoken with several tech contractors who used Plutus for its payroll services. All requested anonymity. Most reported that the company did a really good job and was immediately attractive because it charged no fees compared to the 2.5 per cent typical for payroll providers. Contractors tell us they were paid on time and that the company had an excellent reputation in the industry: many told us they signed up after friends and colleagues raved about Plutus' service.
Plutus also put money in their pocket. One contractor told us she received a pre-paid credit card loaded with AU$100 for every month she stayed with the company. Others were given free or heavily-discounted private health insurance, saving them hundreds of dollars a month. Plutus also introduced its clients to financial services companies to help them package things like leased cars into their salaries. The Register has seen a Plutus client's pay slip that includes a salary sacrifice scheme for a new Apple Mac.
A few of the contractors El Reg contacted said they did pause to wonder if Plutus was perhaps a bit too good to be true. Plutus staff would explain that the company received comissions from financial services companies and would also on-sell their data to third parties and that they could expect to receive offers from marketers. Commissions of this type are common in Australia and as tech contractors can earn very good wages down under it's entirely conceivable that marketers would clamour for their contact details.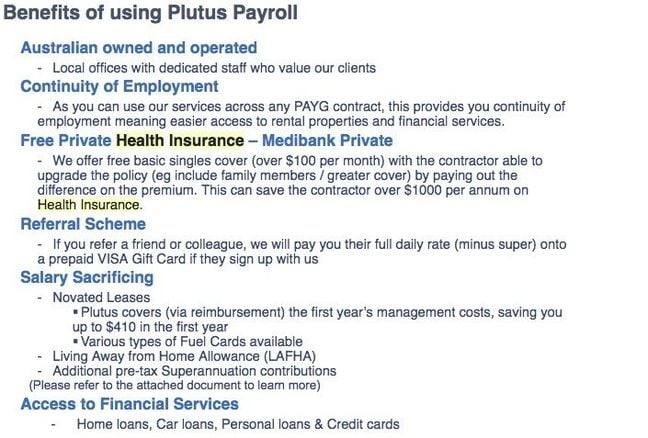 An email a Plutus Payroll worker sent to a contractor, explaining the benefits the company offered
None of the contractors we spoke to ever received any approaches by marketers, but none smelled a rat – perhaps because who notices the absence of spammy email or cold calls?
Those we spoke to generally said that once Plutus explained its business model, it sounded plausible in the context of other companies that make money with referrals and online advertising. That Plutus offered a no-nonsense service, delivered by pleasant and responsive people, completed the picture of a dare-we-say-it disruptive business that looked to have found a way to shake up Australia's payroll industry.
The view from inside Plutus
Staff were told similar stories. The company's executives told Tim Munk, formerly Plutus' general manager of contractor care, that commissions from financial services partners were one revenue stream. He was also told that Plutus had found a clever way to manage its cash flow so that it would receive wages owed to its clients and lend that money on the short-term money market at very high interest rates. Plutus would get that money back before it was due to make payments.
Short-term lending of this sort is not unusual: plenty of companies hit cash flow crunches and specialist lenders step in to help. To Munk and other staff Plutus looked clever and credible.
Recruitment companies like the story too, because Plutus was paying them referral fees. Even recruiters that had their own payroll services organisations sent people Plutus' way.
Some of the contractors The Register has contacted allege that individual recruiters may have fibbed and said Plutus was contractors' only option. Munk says Plutus went out of its way not to mention the incentive scheme to recruitment companies that forbid such payments. But The Register understands individual recruitment agents stood to earn $1,000 per referral, a tempting sum.
Munk told El Reg that from his point of view in mid-2016 Plutus was going very nicely. He learned the company was to be taken over by Synep, the company alleged to have been the entity behind the tax fraud. Around the time of the Synep takeover Plutus' CEO left and Munk was then given greater discretion on how to run the company. He was then dismissed in March 2017 and told Plutus needed to cut costs.
Within two months Plutus' bank accounts had been frozen, contractors' pays stopped flowing and the mess we've chronicled since May 1st started to unfurl.
Loose ends
At the time of writing ten people are due in court over the alleged tax scam and many contractors are fearful of their futures.
Some tell us they are still owed money, despite Plutus promising to pay them. Some were overpaid and now tell us that all of their wages have disappeared from their bank accounts. Others tell us that just the right amount remains. Some still have too much money.
Many are worried that Plutus will not be able to issue correct tax documentation, a reasonably urgent matter given that Australia's financial year ends on June 30.
Some of those we've contacted also want to know why their recruitment companies introduced them to Plutus. The Register has contact three recruitment companies known to have referred contractors to Plutus. One has declined to comment. The other two are yet to respond to our inquiries.
The Register has created an early warning mailing list for affected contractors: if we learn any new information we'll send it to that list before we post a story. If you're a former Plutus contractor write to me if you'd like to be included on that list.
We're continuing to pursue this story with the Australian Taxation Office and recruitment companies. And we'll try to get to court in-between covering other stories. ®