Huge flying arse makes successful test flight
Nine months after its buttocks ignominiously met terra firma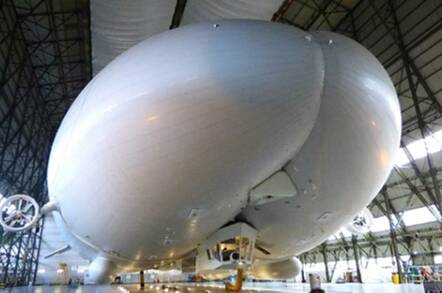 The "giant flying bum" Airlander 10 airship has successfully flown for the first time since it nosedived into the ground last summer.
The airship crashed in August 2016 because its mooring lines caught on power cables, the Air Accidents Investigation Branch concluded. The resulting nosedive injured nobody but crushed the airship's cockpit.
On Wednesday evening the craft flew for three hours in the vicinity of its Cardington base, near Bedford, entering the first phase of the revised three-phase flight test programme.
"It was truly amazing to be back in the air. I loved every minute of the flight and the Airlander itself handled superbly. I am eager to get back into the cockpit and take her flying again," said chief test pilot Dave Burns in a canned statement.
Since its crash the Airlander has been fitted with what its makers, Hybrid Air Vehicles, describe as an "auxiliary landing system". This is just a pressurised air cushion that contacts the ground ahead of the rest of the airship during landing.
Hybrid Air Vehicles describes it as the world's largest flying craft, though it is not clear what metric they are using. By weight the Antonov An-225 is the heaviest aircraft ever to slip the surly bonds of Earth, while the Airbus A380 is regarded as the largest passenger-carrying aircraft by number of bodies aboard. The Airlander may have a stake in the "largest aircraft by internal volume" charts, though most of this is taken up by gasbags rather than payload space.
The Airlander 10 flew with the US Army under the tail number HAV-304 in 2012 as part of a test project aimed at producing a surveillance blimp. When the project was cancelled in 2013, the airship was returned to the UK and modified to its current state.
Hybrid Air Vehicles hopes that the Airlander will evolve into a viable cargo-carrying product and even offer passenger-carrying rides, though this is a dream that a significant number of people throughout the 20th century tried and failed to achieve. Britain's government-backed airship effort in the 1930s, the R101, crashed and killed almost all aboard after politicians in charge of the project insisted the airship made a demonstration flight to India before it was ready to do so. R101's fatal crash also sunk its quietly successful private rival, the R100, as well. ®
Sponsored: Minds Mastering Machines - Call for papers now open