In case you had forgotten, broadband body warns of risks Brexit poses to sector
Advisory group wants Blighty's policy to align with Europe's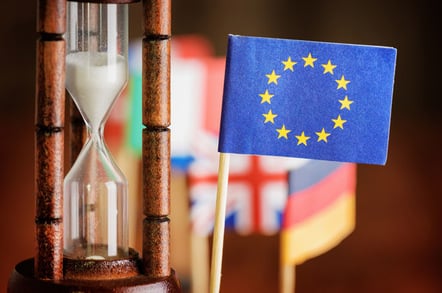 An industry group for the broadband sector has listed the risks facing the telecommunications sector following Brexit, including the impact on roaming charges, free movement of labour and European investment, in a report published today [PDF].
The paper, titled Implications of Brexit on the Digital Communications Sector, by the Broadband Stakeholder Group (BSG) recommends the government align its policy with current EU rules.
It said: "The change of relationship between the UK, the EU and the rest of the world could impact this and government can help mitigate the risks by working with industry and strengthening its influence in international standard bodies."
Regulatory predictability during this phase is critical and the government must take measures to preserve this, including recommitting to the current principles under which the sector operates, it said.
The group said digital communication contributes £30.2bn to the UK economy.
Richard Hooper, chair of the BSG, said: "This report serves to highlight the complexities of Brexit for the digital communications sector. The sector is the bedrock of the wider economy, particularly digital industries which makes up around 16 per cent of the UK's economy.
"Government must work with industry to provide as much regulatory certainty in the short to medium term whilst exploring the opportunities that Brexit can offer in the long term."
Recommendations include keeping an alignment with European State Aid policy, offsetting a potential shortfall in funding for rural broadband networks, the possibility of state funding for a Universal Service Obligation, and a reciprocal agreement with the EU for UK consumers to continue to benefit from mobile roaming prices.
A significant proportion of Ofcom's powers and duties under the Communications Act 2003 derive from the EU Regulatory Framework for Communications, which is currently under review.
"Given the scale of Ofcom's valuable contributions and current level of involvement within BEREC (Body of European Regulators in Electronic Communications), the UK should seek to retain an active role for Ofcom within this EU institution," the report said.
"EU policies and legislation will continue to affect and in some cases apply directly to UK companies. Ofcom therefore needs to retain its strong collaborative relationship with other EU regulators."
It noted the UK has integrated over 40 years of European regulation and has benefited from access to the EU Single Market. ®
Sponsored: Minds Mastering Machines - Call for papers now open