US cops, firefighters to get new emergency wireless network – AT&T to get $6.5bn
Telco lands mega-deal to host first responders' broadband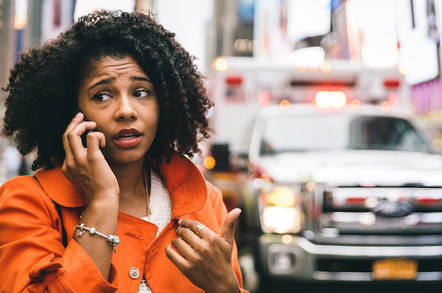 US phone giant AT&T has landed a $6.5bn contract to build a private wireless broadband network for emergency responders.
The FirstNet system will be a nationwide network that will allow police, firefighters and paramedics to transmit data and communications across multiple regions and jurisdictions without worrying about the transmissions being lost to overcrowded networks, particularly during disasters.
The network, running in a 20MHz band in the D-Block spectrum space, will initially operate as a private LTE (Long-Term Evolution) system that includes wireless data and radio access network (RAN) voice transmissions. The FirstNet system will cover all 50 US states as well as tribal lands and will be open to both state and federal agencies, with links to local networks and the 911 system.
In exchange for the $6.5bn contract, AT&T will operate the network for 25 years, providing its own existing hardware backbone to support the network.
The idea was first raised by the 9/11 Commission Report, which noted that heavy traffic on the commercial wireless networks can prevent first responders from effectively communicating in the wake of a natural disaster or serious attack.
Pitched as a way to ensure that communications links between agencies can stay up in emergencies, the FirstNet system was approved by Congress in 2012. A request for proposals kicked off in January of last year.
"FirstNet is a critical infrastructure project that will give our first responders the communications tools they need to keep America safe and secure," said Wilbur Ross, US Department of Commerce secretary.
"This public-private partnership will also spur innovation and create over ten thousand new jobs in this cutting-edge sector."
FirstNet said that it will open an online portal for state agencies later this summer that will include service plans for agencies to choose from. The first portion of the plan, the RAN network, will be an opt-in program and FirstNet said it will not carry any costs for the state agencies. ®
Sponsored: Minds Mastering Machines - Call for papers now open