Fireball in Tasmania: Possible CubeSat re-entry sparks alien panic
Lemur-2-NATE came down yesterday and there's plenty more where it came from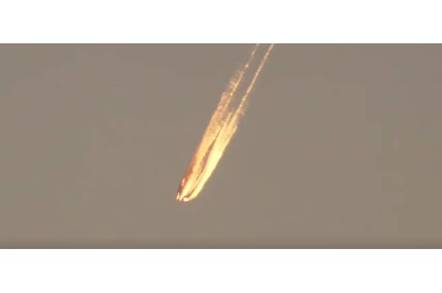 A small satellite burning up in the atmosphere has led to big excitement.
As the skies lit up over Tasmania on the morning of February 28, so did Facebook with speculation that included - sigh - alien interventions. The reality looks far more prosaic: a Lemur-2 CubeSat owned by Spire Global came to Earth.
Between September 2015 and October 2016, Spire has launched 17 three-unit CubeSats in its Lemur-2 program, and the one that dropped yesterday was Lemur-2-NATE.
Airservices Australia originally told the Australian Broadcasting Corporation what people had seen was an aeroplane.
Vulture South has asked the agency whether it's revised its opinion since then, and it responded only that "Airservices is aware of an aircraft that passed through Australian airspace over Hobart at 19.30 UTC/6.30am AEDST on Tuesday 28 February 2017".
That was Emirates EK488 en route from Dubai to Auckland, NZ.
Australian National University astronomer Brad Tucker put forward Lemur-2 as a possible source of the fireball.
UFO sighting which someone says is a plane? No, re-entry of a small satellite called LEMUR-2 - a 20cm long satellite https://t.co/KVbcVg8ydY

— Brad Tucker (@btucker22) February 28, 2017
Tucker told Vulture South he's 75 per cent sure it's Lemur-2-NATE, because the predicted re-entry orbit took it over Tasmania, and the timing was right.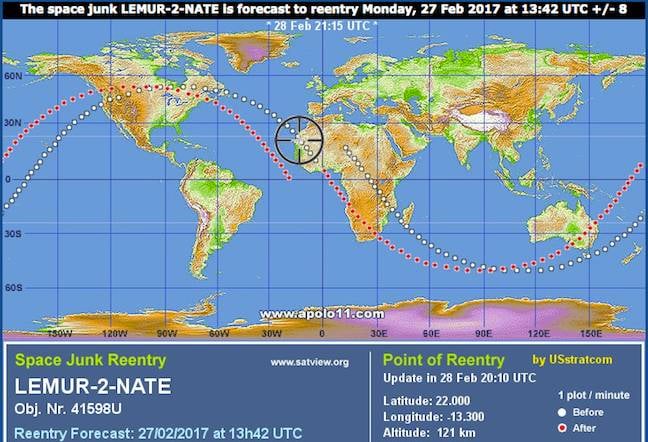 Spacejunk's Lemur-2 reentry prediction.
The Lemur-2 birds are part of an intended constellation of 125 units with a two-year design life. Since Lemur-2-NATE was launched in early 2016, its supposed demise was premature. ®