Gulp! Drones dodge spray from California's gaping moist glory hole
Spectators swallow hard as cloud seeds flow forth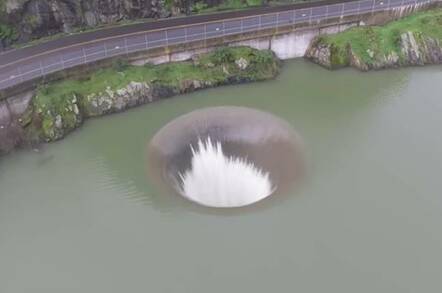 Vid + pics Drone operators have been gazing in fascination as, for the first time in over a decade, the Lake Berryessa glory hole has been swallowing up excess water and shooting it down into Putah Creek.
A glory hole – or to give it the proper name, a morning glory spillway (named after the beautiful flower's shape) – is a perfectly normal engineering term in dam design. Admittedly it's also a catchphrase used in the sex industry for a holey wall allowing anonymized interaction, not to mention my mum's name for the cupboard under the stairs - such is language.
In this case, the spillway is in the lake created by the building of the Monticello hydroelectric dam in 1963, which has been filling up in recent weeks as the California countryside has been lashed with heavier than usual storms.
For first time in a decade water is overflowing the 'Glory Hole' Spillway at Lake Berryessa in Northern California. Dry season and now pics. pic.twitter.com/krmA85QN9h

— Anthony Farnell (@AnthonyFarnell) February 21, 2017
The glory hole, a 72-foot (22-metre) in diameter spillway capable of swallowing up 48,400 cubic feet of water per second, is now in operation and is drawing spectators keen to get an eyeful.
"I would say it's a big drain in the lake," said Sarah McBride, a public affairs specialist with the Bureau of Reclamation. "It's unusual to see a spillway like that. We have people coming out there. It's definitely a sight to see."
Among the crowds are plenty of drone enthusiasts, who are using their flying cameras to get a birds-eye view of the spillway as water cascades 200 feet (61 metres) down the tube before being released out into the river. Looking straight down the glory hole in full flood has only been possible for the lay person with the advent of commercial drone technology, and it's visually orgasmic viewing.
That said, drone users shouldn't get cocky and try to enter the hole. The chances are that not only will their expensive kit be splattered by spray, and then sucked down and mangled, but the dam's owners will most likely give miscreants a legal spanking. ®
Sponsored: Minds Mastering Machines - Call for papers now open