NASA – get this – just launched 8 satellites from a rocket dropped from a plane at 40,000ft
You boffins are just showing off now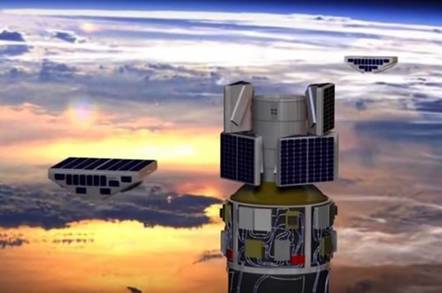 Video NASA's Cyclone Global Navigation Satellite System (CYGNSS) has made it safely into orbit after being air-launched from Orbital ATK's Stargazer aircraft.
CYGNSS consists of eight mini-satellites that orbit around the tropical zone of Earth that spawns most of our hurricanes and cyclones. The birds will provide daily updates on surface wind speeds and can peer into the heart of hurricanes to measure their strength.
The satellites were carried by a Pegasus XL rocket that was dropped from the Stargazer – a modified Lockheed L-1011 TriStar – at around 40,000 feet above the Atlantic Ocean. Seconds later the solid-fuel rocket ignited and blasted the payload into orbit, and all have now sent back signals to ground control.
"We have successfully contacted each of the 8 observatories on our first attempt. This bodes very well for their health and status, which is the next thing we will be carefully checking with the next contacts in the coming days," said CYGNSS Principal Investigator Chris Ruf.
"It is an amazingly rewarding feeling to spend such an intense and focused time working on CYGNSS and then, in a matter of just a few hours, have the entire constellation suddenly come to life. I am excited (and a little exhausted) and really looking forward to diving into the engineering data in the coming days, and then into the science data in the weeks to follow. Go CYGNSS!"
Traditional wind-monitoring satellites fire signals down to Earth and then measure the strength of the echo back. That means they are large, complex, and expensive to build, since they need powerful transmitters and receivers.
However, CYGNSS satellites just have receivers. They take their signals from the GPS system [PDF] and use those to work out the wind speed on the surface.
Once fully operational, the satellites will be able to map global wind speeds in the tropics every few hours, as opposed to every few days. Hopefully that will give sailors enough warning to avoid perfect storms and drastically increase the accuracy of storm-tracking computer systems. ®
Sponsored: Minds Mastering Machines - Call for papers now open