Meat pies in SPAAAAAAAAAAAACE!
Wiganites in record freezer burn turn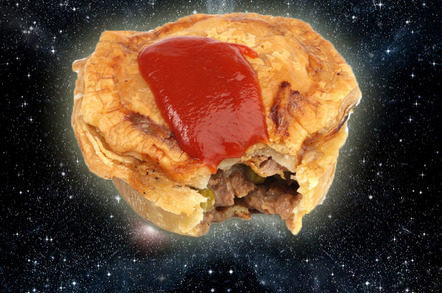 Pie-lovers were given a novel but unrecommended way to freeze a meaty delight this week by sending the little beauty into space*.
The meat and potato pastry parcel - still in its tin case - was tethered to a helium balloon and dispatched from mission control in a pub car park in Roby Mill, Wigan.
Bods at the Civil Aviation Authority cleared the stunt, which saw the pie rise to a height of 100,000ft (30km). It came down near to the Forest of Bowland, 38 miles from the launch site.
Event organisers - space enthusiasts - said they had a mild interest in ascertaining if the molecular structure of the pie changed following its heaven-bound trip. They speculated that perhaps this would reduce the time it took to eat the pie at next week's World Pie Eating Championship, also in Wigan.
The savoury package was expected to freeze on its upward journey and be blasted on its re-entry.
The pie was made by a firm in St Helens. ®
* Yes, we mean the stratosphere, you pie-rrty pooper
Sponsored: Minds Mastering Machines - Call for papers now open