HPE core servers and storage under pressure
Public cloud and Huawei cited among culprits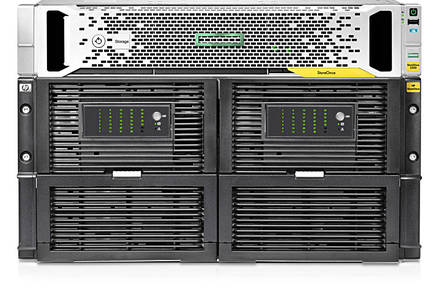 Analysis HPE's latest results show a company emerging slimmer and fitter through diet (cost-cutting) and exercise (spin-merger deals) but facing tougher markets in servers and storage – the new normal, as CEO Meg Whitman says.
A look at the numbers and the earnings call from the servers and storage points of view shows a company with work to do.
The server business saw revenue of $3.5bn in the quarter, down 7 per cent year-on-year and up 5 per cent quarter-on-quarter. High-performance compute (Apollo) and SGI servers did well. Hyper-converged is growing and has more margin than the core ISS (Industry Standard Servers). Synergy and mission critical systems also did well.
But the servers business was affected by strong pressure on the core ISS ProLiant racks, a little in the blade server business, and also low or no profitability selling Cloudline servers, the ones for cloud service providers and hyperscale customers.
In the earnings call, Meg Whitman discussed the ISS business, saying: "Other parts of the server business are doing really well. And I think that core ISS rack deterioration has a number of different things. One is in part our execution in the channel and pricing and things like that. And the second is the move to the public cloud."
She also mentioned that there was increased competition from Huawei in servers.
Her answer is: "We need to shore up core ISS racks with improvements in the channel, improvements in quote to cash, and focus – more focus on the distributors and VARs for the volume-related ISS rack business."
She thinks the ISS business can grow 1-2 per cent if this is done and because profitable gear like storage gets attached to these servers, HPE is "gaining share profits in this business".
Cloudline
Turning to Cloudline, Whitman said there is a pricing issue. "Cloudline is a pretty big business for us. And when done correctly, we actually make money on Cloudline. But we just have to be sure every deal has to be looked at on a one-off basis, which is what's the forward pricing going to look like? And I basically said to the team, listen, we do not want to be doing negative deals here for the most part. What's the point in selling things at loss?"
She added: "There's not a big sales force component to those deals. The sales force gets the leads and then it's turned over to an engineering sale, so it has lower FSC associated with it."
Cloudline servers are more profitable when sold to second and third-tier customers as opposed to tier-one buyers. There has been some contraction in HPE's tier-one hyper-scale business, according to Stifel MD Aaron Rakers.
Hyper-converged
Although HPE's CEO said hyper-converged was doing well, there is some way to go. Gartner ranks HPE as the leader in the hyper-converged and integrated systems magic quadrant, with EMC second and Nutanix third.
The analysis company's researchers said: "Hewlett Packard Enterprise offers multiple converged, hyper-converged, reference architectures and point systems of various design points. But as the volume market leader in many segments (including blade and rack servers), it is only logical that HPE should be a leading vendor in this market."
As Nutanix is just a hyper-converged player then HPE is not a leader in hyper-converged systems with its HC 380. The Gartnerites point out that "HPE is a relative late starter in HCIS and is frequently absent from competitive hyper-convergence evaluations versus more established vendors."
An August Forester Wave report on hyper-converged systems put HPE in eighth position. Forester's researchers said: "HPE's product is in its early stages, and... its position in the HCI segment should improve quickly over time."
Nothing was said in the call about any merger or acquisition in this area. There have been rumours about HPE and SimpliVity getting together.
Storage
In the all-flash array (AFA) business, HPE grew 3PAR AFA revenues 100 per cent year-on-year to a $750m annual run rate, which compares with NetApp at $1bn and Pure at $631m. Our sense is that Dell-EMC leads this market, followed by NetApp, then HPE, with Pure in fourth place.
Whitman said: "All-flash now makes up 50 per cent of our 3PAR portfolio and interestingly still only comprises 10 per cent of the data centre. So we see more running room in our all-flash business. And... we're introducing new deduplication technology that should provide some further uplift in all-flash array, because there has been a gap in our portfolio."
Comparing HPE to other AFA suppliers we see Dell EMC with five AFA products: XtremIO, DSSD, all-flash VMAX and Unity, and an all-flash Isilon product. NetApp has three: EF series, SolidFire, and all-flash FAS. Pure has its FlashArray and is developing FlashBlade. HPE has the single all-flash 3PAR product. This looks to be insufficient to cover the developing AFA use cases such as high-speed analytics, scale-out cloud service provision and file access.
There is no sense from HPE that it recognises this as a problem area. We see here a reflection of a view that HPE has a proliferation of server products and a relative scarcity of successful storage products. Historically in HPE, server and storage business units have followed separate paths. With them both inside Antonio Neri's Enterprise Systems organisation, any such separateness should diminish.
Excess cash
Rakers thinks "HPE has $5bn+ in excess cash" and is wondering about "the company's next move given a healthy excess net operating cash position". Its merger and acquisitions strategy is a key focus for him. What will Meg Whitman do with this excess cash? Will her next move be "strategic/growth-focused acquisitions (security, networking, storage... ?), [or] increased return of capital" via dividends and share buybacks?
If the SimpliVity acquisition rumours are correct then some of that $5bn is already earmarked. Should HPE think it can grow fast in hyper-converged by bulking out the HC380 line and with Synergy then this SimpliVity deal may not happen. Will HPE get more synergy from SimpliVity than from the HC380 and its in-house Synergy product? That is the big question here. ®