Drubbed Grubhub bub scrubs anti-Donald-dubbed snub sub-hubbub
Demand that bigots resign was really a call for tolerance, food delivery upstart CEO insists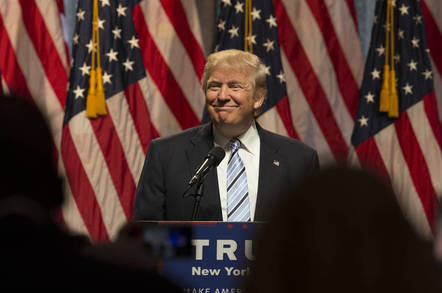 Following the election of Donald Trump, Matt Maloney, CEO of food delivery service Grubhub, sent a message to employees decrying Trump's behavior and warning that similar behavior from employees would not be tolerated.
"While demeaning, insulting and ridiculing minorities, immigrants and the physically/mentally disabled worked for Mr Trump, I want to be clear that this behavior – and these views, have no place at Grubhub," Maloney wrote. "Had he worked here, many of his comments would have resulted in his immediate termination."
In light of the "culture of support and inclusiveness" at the company, Maloney said he rejected "the nationalist, anti-immigrant and hateful politics of Donald Trump" and affirmed company support for any employee frightened by such rhetoric.
Maloney then concluded his note by advising those who agree with Trump's "hateful politics" to find another job. "If you do not agree with this statement then please reply to this email with your resignation because you have no place here," he said.
As might be expected, Maloney's directive did not go over well, because it was taken as directive for Trump voters to depart. In the wake of critical media coverage, the company's stock was down more than 3 per cent on Friday. And dozens of people voiced their displeasure by giving the company's iOS and Android apps one-star reviews on their respective online stores.
An individual writing under the name "Big D McGee" in the iOS App Store said, "Grubhub CEO and co-founder Matt Maloney send an internal email to all employees instructing them to reply with their resignation if they supported Trump. I have used Grubhub before but never, ever will do so again."
Maloney on Thursday issued a clarification, insisting that his condemnation was directed at deplorable behavior rather than Trump supporters, based on the notion there's a difference. "I want to clarify that I did not ask for anyone to resign if they voted for Trump," he said. "I would never make such a demand. To the contrary, the message of the email is that we do not tolerate discriminatory activity or hateful commentary in the workplace, and that we will stand up for our employees."
A request for further comment from the company was answered with the same statement.
Maloney might have done better to follow the lead of Apple CEO Tim Cook, who sent a more cautiously worded note to employees acknowledging the divisive nature of the election and calling for employees to "move forward together."
The goose step does look impressive when everyone is in sync. ®