More movie and TV binge-streaming sites join UK banned list
No more, er, movies4u, pirates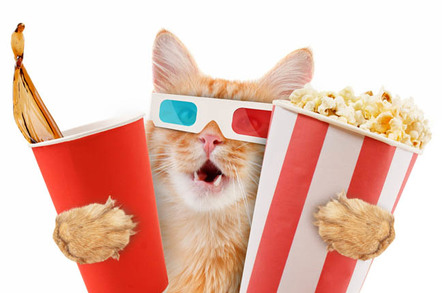 Thirteen more pirate sites have have been added to the list of domains that the largest UK ISPs must block*.
This time the target sites are dedicated to binge-watching TV series and theatrical run films.
Although nobody in the movie and TV business – which is fuelling a tech jobs boom in the UK – claims it's the only solution, the MPA can claim reasonable success so far for reducing traffic to the blocked sites, and driving traffic to legitimate streaming sites. Even though determined users can access the sites via a VPN, Joe Public doesn't bother.
A paper published in April found that blocks coincided with increased legal consumption, not only of pay sites but Public Service Broadcasters like the BBC and Channel 4.
"The evidence suggests that blocking large numbers of sites can still 'move the dial' in terms of consumer behaviour, but that there may be diminishing returns, as remaining pirates may be more dispersed or else have lower willingness to pay for legal content," the study's authors – Brett Danaher, Michael Smith and Rahul Telang of Carnegie Mellon University's management school – found.
"Nonetheless, such blocks can serve to mitigate the possibility of a long-term return to the prior status quo," they added.
The latest Court order was brought by the Motion Picture Association and requires the blocking of geektv.is,  hdmovie14.net, spacemov.com, hdmovieswatch.net, watchmovie.ms, streamallthis.is, 123movies.to, gowatchseries.biz, themovie4u.com, series-cravings.me, movietubenow.biz, genvideos.org and moviesub.net.
The ISPs concerned are The Big Five: EE, TalkTalk, Virgin Media, BT and Sky. Over 120 sites have been subject to a blocking order for copyright infringement.
Sites selling knock-off counterfeit physical goods can also be blocked through the Section 97(a) process*, as was done here. In this case, Cartier v BSkyB, the Big Five appealed. The ISPs argued that their costs were disproportionate to the harm being done: in comparison to digital piracy sites, knock-off sites receive very low traffic. The ISPs lost their appeal in July. ®
*Proceedings can be brought under Section 97(a) of the Copyright Act to oblige the ISPs to block access to the sites.
Sponsored: Minds Mastering Machines - Call for papers now open