EMC Dell deal: They're loved up and living together, but whose house rules?
Fast follower meets fast reacter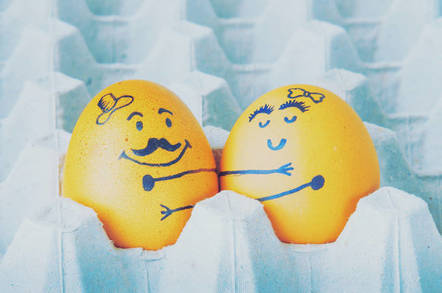 Comment Dell and EMC are culturally separated by their different approaches to product development, to servers in Dell and storage in EMC. In the combined house, what will be the effect?
Dell's forte, or at least the chief of them, is a superbly executed supply chain, box-development and shifting at a level no one has bettered - well, Apple maybe. The management and monitoring of this chain, and its cost efficiency is such that Dell, and no other mainstream system server vendor, supplies hyperscaler data centres with its servers, taking on Supermicro, Quanta, and others in the ODM (Original Design Manufacturer) game.
Servers' stolid framework
One of the reasons it can do this is that server components in the big picture are stable; the overall architecture is mature and relatively fixed. Get the latest Intel Xeon, stuff in the newest DDRx RAM, ditto for other motherboard components, add in the best IO adapters and ports you can find, choose your direct-attach storage media - validate against Windows, Unix and Linux - and Robert becomes your uncle as the server generations roll out: ... 9, 10, 11, 12, 13, etc.
It's not really that simple of course, with blade server, rack server, and tower formats, etc, but the broad picture is one of relative stability with Dell being a great fast follower of trends.
It's different in storage because the overall architecture is not stable. DAS met monolithic Fibre Channel (FC) SAN. SAN met filer. Monolithic SAN met dual controller SAN. Filer met parallel processing array. Fibre Channel SAN met iSCSI SAN, which soon enough said "Hi" to virtual SAN.
Scale-out filers came along. Object storage strolled up. Deduplication slimmed its way into the storage space. Flash caching floated by. All-flash arrays jumped into being. Storage in the cloud drifted in. Software-defined storage knocked on the door and gained entry. NVMe drives and then fabrics popped up. Converged and then hyper-converged storage joined in the fray.
Nightmare! Serious pain-in-the-neck stuff. Waves of potential disruption washed over the incumbent suppliers as cocky startups strutted their stuff. Incumbents concentrated on their niches or adopted or part-adopted the incoming tech by copying it in house, or buying a startup.
EMC's disruptive tech hunger
EMC has been a serial acquirer and adopter of disruptive storage tech. It sees tech coming that could eat its lunch and doesn't build its defensive walls higher. Instead it opens the Hopkinton gate and welcomes the potential enemy in. If anyone is threatening to eat EMC's lunch then it will do what it takes to eat its own lunch.
It will take investments in early stage startups with potentially disruptive tech, such as XtremIO and DSSD, which could have threatened its bread and butter VMAX and VNX array revenue streams, and it will learn what they are doing. Then it will build a deeper relationship if it likes what it sees, and eventually buy the company and pump in resources to come up with a product that will cream off revenues from VMAX and VNX, hopefully growing EMC's overall business in the process.
One EMC trait that helped this is its willingness to have overlapping products, the leave-no-gaps strategy espoused by Joe Tucci, the idea of having overlapping shields in a defence wall and using this as an attacking strategy. Over the years these two attributes have turned EMC into a terrific fast reacter.
Dell, if course, bought storage startups - think EqualLogic (iSCSI SAN), Compellent FC SAN), Ocarina (dedupe), Exanet's ashes (file system) and so forth but these, despite spreading dedupe and file access (Fluid FS) across the EqualLogic (PS) and Compellent (SC) product lines, tended to be separately and incrementally developed. The emphasis was on building these product lines' revenues and not disrupting them.
And Dell's sure touch, so evident in servers, faltered in storage, with its go, no, go, no, "OK part go" approach to object storage and a refusal to buy into the all-flash array market exemplifying this.
Even in servers we can contrast Dell's singular x86, trad form factor focus with HPE's willingness to push that server envelope; think Moonshot with ARM and x86 processors, the Machine with Memristor persistent memory, and its composable infrastructure Synergy hardware and software design.
New dawn, new DNA
So we now have Dell buying EMC. How will EMC's fast reactor affect fast follower Dell? In storage the broad lines are emerging: PS and SC users won't be abandoned- no sir, no way - but migration to Unity, XtremIO and other EMC products is rising like the sun on the distant horizon of a new dawn.
Dell servers, and networking, are now managed in the EMC side of the house, under ex-EMC Infrastructure CEO David Goulden. He has great respect for the Dell server business, run by Ashley Gorakhpurwalla. We wonder if the combined Dell EMC approach to servers might now become more adventurous, quicker to pick up new trends and drive them, especially with server-driven storage coming to the fore.
A Dell EMC version of HPE's Synergy system is unlikely. For Goulden, composable infrastructure is automated software orchestration of server, storage and networking resources in a single pool, with VxRack providing a natural hardware base. Don't expect new, dedicated hardware to emerge here.
Dell EMC is watching the developing persistent memory field, with Goulden ready to take advantage of Dell EMC being one of Intel's largest customers to understand developments and possibilities, and help drive them. He says EMC has investments in the persistent memory business and: "We are keenly aware of what else is going on in the industry. ... We intend to play in the persistent memory space in a major way."
The implication is that Dell EMC may be having an XtremIO/DSSD-like play here, with investment in, for example, WD (SanDisk), Diablo Technologies, or Netlist. Who knows?
We are looking forward to the next generation of PowerEdge servers though, and to developments in Dell EMC's server area generally, for evidence of EMC's DNA penetrating and influencing Ashley Gorakhpurwalla's organisation. The same can be said for Tom Burns' networking unit, also inside Goulden's tent.
Interesting times are coming, so Cisco, Hitachi, HPE, Huawei, and Lenovo better be ready to repel boarders. Dell EMC has erected a combined skull-and-crossbones flag and is ready to take everyone on. It's a consolidating game of thrones and Michael has the EMC dragon to help him invade Westeros. Get ready to duck. ®