Openreach split could damage broadband investment, says BT's chief exec
How interesting that you'd say that, Gavin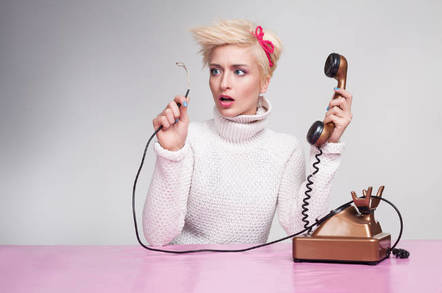 BT's chief exec Gavin Patterson has claimed an Openreach split would make future UK broadband investments more challenging and increase the firm's already-ballooning pension deficit.
Speaking at the Broadband World Forum event, he denied any conflict of interest between BT's retail business and wholesale business. Contrary to claims that its TV arm has siphoned off broadband investment cash, a diversified business has made the case for investment easier, he said.
"Ultimately you have to be able to make investments over long periods.. if you are only looking at the wholesale, Openreach side, then some of these investments are going to be a more challenging business case to make."
He said the pension deficit is running into billions, with some people saying it could now be as high £10bn.
"A separate business will mean the deficit goes up... that is not good for anyone, especially the customer, if investment is being restricted."
The comments come as the regulator Ofcom decides whether to act on its preferred option to make Openreach a legally separate company from BT – with its own independent board, or push ahead with full structural separation.
Industry insiders have said that Ofcom has yet to accept a satisfactory voluntary proposal from BT. They claim that is because the business is not keen to have Openreach's head Clive Selley report to an independent board rather than Patterson.
Patterson was predictably eager that Openreach's future will be determined soon. "I think we are at a moment in time when we have to find a way forward through this and the uncertainly is not helpful."
Brexit has only increased the country's need for a strong digital infrastructure, he said.
"It impacts all parts of the country and we take that seriously," he said. "We are ready to make these investments and ready to step forward in a moment of uncertainly, what we do ask for in return is [stability]".
Patterson denied that BT is sweating its copper assets by focusing on its hybrid G.fast technology, rather than fibre-to-the-premise (FTTP) broadband.
Some 140,000 premises are expected to receive a G.fast connection by April 2017, with 10 million expected to receive ultrafast speeds of more than 100mbps by 2020. A further 2 million homes will receive FTTP by that date.
He said: [It's a question of] affordability, speed of roll-out and about addressing customer needs. There is no question where [it will] ends up, it's just a matter of time.
"The challenge for us is how to build more and more FTTP but get coverage, as we will do with other technologies such as g.fast."
He said: "[The] technology is available now and will be part of a mixed strategy as we go forward.
"I think with a mixed technology roadmap we can move and stay ahead of customer demands."
He said G.fast should be enough for "the most demanding customer."
On the question of whether BT has historically under-invested in Openreach, he said investment in the business will increase by 30 per cent over the next two years. "Looking ahead case for more investment further is quite strong," he said.
"The challenge for us as a company is to make sure the investment cycles are reasonable and that we [are able to do that]." ®
Sponsored: Minds Mastering Machines - Call for papers now open