Queen Lizzie awarded good behaviour medal
Well done for not being a naughty girl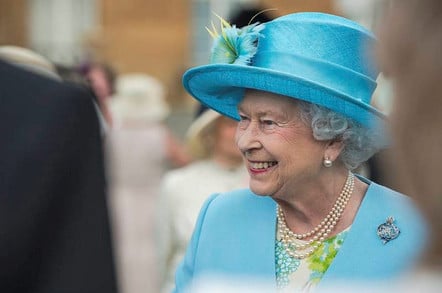 Her Britannic Majesty Queen Elizabeth the Second has been awarded the Long Service and Good Conduct medal for 65 years' military service without a criminal record.
The news of Her Maj's gong, along with a similar one for her hubby Prince Philip, was rolled out in a government statement.
Previously awarded to non-commissioned soldiers – "other ranks" – the LS&GC's criteria were recently extended so officers can also receive the medal.
It is awarded for 15 years' military service without picking up a criminal or military disciplinary record. Strangely enough, the monarch has managed more than 65 years as commander-in-chief of the armed forces without getting marched in front of the Regimental Sergeant Major for drunkenly vomiting over the mess pool table or similar offences.
Quite how Prince Philip has managed 75 years with a clean record, given his proclivity for saying things that upset the easily-offended, is not exactly clear – but it's impressive, nonetheless.
An MoD press release informed us:
The Queen received three medals, one each for the Royal Navy, Army and the Royal Air Force in her capacity as Commander in Chief of the Armed Forces - a position she has held since her accession to the throne in 1952. Each medal has five bars on its ribbon, denoting 65 years of service. The Duke of Edinburgh received a Royal Navy Long Service & Good Conduct medal, with six bars on the ribbon, to recognise 75 years of service.
The medals were awarded to the monarch and the Duke of Edinburgh by Lieutenant General Richard Nugee, the Chief of Defence People. As a commissioned Army officer, Nugee is normally meant to be the one receiving medals from the Royal Family.
Historically, the LS&GC was only awarded to other ranks because commissioned officers were automatically expected to serve with honour, i.e. a clean record. In contrast, the ordinary soldiery – famously described by Field Marshal the Duke of Wellington as "the mere scum of the earth" – needed a bauble to motivate them not to misbehave too much away from the battlefield.
The announcement of the LS&GC now being open to officers either reflects the modern, egalitarian military or represents an abominable compromising of standards, depending on which side of the fence you sit.
As for Her Majesty? As she does on all occasions great and small, she just smiled. ®
Sponsored: Minds Mastering Machines - Call for papers now open