Europe loves to pay by bonk* - survey
Mobile payments going gangbusters, beams Visa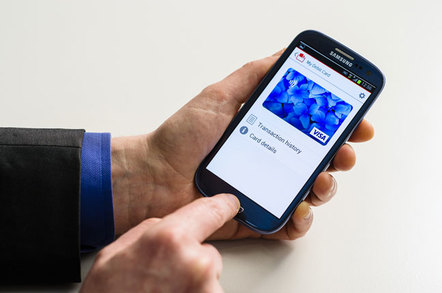 Consumers use of a mobile device – either a smartphone, tablet or wearable – to make payments has tripled over the past year, according to a Visa-backed survey.
The number of Europeans regularly using a mobile device for payments has tripled from 18 per cent to 54 per cent since 2015, according to the results of an online poll of 36,000 consumers in 19 European countries. Uptake is strong in both developing markets, such as Turkey, where mobile has leapfrogged traditional payment methods, and in tech-savvy markets, such as the Nordics.
In the UK, over two-fifths (43 per cent) purchase high-value items such as holidays and electronics on a mobile device as well as using their mobiles regular transactions such as paying household bills (42 per cent) and buying bus or train tickets (41 per cent). More than half the Brits surveyed (58 per cent) used contactless cards this year, up from 20 per cent in 2015. Meanwhile mobile banking activity is increasing across all age groups, according to Visa.
The launch of Apple Pay and Android Pay in Europe is helping to push the payments by mobile device trend, which Kevin Jenkins, UK & Ireland managing director at Visa, described as the "future of digital payments".
Infosec experts struck a much more cautious note.
Mark James, security specialist at ESET, commented: "It's no surprise that mobile payments are now becoming more widely used and now we have integrated biometric authentication into our phones it definitely makes it a lot safer for the end user to utilise that technology to their advantage."
"Using a mobile device is so easy, from getting the payment card on to the phone through to actually making the payment and much like credit cards, often too easy," James added. "Phone manufacturers want your device to be the very centre of your digital life; it interacts with us throughout the day and often is used to wake us first thing in the morning. It makes sense that our finances will also be controlled and managed from these devices and we will definitely see more and more companies making it easy for us to pay on mobile devices. But let's not forget security; it is very important to understand the risks of using your phone for payments, boarding passes and everything else we do." ®
* Tap (mobile phone) to pay. The phrase "pay by bonk" was coined by former Reg mobile supremo Bill Ray back in 2012...
Sponsored: Minds Mastering Machines - Call for papers now open