In the name of love, don't scalp your U2 aka Dreamfest tickets, warns Salesforce
Not even pro Bono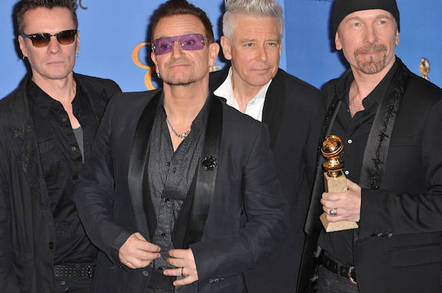 For the second time in three weeks, delegates are flooding into San Francisco for a big conference – last month it was Oracle OpenWorld and now the Salesforce Dreamforce conference kicks off on Tuesday.
Dreamforce sold out early this year, with the $1,799 tickets getting snapped up more quickly than expected. As with anything under demand, a modest market has grown up online for tickets for those who missed out.
The San Francisco page of Craigslist, for instance, has Dreamforce tickets for sale, with prices reaching as high as $1,250 for a full conference pass. It's clear there is interest in cloud CRM these days, and there are some people who want to sit through three days of speeches and tutorials on Salesforce's system – but there is another reason for demand.
On Wednesday night, Benioff's faithful will be taking over the Cow Palace, a venue complex just outside the city, for the traditional Dreamfest piss up networking opportunity and live music concert. The headline act this year is aging Irish boy band U2 – and we can't wait to hear if the lads change their lyrics to match the event. How about: "It's a Benioff Day, oh, baby, any day that you're gone away, it's a Benioff day."
U2's presence at a CRM conference is something of a surprise, since frontman Bono told Steve Job's biographer Walter Isaacson: "When we were teenagers in Dublin, we said we'd never do naff stuff ... doing rubbishy things for money." The Emerald Isle entertainers do at least have some cover for this gig, since it's also a benefit event for UCSF Benioff Children's Hospital.
Postings on Craigslist make it clear that the gig is of interest, with people asking to "borrow" a conference pass just for the show itself. But for those tempted to try and buy a ticket, don't bother – Salesforce is onto you.
"Both a government-issued ID and a Dreamforce Badge are required to attend the Dreamfest. Dreamforce badges are non-transferable," the biz told us. In other words, if the names don't match you will be politely but firmly turned away.
If listening to a band that arguably peaked with Achtung Baby in 1991 isn't your idea of fun, then Craigslist makes it clear there are other attractions conference goers could enjoy in the cool, grey city of love. The site's casual encounters hookup section is replete with conference delegates looking for something to spice up their time in San Francisco.
The bulk of listings are men looking for women, with the advertisers typically in the mid-30s and 40s and "looking for fun." One chap offers himself up for a "sex party," which raises some interesting possibilities for pillow talk, and there are a few couples looking for additional partners.
While it's rather disappointing to see that many of these encounters are being offered by adulterers, that's not Salesforce's fault. El Reg only hopes the cheating delegates' partners learn the truth and dump their unfaithful paramours with maximum prejudice. ®
Sponsored: Minds Mastering Machines - Call for papers now open