The wait is over: MoD releases latest issue of Ship Paint Monthly
Know when to opt for wet abrasive blasting or Self Polishing Copolymer?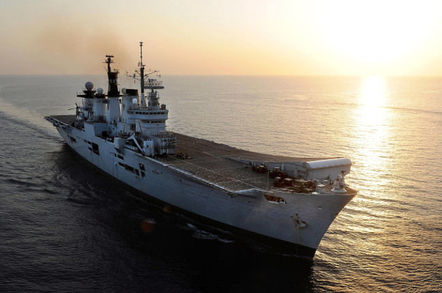 Mad mags The Ministry of Defence's naval arm maintains a regular publication focused entirely on types and shades of paint. It is not a spoof – or if it is, someone's gone to some serious lengths on a windup.
The magazine, snappily titled Warpaint, is an attractive coffee-break reading proposition, comprising 80 pages of black-and-white copy, interspersed with full-colour pictures of paint (and rust, too) cunningly disguised behind a full-colour cover.
This month's cover features HMS Sutherland, resplendent in her fetching shade of BS381 676 ("Light weatherwork grey"), wheeling around in circles while the Russian Ropucha-class landing ship Georgiy Pobedonosets (precise colour unknown, but it's dark grey with a hint of blue) steams slowly past in confusion.
Inside this exciting and ground-breaking publication we learn:
WARPAINT is the main guidance document of acceptable paint coatings for in-service and new-build Royal Naval Vessels. However, not all approved coatings are necessarily listed in WARPAINT as paint manufacturers' are constantly striving to improve their current paint systems. Consequently the Whole Ship Specifications (WSS) / Annexes are regularly updated. Should a coating therefore be proposed, which is not listed in the current issue of WARPAINT, confirmation of acceptance must be obtained.
It seems there are pertinent issues for the, uh, naval surface coatings application technician community to consider. Under the heading "PERTINENT ITEMS, inc. FROM PREVIOUS ISSUES" we are told:
A propeller and shaft FRC painting trial on-board HMS Northumberland has concluded. Although there were many issues with the trial there was enough info to base an engineering decision on – which was to apply FRC on the prop & shafts to the Class. There is no real financial gain, breaking even with in-water cleaning, but there is the advantage of reducing any cleaning effort when in dock and removing the potential for environmental restrictions conflicts where UW cleaning is required in foreign ports. It is critical that the ICCP system is balanced correctly and that the earthing arrangments are maintained or it could result in dezincification of the props.
Nobody wants their props to be dezincified, so it is a must to balance that ICCP system and properly earth it, mmkay.
On a similar note, Her Majesty's maritime mateys are warned against the hazards of wet abrasive blasting:
As a consequence of environmental legislation, the use of dry abrasive blasting is restricted, especially with regard to coating(s) removal from ships hulls, hence the necessity of employing "Wet Blasting" methods. As regards surface preparation, Defence Standards indicate that abrasive blasting is to be in accordance with BS 7079 Part A1 Sa 2½. In the Introduction to this particular Standard, reference is made to several International Standards and the readers attention is specifically drawn to ISO 8504 (BS 7079 Part D2: 1993) Methods for surface preparation. This standard describes the methods of abrasive blast cleaning. The general term "Wet Blasting" can mean one of four distinct methods namely: (cont'd pg94)
But wait! There are "PAINTING AND PRESERVATION HOT TOPICS" to be read! By the scent of Davy Jones' locker, what breaking news of vital importance to the nation's maritime defences could we find here?!
MIXING OF PAINT SYSTEMS & USE OF CORROLESS QDR PRIMER

The mixing of different suppliers coatings in any given paint system is prohibited. If it becomes essential then it will only be permitted with the written approval of the relevant MOD Platform Project Group.
Hold onto your paintbrushes, me hearties: in bold, red, underlined type, we are ordered:
Corroless QDR primer is ONLY to be used for emergency repairs, for example; when a vessel has to sail and welding of items has only just been completed or; there is insufficient time to apply the full WARPAINT specified paint system. Not more that 2 x 5 litre packs are to be carried onboard and general usage is forbidden.
Also in Warpaint is a handy chart on types of rust. It's a bit like the Bristol Stool Chart: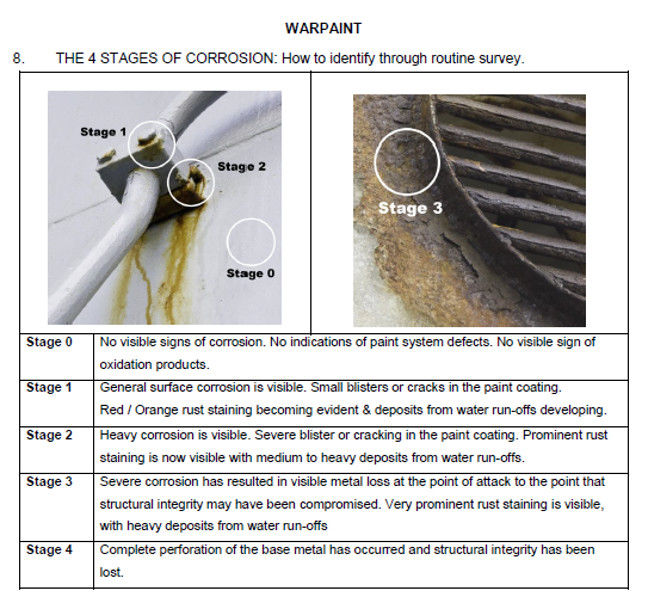 Resembles the underside of the khazis in Dubai airport
And so it goes on. Interested readers, having first sought psychiatric help, can find all past issues of Warpaint on the GOV.UK website.
We could continue watching battleship paint dry, but while the MoD keeps sending us this sort of surreal thing under the heading "Promotional material", we feel duty bound to bring it to the general public's attention in the sort of style it deserves. ®
Paintnote
Oh, and if anyone from the BBC's Have I Got News For You is reading this, we want our cut if you feature this one. ®