Dude, you got a Dell lawyer: HPE sues high-flying ex-exec after defection to EMC
Can anyone leave this company without a lawsuit being filed?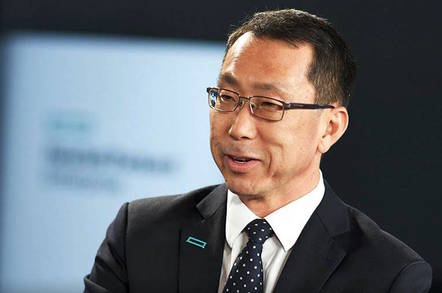 HPE is suing a former senior executive who absconded to Dell with a head allegedly full of trade secrets.
In a complaint [PDF] filed to the Delaware State Chancery Court, HPE alleges that KC Choi, the departed Vice President of Global Solutions Architecture, violated a 12-month non-compete agreement when he fled to EMC just before its acquisition by Dell.
According to HPE, Choi's role as VP gave him privileged access and responsibilities in HP's strategy planning, including new partnerships, service prices, and product design.
Because of this, Choi signed an "Agreement Regarding Confidential Information and Proprietary Developments," which required that he not take work with a competitor of HPE for a full twelve months after leaving.
"In short, Choi become inexorably and intimately knowledgeable about HPE's business model, including its client relationships, fees charged to clients, innovative methodologies, financial information, and their methods of operation," Hewlett Packard Enterprise says in its complaint.
"Because of this knowledge and access to HPE's confidential and proprietary information, Choi would have the ability to point out gaps in HPE's offerings or to provide an inside-view critique based on information that no one outside of the organization would have, and this would not be isolated to just one narrow topic or product offering."
In June of 2016, Choi told HPE he was leaving to accept a position at EMC and that his new role would not be competitive with any HPE products. This is where the conflict arises, as HPE claims it was misled by Choi and EMC as to what, in fact, his role with the company would be.
"EMC initially claimed the position he was accepting was not competitive, but as more information concerning the true nature of his specific position with EMC has been revealed, it has become more evident that this is not the case," HPE complained in its court filing, dated August 25.
Further complicating matters was the looming merger between EMC and Dell, a mash-up that would have put Choi's employer in direct competition with HPE and would further make his employment a threat to HPE's trade secrets.
To remedy this, HPE is seeking a court declaration that would enjoin Choi from working for or consulting with EMC/Dell until the one-year period is up.
This as HPE also finds itself on the defending end of another suit involving thousands of its former employees, who allege that while still a part of HP Inc, they were targeted for mass layoffs based on their age. ®
Sponsored: Minds Mastering Machines - Call for papers now open