US Patent Office sued after it declared a power outage a 'national holiday'
Filing challenges authority of trademark bod to extend deadlines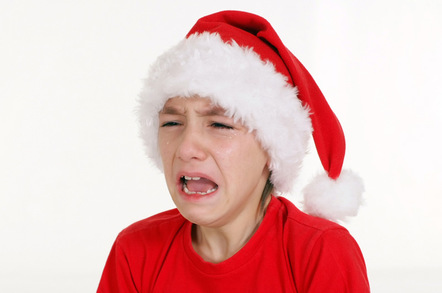 A patent-holding company is suing the US Patent and Trademark Office (USPTO) claiming an administrator's decision to extend filing deadlines has led to its patents being challenged in court.
Elm 3DS Innovations says that the USPTO was acting outside its authority last year when, following a three-day blackout at its Washington, DC, office between December 22 and 24, director Michelle K Lee extended filing deadlines by declaring the blackout time a national holiday.
That decision, Elm claims, gave chipmakers SK Hynix, Micron and Samsung the time needed to request a review of the validity of patents 3DS was using for an infringement suit against them.
Elm says it sued the three chipmakers for infringement on December 24, 2014, with US patent laws giving them exactly one year to file an inter-partes review (IPR) request if they wanted to challenge the validity of the patents.
Those requests had remained unfiled when, on December 22, 2015, the PTO suffered the blackout that left it unable to process filings for that three-day period, as well as the Christmas holiday on the 25th.
This, in turn, led to the IPR requests not being received by the PTO until December 28th, meaning the filings would have come in after the deadline had Lee not declared Dec 22-24 to have been a "holiday" period that extended the deadline by three days.
As a result, Elm says, it is now facing nine different review cases challenging its patents, cases that it would not have faced if the deadline had been strictly enforced.
Elm is suing Lee and the USPTO [PDF] in the Eastern Virginia US District Court, claiming the trademark office lacks the authority to declare national holidays.
"Director Lee has no statutory authority to direct that days that are not federal holidays, and that Congress has not designated to be federal holidays, be deemed 'PTO holidays' such that, when the last day for taking an action falls on that day, 'the action may be taken ... on the next succeeding secular or business day'," the filing from earlier this month reads.
"The Patent Act instead limits Director Lee's authority to extend deadlines to situations involving postal service interruptions or emergencies. Director Lee's informal rule did not involve, and did not purport to address, a postal service interruption or emergency."
Elm is asking the court for damages as well as a declaration that Lee's decree of the December 22-24 period was unenforceable and that it "enjoin Director Lee and the PTO from continuing to apply, enforce, or rely on, or maintaining any action" based on the ruling. ®
Sponsored: Minds Mastering Machines - Call for papers now open